The Magical Borobudur Sunrise – Full Guide
Ready for the ultimate guide to the magical Borobudur sunrise?
Experiencing Borobudur Sunrise was one of the most magical things I've done in Indonesia and I think you should witness it too! This post is all about you need to know to enjoy your visit to Borobudur Temple in Java.
What is Borobudur?
Borobudur Temple is the largest Buddhist temple in the world built in the 9th century by a ruling dynasty in Central Java. It meant to be a place of religious cult and pilgrimage. After Hindu kingdoms decline in Java and a large part of the society converted into Islam, the temple was abandoned.
The place was then rediscovered by the British in the early 19th century. The temple consists of nine platforms with a large dome sitting in the centre of the top platform. It is surrounded by 72 smaller stupas each hiding a buddha inside it. The whole temple complex is listed as a UNESCO World Heritage Site.
Today, Borobudur is the single most visited tourist attraction in Indonesia. Millions visit every year, including locals to admire this epic place.
Where is Borobudur Temple?
Where to stay – best Borobudur hotels
Most visitors stay in either Yogyakarta or Borobudur. If you're planning to visit the temple at sunrise, I recommend staying not further than within a few kilometres of the temple entrance. Below are my recommendations.
Luxury Plataran Borobudur Resort & Spa
This property offers, large and luxurious yet traditionally decorated cottages with 4-poster bed, bath tube and a private plunge pool. There is a lovely terrace restaurant with magnificent views over the Borobudur Temple and the volcano spewing smoke plumes. The hotel is located 10 minutes drive from the temple entrance.
---
Mid-Range Amata Borobudur Resort
I actually stayed in this hotel. It's located 2.5 km from the Borobudur Temple entrance which makes it a perfect base for seeing the temple at sunrise. The hotel provides also a free shuttle for the sunrise. I slept in a charming Javanese styled double cottage. There was a good pool and a served breakfast consisting of several courses.
---
Budget Efata Homestay
This house is situated only 10 minutes walk from Borobudur temple. It offers simple and clean rooms and good breakfast. It's a small property and the owner looks after their guests well. This is a good option for a solo traveller.
How to get to Borobudur?
Borobudur from Bali
The most convenient way to get to Borobudur from Bali is to fly from Denpasar Airport in Bali to Yogyakarta Airport. There are a few airlines that do this route, the cheapest being Air Asia with ticket price starting at $40.
The airport is located 90 min drive from the Borobudur Temple. You can stay in Yogyakarta or stay in one of the hotels closer to the temple, which I recommend if you want to catch the sunrise. The taxi fare is 150k-200k IDR. There is also a bus (1A) that connects the airport with the city centre and cost 35k IDR.
Borobudur from Jakarta
There are two main ways to get from Jakarta to Yogyakarta.
By plane – again several airlines are doing this route and flights are well priced starting at $40. The biggest advantage of this method is saving time, especially if you're on a tight schedule. The disadvantage being the price and additional transfer cost airport to the city.
By train– You can catch a train from Jakarta Gambir Train Station. The journey time is 8 hours and you can choose from day or night trains. The train takes you to Pasar Senen station in Yogyakarta. The ticket price starts at $5. This is a great budget option and if you take the day train you get to see the stunning Indonesian countryside.
Borobudur from Yogyakarta
To get to Borobudur sunrise on time from Yogyakarta you'll have to leave at 3:30 am. There are no public transport buses at this time but you can get a tourist shuttle bus that will take you there for sunrise and drop you off back in your hotel/hostel at around 10 am. It cost around 100k IDR per person. Other ways include hiring a car with a driver (450k IDR) for a whole day, renting a motorbike and driving there yourself (60k IDR) and booking a tour that will take care of all the logistics for you.
Get Your Guide Tour of Borobudur:
Borobudur sunrise-hacks
Borobudur Opening Hours
The Temple opening hours are 6 am to 5 pm daily. If you want to see the sunrise the opening hours with a special sunrise ticket are 4 am to 6 am.
Borobudur Entrance Fee
The standard admission cost is $25 for adults and $15 for children age 3-10. If you want to do the sunrise experience, you need a Borobudur Sunrise Ticket which costs $35 or 450k IDR. If you stay at Amata Borobudur Resort, they offer a free lift for sunrise daily.
You can also get a Borobudur Prambanan Combined Ticket for $45 ($27 children). Prambanan ticket costs $27 or 380k IDR on its own, so if you're planning to see both it's worth getting a combined ticket and save money.
Borobudur Dress Code
At Borobudur like in any other temple in Asia, a respectful dress code is required. The main thing is to cover your knees and shoulders. You can wear long trousers and a t-shirt or a long dress. I always love wearing maxi dresses when I visit temples. Don't forget to wear something comfortable. If you're visiting at sunrise, you don't need to worry about the heat, but during the day factor that in when selecting your wardrobe. I find that natural materials are best and long skirts protect you from heat.
Borobudur Weather
The weather in Borobudur is hot and humid all year round with two distinctive seasons: dry and wet. The wet season lasts from November until March and it's best to be avoided for two reasons. The rain and clouds will prevent you from seeing the magnificent Borobudur sunrise and getting there may be more tricky too.
Best time to visit Borobudur Temple
The best time to visit Borobudur is during the dry season which runs from April to October. The sky is clearer and you are most likely to get an epic sunrise experience.
If you can, try to avoid weekends when the temple gets more crowded with locals and festival times.
Borobudur photography tips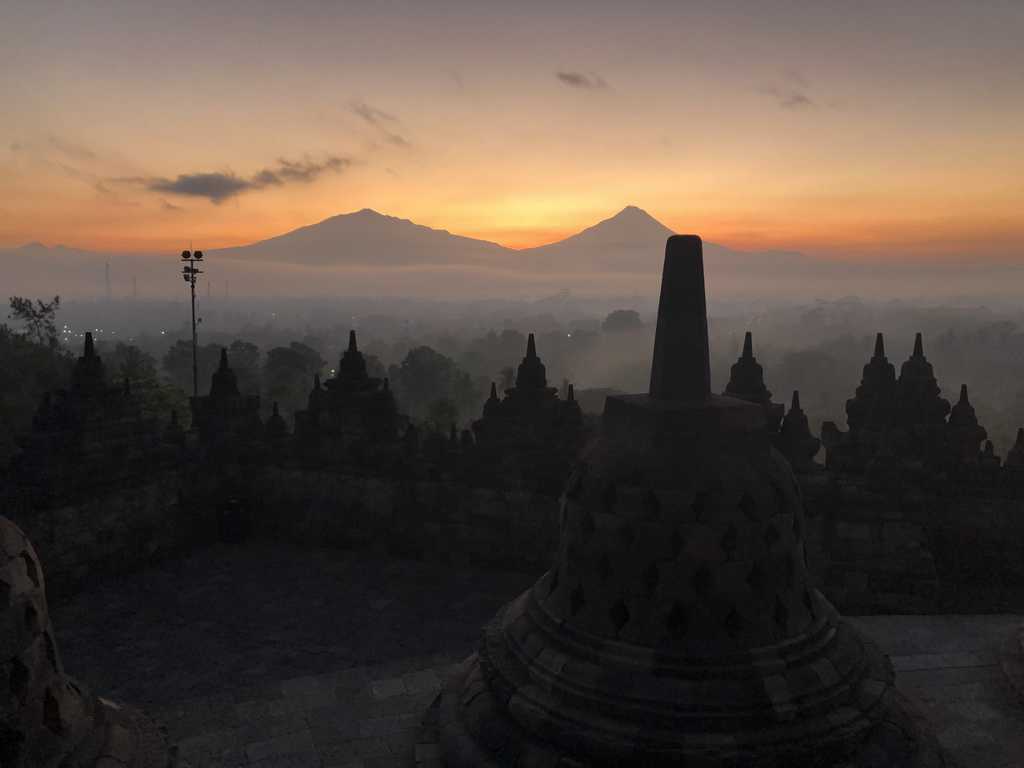 The best times to visit Borobudur is at sunrise and sunset. This is also when the temple gest most visitors. Prepare yourself to be surrounded by a small international crowd but don't let this put you off from visiting! There is a reason why all those people come here.
Filming sunrise. You can use your Go Pro to film the sun movement. Then using a simple film editing app, speed up the clips and make a mini sunrise or sunset video clip.
Tripod and long exposure. If you're into your photography, you will need your tripod to take photos using a longer exposure.
iPhone. If you don't have a professional camera nor the skills, don't worry. You can still take incredible sunrise or sunset shots using just your iPhone! In fact, I've taken my favourite shots on my iPhone X.
Different Angles. If there are too many people that are spoiling your capture, try walking around the central stupas or changing the platform. Most likely, people will stay on the sunrise side during the sunrise, which means you can find some space on the other side.
Borobudur Sunrise Tour
The best way to experience Borobudur Temple is visiting is at sunrise. It costs a little extra but in my opinion, is money well spent. The sunrise admission is 450k IDR. You get access to the temple before the official opening hours. You also get a small torch to navigate your way when it's pitch black in the temple complex. In the end, there is a free buffet breakfast and a small gift, which you get in the building by the car park.
You can book a tour that will organise all the logistics for you.
Alternatively, you can stay at a nearby hotel and either hire a scooter and drive there yourself or hire a car with a driver to take you there in the morning.
Puthuk Setumbu Hill Sunrise
If your budget doesn't allow you to spend extra bucks on the Borobudur Sunrise Ticket then head to a nearby hill called Puthuk Setumbu, which is about 15 minutes drive from Borobudur area. There is still a fee to be paid, but it's much smaller, only 30k IDR.
Other things to do – Prambanan Temple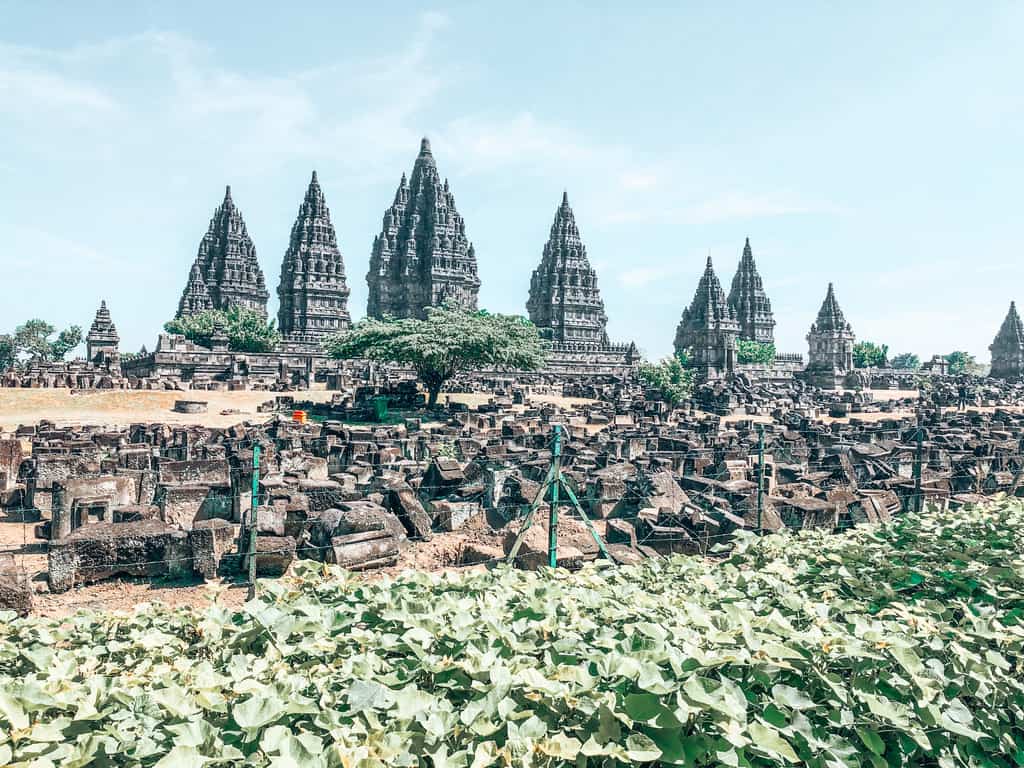 A very popular option is to combine Borobudur sunrise experience with visiting Prambanan temple in one day. Prambanan temple is located near Yogyakarta a 90 min drive from Borobudur. It's a great way to visit both if you're on a tight schedule.
You can hire a driver to take you to both for 450k IDR.
Alternatively, you can book a Borobudur & Prambanan temple tour.
Prambanan is a large Hindu temple complex from the 9th century. There were originally 240 temples but with time many have deteriorated, got damaged by multiple earthquakes or sadly looted.
The three biggest spiring temples are each dedicated to Brahma the Creator, Vishnu the Keeper and Shiva the Destroyer. You can go inside each one to explore their statues. The three shrines pose a jaw-dropping view at sunset and at night when they are lit up.
Tip: If you're interested in history, then you may want to hire a local guide that will give you a tour of the temple complex and share interesting information. I paid 150k IDR for an hour tour and was definitely worth it. Once, you go through the entrance for international visitors, there is a desk where you can hire a guide.
Tip: The main temple zone gets really busy with local visitors and school trips, especially during the summer holiday. Don't forget to walk to the more remote temples where large trips don't normally go and you will be able to have a more intimate experience.
Sunrise In Borobudur – My Experience
I won't lie, I first saw Borobudur on Instagram and I knew straight away I need to see this place. My expectations were sky-high. I flew to Yogyakarta and stayed at Amata Borobudur Resort to pay a sunrise visit to the Borobudur Temple compounds.
We woke up at 4 am and our driver took us straight there. Our hotel was only a short drive away. It was still pitch black, we've been given small torches and led to the temple. There were some steps to climb but nothing extreme. When we arrived the top deck was already taken so we sat down in the lower deck and waited for the sun to rise. More people kept coming including a large and loud Chinese group. I actually made a remark about how loud they were and suprisingly they lowered their voices. Then the sun started to rise and the view became spectacular with mountains touched by delicate mist on the background and the 9th-century stupas scattered everywhere on the foreground.
I walked around the central stupa and took some epic shots. Most people stayed on the sunrise side so I had some freedom to explore and enjoy the place almost alone.
Is The Borubudur Sunrise worth it?
There are different opinions and mixed reviews on the topic. The main cons being the extra $10 in admission fee and the early wake-up. There is also a possibility that you won't see much of the sunrise if the weather is very bad and the sky is covered with a thick cloud. Finally, some people refuse to 'follow the crowd' and prefer more off-bitten track experiences.
Having said that, if you're into your photography then sunrise at Candi Borobudur is a must. And even when you don't care about Insta-worthy photos, I guarantee you will find the whole experience very rewarding. There is some magic in sitting in the dark and silence amongst Buddhist stupas and waiting for the sun to rise and another day to commence. I personally travel especially for moments like this one. Borobudur sunrise will always be one of the best sunrises I have ever experienced.
You may also like:

Best Areas to Stay in Bali – Complete Guide

The Only Bali Packing List You'll Ever Need

10 Days in Bali –The Perfect Itinerary

A Guide to Tirta Gangga – Bali's Water Palace

Ulun Danu Beratan Temple in Bali – A Complete Guide