Ulun Danu Beratan Temple in Bali – A Complete Guide
Ulun Danu Beratan Temple also known as Pura Ulun Danu Bratan, is one of the most famous temples in Bali. It's a floating temple over the Lake Bratan, and it's located in the northern region of Bedugul, Bali.
Whether you're after an awesome Instagram photo with Bedugul temple or you want to explore the Balinese culture and take a glimpse into the local spiritual rituals, you should add it to your itinerary.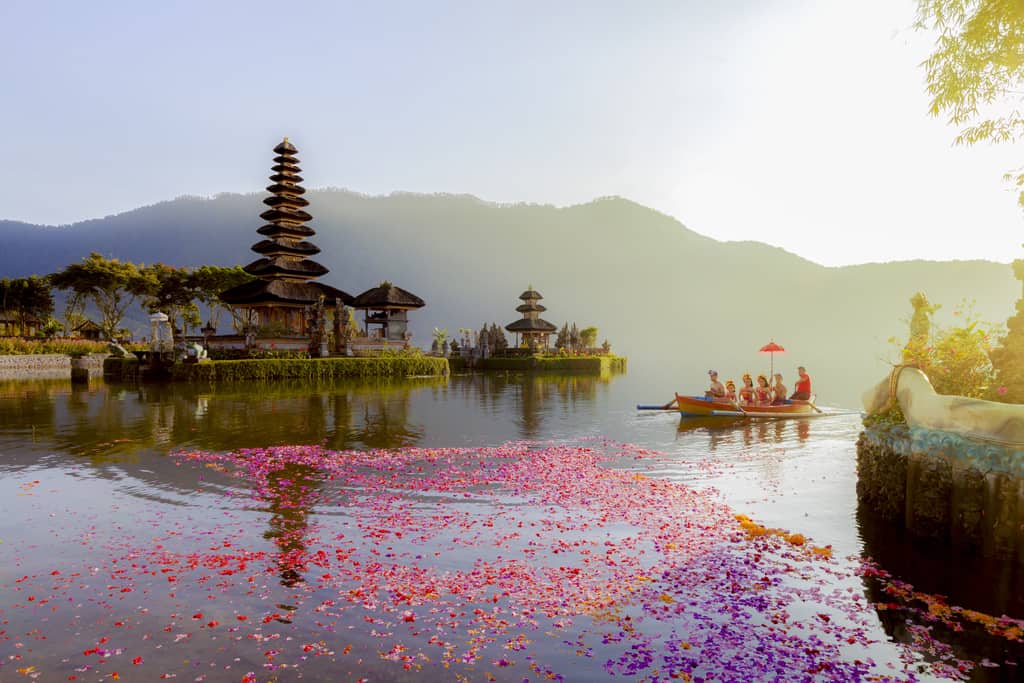 Where is Ulun Danu Beratan Temple?
Pura Ulun Danu (aka Bali's lake temple) is located centrally in the mountainous region of Bedugul over the Lake Beratan, in the village called Candikuning. This region is a holiday spot for Balinese people as the air is much fresher, and the temperature lower from other parts of Bali.
It is located 54 km from Kuta and Seminyak areas which is about 90 minutes' drive and 43 km from Ubud (a 70 minutes' drive). In my experience, these are just estimates, and the actual journey can take a lot longer due to narrow roads and heavy traffic. So be prepared to add an hour extra to your journey time.
Where to stay in Munduk
Luxury – Munduk Moding Plantation
Munduk Moding Plantation is located 20 minutes' drive from Munduk.The hotel's best part is its infinity pool overlooking the working coffee plantation with some incredible sunset views. The rooms feature four-poster beds and a Balinese-styled yet modern design. The guests can enjoy various day activities, spa, gym, tennis tournaments and yoga classes. Munduk Moding is one of the best hotels to stay in Bali.
---
Midrange – Munduk Menir Villas
Munduk Menir features different type of traditional, wooden cottages surrounded by nature and stunning views all way round. Each cottage has a bathroom, coffee and tea making facilities and an outdoor sitting area. The hotel is located within proximity to Munduk best waterfalls: 6 km to Munduk Waterfall and 10 km to Git Git Waterfall. The hotel also features a large pool and an onsite restaurant.
---
Budget – Aditya Homestay
It's a small hotel comprising six guest rooms with free wifi and balconies overlooking the valley and rice fields. Guests can enjoy complimentary breakfast, and there are also some small warungs and cafés nearby. Aditya Homestay is a great budget option for staying in the Munduk area. You can rent a scooter from the hotel or a map they provide; you can hike to local waterfalls and rice paddies. This place is great for couples looking for a romantic getaway in the serenity of nature.
---
How to get to Ulun Danu Temple Bali?
Bali does not have a very good public transport system, so the options that you have are:
By motorbike
The easiest way to get to Pura Ulun Danu from the main tourist locations is to hire a scooter and drive there yourself. It should take 1 hour from Ubud and Lovina beach area, 1 hour 30 minutes from Kuta and 2 hours from Uluwatu. Be mindful of Bali's bad traffic that can easily add an hour to your trip.
It should cost around 60k IDR to hire a motorbike for the day, and you will also need some petrol money. This option is great if you're an experienced scooter driver as roads in Bali can be challenging.
Just type the location in Google Maps, and it should be reasonably easy to find it. The temple is just off the main road. Remember not to look at your phone while riding your moppet but instead use your earphones and audio navigation.
Hire a driver with a car
Another option is to pay for a driver to take you there in their car. This alternative is great if you're not that confident with motorbikes. You can also create your itinerary and let the driver take you to other places you're interested in. Just ask your hotel to recommend you a driver or book one in advance.
With a tour
If you prefer to have everything arranged for you, then I recommend taking a tour that combines a few other activities in the same area.
Get Your Guide Northern Charm of Bali Tour:
Best time to visit
The best time to visit Ulun Danu Bratan Temple is in the morning. There will be fewer visitors, and you are more likely to get better weather and visibility. The temple is located in the mountainous region with a little unstable weather. Beratan lake tends to get foggy, especially in the afternoon, which results in poorer visibility.
I visited the site around lunchtime, and the visibility was still good, but the whole temple complex was a little crowded.
An excellent way to experience this Balinese lake temple would be to arrive for sunrise. However, you would have to stay in the area or live your hotel in Ubud or Kuta at night.
Things to know about Ulun Danu Temple Complex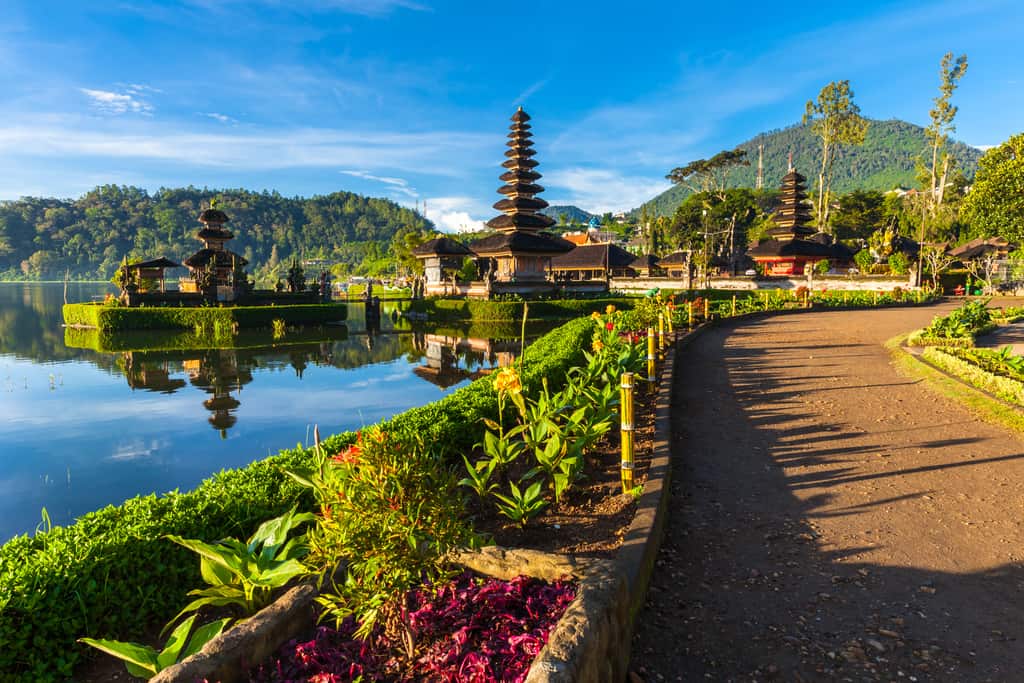 Pura Ulun Danu Beratan means the source temple of Beratan Lake. It was built in the 17th century, and it's a Hindu temple dedicated to Brahma, Vishnu and Shiva as well as the Danu goddess of the lake. There are 4 main temples in the complex built with a mixture of Hindu and Buddhist styles. The architecture of the main water temple/shrine resembles a lot Taman Ayun Temple, which is also located in Bali.
Lake Bratan Bali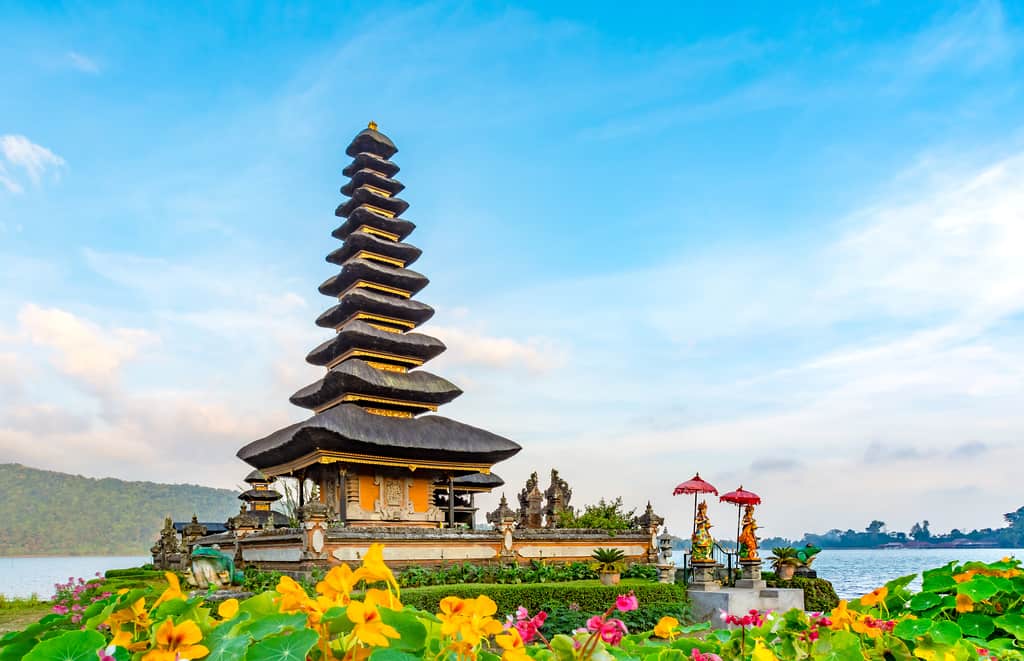 Lake Bratan (aka Danau Beratan in Balinese) is the second largest lake in Bali, and it's a water source for the irrigation system of the local rice terraces. What's interesting is that in the pas, Danau Bratan was the largest lake, but it got split after an earthquake into 3 separate lakes: Beratan, Buyan and Tamblingan.
What to expect?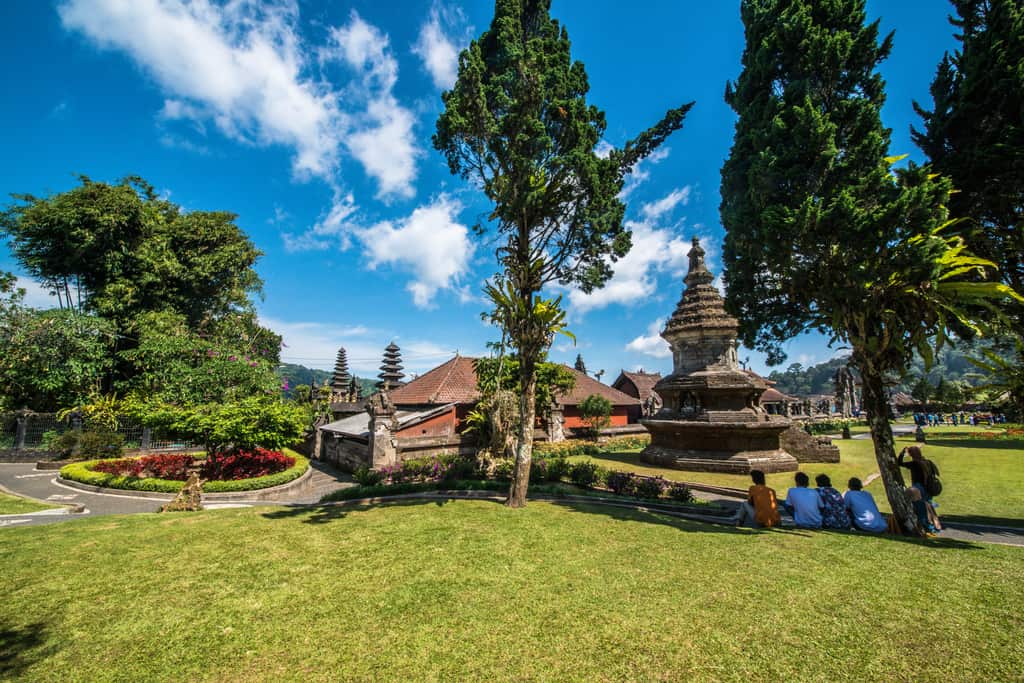 The temple is located off the busy street with a selection of restaurants and shops. There is a car park where you can leave your motorbike. Outside of the main entrance, there are toilets and numerous stands selling souvenirs, snacks and drinks. There is also a ticket office where you pay for your admission in cash.
As you go through the main entrance, you'll find yourself in a manicured garden full of flowers, green lawns, statues and shrines. Unfortunately, non-believers are not allowed inside the main four temples in the complex.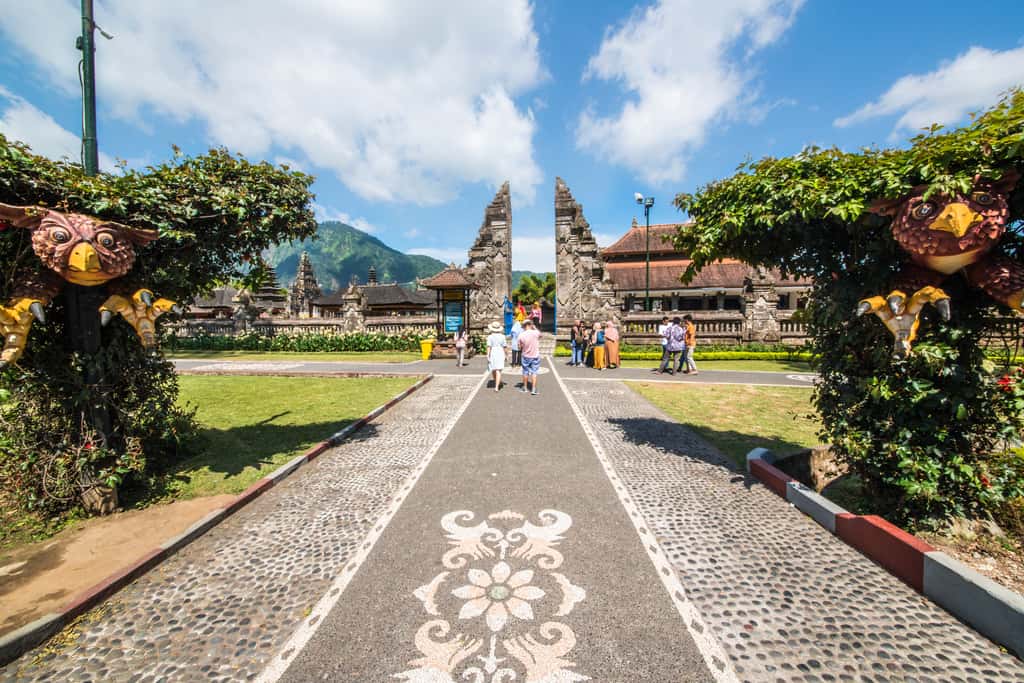 There is a gate that resembles the famous Handara Gate or even the Gate to Heaven at Lempuyang Temple. If you continue ahead, towards the lake, you'll find the most photographed temple floating on a little island.
To be completely honest, I was a little disappointed to find out how small it was. However, it still is stunning (weather permitting).
If you continue your walk along the lake, you'll find a place where you can rent out a paddle boat and explore the lake a little more.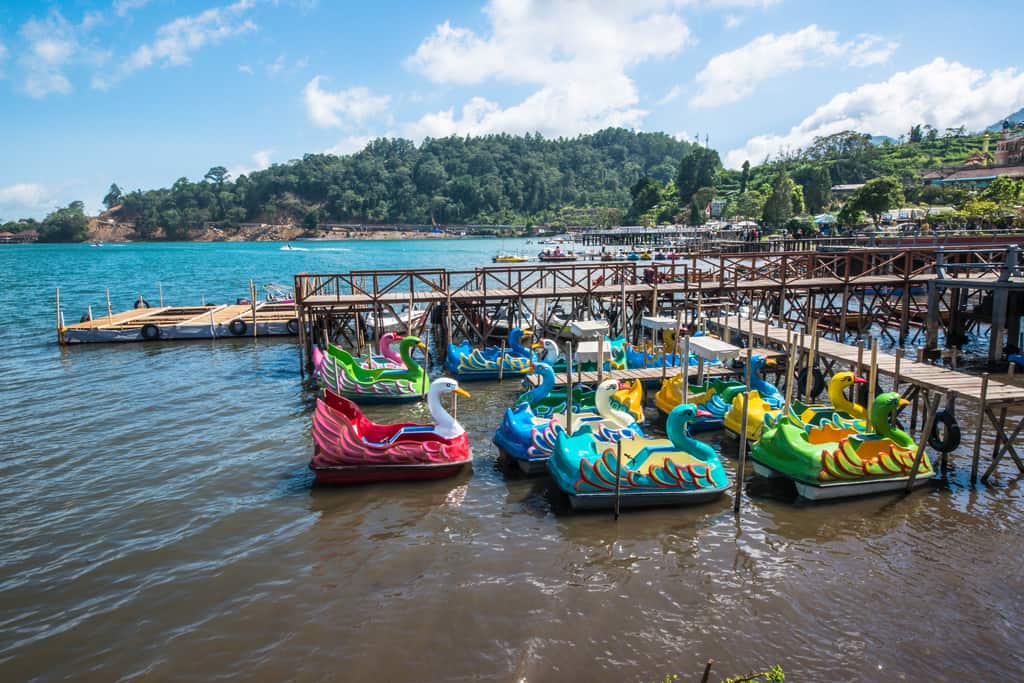 Entrance fees
The entrance fee is 50k IDR and additional 2-5k IDR for parking.
Opening Hours
The official opening hours are from 8 am to 6 pm. However, the temple is open 24 hours to the worshipers. Also, I know that some people come for sunrise so the temple must be open that early too.
It's a small hotel comprising 6 guest rooms with WIFI and balconies overlooking the valley and rice fields, and 20 km drive from Ulun Danu. There is a free breakfast and some small warungs and a café nearby. Aditya Homestay is a great budget option for staying in Munduk area. You can rent a scooter from the hotel or with a map they provide you can hike to local waterfalls and rice paddies. This place is great for couples looking for a romantic getaway in the serenity of nature
What to take with you?
The most important thing is to dress appropriately. Wear something that covers your knees and shoulders. I love wearing long dresses that look great on photos, cover up the required bits and also provide some protection from the heat! If you are a guy, then you'll have to figure it out yourself, lol.
Other things are water, sunscreen, camera and cash for the entrance, petrol if you are travelling on the motorbike and snacks.
Other points of interest nearby
Wanagiri Hidden Hills

Lovina Beach
You may also enjoy: Borobudur Temple
Check out "10 Days in Bali – The Perfect Itinerary" for more inspo!
Summary
Ulun Danu Beratan Temple is totally worth a visit, especially if you combine it with other points of interest in the region. I travelled from Uluwatu, and it took 3 hours each way because of heavy traffic, so it was an exhausting day. So, perhaps it would be good to stay a night in the region or travel from Ubud instead.
Like me? Pin me for later! 🙂