Lahangan Sweet, Bali – Epic Mt Agung Viewpoint
Lahangan Sweet viewpoint is the new hot destination in Bali that will soon flood your Instagram feed and be the main stop of most Bali tours. For now, Lahangan Sweet is a remote viewpoint that boasts an epic view of Mount Agung. It's the perfect spot to enjoy both sunrise and sunset as the vista at Lahangan Sweet Bali is panoramic.
THIS POST CONTAINS AFFILIATE LINKS. THIS MEANS I MAY EARN A COMMISSION SHOULD YOU CHOOSE TO SIGN UP FOR A PROGRAM OR MAKE A PURCHASE USING MY LINK FOR NO ADDITIONAL COST TO YOU. IT'S OKAY – I LOVE ALL OF THESE COMPANIES ANYWAYS, AND YOU WILL TOO! FULL DISCLOSURE.
Where is Lahangan Sweet Bali?
Lahangan Sweet is situated in Karangasem Regency in East Bali. The closest village to the viewpoint is Bunutan Village.
You can combine visiting Lahangan Sweet with other exciting Sidemen destinations such as Lampuyang Temple and Bukit Cinta. I wrote a comprehensive blog post about it which you can access here:
Read also:

Sidemen Bali – 20 Epic Things to do in East Bali
Lahangan Sweet is 2 hours 15 minutes drive from Kuta, almost 3 hours drive from Uluwatu, 2 hours from Ubud, and 30 minutes drive from Amed.
How to get there?

Hire a scooter

The most convenient way to get to Lahangan Sweet is to hire a scooter. It should cost around 60k IDR per day, and you will also need some petrol money. This option is great if you're an experienced scooter driver, as roads, especially in East Bali, can be a little challenging. Simply type in Google Lahangan Sweet, and you'll get the accurate directions that will take you there.

Hire a driver with a car

Another option is to pay for a driver to drive you around there in their car. This alternative is great if you're not that confident with motorbikes. This is an excellent option if you want to stay flexible and create your perfect itinerary. Just ask your hotel to recommend you a driver. This should cost around 900k IDR for 8 hours.
Where to stay near Lahangan Sweet?
Lahangan Sweet Karangasem is a little remote from any tourist hubs, but there are a few options where you can base yourself. You can stay in Amed, which is a coastal town with beautiful black beaches and excellent snorkelling. If you want to see the gorgeous, and less touristy Sidemen Valley (which I highly recommend), then you can stay in Sidemen.
Luxury
Samanvaya (SIDEMEN)
This adult-only, eco-friendly resort boasts Mount Agung views and is surrounded by the lush rice fields situated in the heart of Sidemen Valley. Rooms are fully air-conditioned and are fitted with an en suite bathroom with complimentary toiletries, robes and slippers. Rooms are also equipped with free refillable glass water bottles, coffee and tea making facilities, as well as a fridge. Samanvaya is the perfect marriage of Balinese traditional joglo style and modern luxury. The hotel boasts a restaurant, excellent spa facilities and an infinity pool overlooking the tranquil rice paddies.
Midrange
Hideout (SIDEMEN)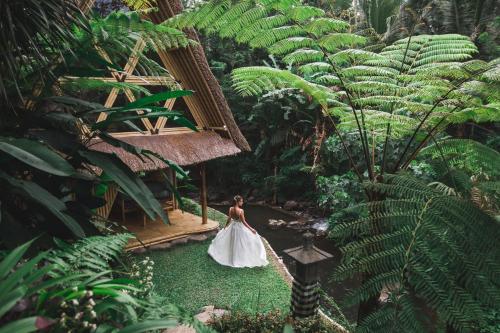 Hideout Bali is located in the mountains of Gunung Agung Volcano in Sidemen. It's a unique eco bamboo house built right by the river and surrounded by nothing but a jungle. There are two floors. On the first level, there is a fully equipped kitchen, an outdoor bathroom and a lovely lounging area that includes a hammock and a plunge pool. The second floor has a bedroom with a triangular window with a river view and can sleep up to four adults. Breakfast is included in the room rate, and guests can order lunch and dinner with delivery to the house.
Blue Moon Villas (AMED)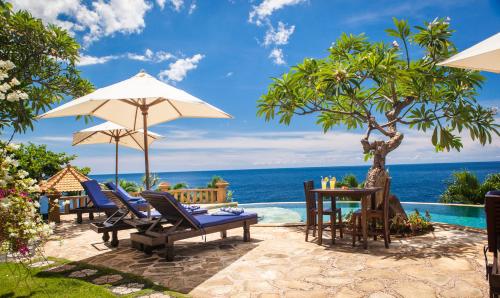 Blue Moon Villas is located slightly further away from Amed centre, and it is tranquil. The hotel boasts a pool overlooking the ocean, a restaurant serving fresh seafood and a complimentary breakfast. Rooms are comfortable and have private terraces, some with the ocean view.
Budget
Kubu Carik Bungalows have an excellent location which is only a few minutes drive from Bukit Cinta, another excellent Mount Agung viewpoint. Lahangan Sweet is 25 minutes drive from this hotel, and other nearby destinations include Tirta Gangga and Maha Gangga, which can also be accessed within a few minutes drive. The bungalows overlook a stunning valley with beautiful rice fields, and you can enjoy the view from your private balcony.
What to expect at Lahangan Sweet?
If you follow the directions from Google, it should take you right to the point where you need to get off the main paved road and go right up the dirt track. This is the point where you probably should leave your scooter and continue on foot unless your riding skills are super proficient, equivalent to the skills local people seem to have. The path is steep and covered in slippery mud, and it's just really tricky to navigate.
The last part of the way should take around 15-20 minutes on foot.
Arriving at Lahangan Sweet
You'll be expected to pay the entrance fee at the booth next to the gate when you arrive. Go past the gate, and if you arrive early enough, on your right, you'll be able to see the magnificent Bali sunrise. On a clear sky day, from here, you can see not only Mt Agung but also Lombok and Mount Rinjani!
Continue straight, and on the left, you'll find the main viewpoint with the platform built on the tree overlooking the mighty volcano – Mount Agung. Watch your steps while climbing the ladder. It may get muddy and slippery.
There are a few other viewpoints and places to take photos, so make sure you explore them too. The tree platform is obviously the best one.
If you needed to take a break, there are some picnic tables and seats. And, if you're up for even more adventure, you can actually camp here. Just hire a tent, and you can stay here for the night. I mean, I can only imagine how amazing the sky must look at night.
Best time to visit Lahangan Sweet
The best time to visit Lahangan Sweet is in the morning. Early morning is perfect because it's still cool, and you will most likely need to hike the last part of the route. It's also great because you will have the site to yourself without other tourists spoiling your vibe. Extra bonus for those that arrive at around 6:30 am. You will not only be able to watch the beautiful sunrise but also capture the morning sun rays adorning the volcano.
The best time for photography is at sunset when the sun gets low behind Mt Agung. The only problem with coming here at this time is the hike back in the darkness and driving back to the hotel at night too.
Lahangan Sweet entrance fees
The entrance fee to the Lahangan Sweet site is free for Indonesian visitors and 20k IDR for foreign visitors, which is around £1 or $1.3.
Lahangan Sweet Opening Hours
There are no official opening hours for this viewpoint. If you arrive before the opening times (like I did), you can still access the site and pay on your way out. Like other Bali attractions, opening times are from the first light to sunset, which is between 6:30 am to 6:30 pm, depending on the time of the year.
Lahangan Sweet Photography Tips
The best photography spot is at the tree platform overlooking Mount Agung. My photos from Lahanagn Sweet went viral on Instagram, and I'll share with you how I took them.
If you're planning to be on the photos, wear something nice depending on your style to create a mood. A white or red flowy dress would probably be ideal. Try a few poses, sitting on the edge, looking at the view etc. If you're a couple, you have more options to play with- one of you can sit on the edge, and one can climb the tree, or you can try your best dance and swirl moves. Remember that you're creating a mood and the best photos are when they tell a story.
If you're taking photos at sunrise or sunset, the light will be challenging. Try increasing shutter speed and decreasing the F point to get more light through the lens. If that doesn't work, increase the ISO until you achieve the desired effect. Remember that underexposed photos preserve more colour information and are easier to edit and bring back than overexposed, blown-out images.
If you're big on your social media game, don't forget to create a short video for reel or tik tok too!
What to take with you
Day Backpack – for this adventure and many other ones, you'll need a day pack. My favourite one is the stylish and minimalistic Kanken. It is made of durable materials and it's super simple and super comfortable.
Mirrorless camera – I love Sony cameras! If you're looking for an entry-level, compact camera that takes awesome photos, go for Sony Alpha 6400, I've used it for years and took some excellent pictures with it. For a more advanced selection, I recommend Sony A7iii, I can't be more happy with it, and I know lots of professional photographers and creators who use it too.
Power bank – power bank to charge my mobile phone saved my life a few times, no kidding. It is handy if you're using Google maps which is a drain on the phone's battery. I recommend choosing a lightweight one
Raincoat – I know you're probably thinking I'm crazy, but trust me, the raincoat is essential, especially if you're scootering your way through the island. When it's rainy, it actually gets cold on the scooter, and during the rainy season, which is between November and April, it rains buckets!
Reusable water bottle – water flask, especially thermal ones, is so practical here in Bali. Many hotels and restaurants let their guests refill the bottles for free in an effort to reduce plastic use on the island.
Sun cream – this is another essential to carry with you and frequently reapply. Choose an eco-friendly and vegan one to do your part for the environment.
Adventure sandals – sports sandals with straps are the best type of footwear for any Bali adventure. They dry quickly and are sturdy enough to keep you safe on your hikes. I use North Face sandals, I've had them for years and they never let me down.
Like me? Pin me for later 🙂