Bukit Cinta Bali – The Most Epic Mt Agung Sunrise Viewpoint
Bukit Cinta Viewpoint is probably one of the most spectacular viewpoints on the whole island, and it's best enjoyed at dawn when the mist covers the rice fields and Mount Agung glisters in the first rays of the sun, creating a truly remarkable spectacle.
This post will provide you with everything you need to know to plan your trip to Bukit Cinta and hopefully experience this jaw-dropping view for yourself.
Where is Bukit Cinta
Bukin Cinta is located in Karangasem District in south-east Bali. The closest town to the Bukit Cinta Viewpoint is Amlapura, and the nearest tourist hub is Amed.
Bukit Cinta is quite a remote place to get to. It takes over 2 hours to get here from Canggu, Kuta or Seminyak. From Ubud, it still takes almost 2 hours, and from Amed, it's around 30 minutes' drive.
Where to stay near Bukit Cinta?
There is not much choice in terms of hotels, but I can genuinely recommend staying in Kubu Carik Bungalows, which is located only a 5 minutes' drive from Bukit Cinta Viewpoint. The hotel overlooks a stunning rice paddy, and the sun sets just above it. There is an infinity pool also with an epic view of the rice field, and an excellent breakfast is included in the room rate and can be enjoyed on your own private terrace.
Another option is to stay in Amed. The advantage is having more hotel options and being by the beach. And if you're planning to visit the Gili Islands, you can take a boat from Amed Jetty.
---
Luxury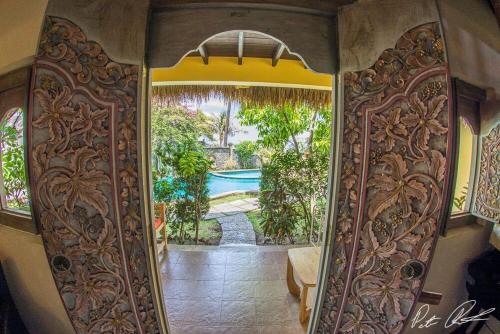 This hotel is situated right on the Amed beach where you can mingle with the locals and watch the fishermen go about their day. Stay in one of the Balinese style cottages with outdoor bathrooms. And relax with free yoga classes daily or go snorkelling, because the waters are teeming with fish of all kinds. The hotel has also got an onsite restaurant with delicious food, which is reasonably priced.
---
Midrange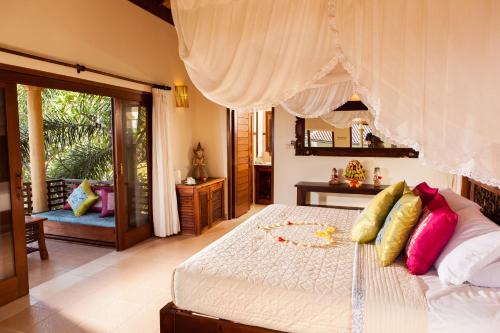 This is the hotel that I chose to stay in when travelling to the Gili Islands. It was located slightly further away from Amed centre, and it was tranquil. There was a beautiful pool overlooking the ocean. My room had a small terrace with a sunset view over the sea, which was lovely. There was an excellent hotel restaurant, even guests from different hotels seem to be coming for a special seafood dish. There was also a delicious free breakfast in the morning, and the hotel sold ferry tickets to the Gili Islands, which was convenient.
---
Budget
The property is conveniently located close to some good restaurants, shops, diving and snorkelling centres and 3 km away from the busy Amed centre. It's a great budget option with free WIFI and free breakfast. The hotel rooms are built on the hill so you can get some spectacular sunset views from your terrace. The highlight of the hotel is the infinity pool with some magnificent vistas of the sea.
---
Read also:
How to get to Bukit Cinta
By motorbike
Riding a scooter is my preferred way of getting around Bali. It gives you maximum flexibility and is the cheapest mode of transport, besides nothing beats riding a scooter through the beautiful Balinese countryside. Expect to pay between 50k-80k IDR for scooter rental a day.
Petrol is widely available in Bali. Vendors sell it in glass bottles by the side of the road. If you ever wondered why they sell vodka on the side of the road everywhere, that's petrol. Petrol currently costs 10k IDR per bottle, and a scooter holds about three bottles.
You can simply type the name of the place in Google Maps, and it will show you the way. Put away your phone and use earphone for navigation prompts. Don't hold your phone and ride, that's the most common way tourists crash on motorbikes in Bali.
By hired car
Hiring a driver is also a very convenient way to travel around Bali and definitely the most comfortable with the car aircon. If you're travelling in a bigger group or with children, it makes sense to hire a car. You can hire a car that comes with a driver that will take you around to places. The going rate starts at 500k IDR per 8 hour day.
Best time to visit
The best time to visit Bukit Cinta Viewpoint is undeniably the sunrise. Sunrise in Bali happens around 6 am but this time will vary slightly depending on the time of the year, so don't forget to check it out. Arrive at the place, 30-15 minutes before the sunrise to make sure you can find the best spot for photographing and experiencing the sunrise.
It will always be a bit of hit and miss with the visibility. The weather in Karangasem can be a little unstable, and the cloud cover may prevent you from taking any photos of Mount Agung, and you may get lucky and get some perfect shots. The best chances of good visibility will always be during the dry season, which is between May and October.
I visited in January and got lucky with good weather and visibility. I also stayed in a nearby hotel called Kubu Carik Bungalows, a 5 minutes' drive from the viewpoint, and that allowed me to sleep longer on that morning! The hotel also has a stunning view of another rice terrace but more about it in where to stay section.
How to find the Bukit Cinta Viewpoint
Luckily, one can easily find the viewpoint on Google Maps. Type 'Bali Asli Restaurant 'where you can also leave your motorbike. Once you park there, there are two spots which are great for photography. The first one can be found by going down the road, and it will be on the left side. The second is around 50 meters up the street from the restaurant, also on the left side.
What to expect
When you arrive, it will probably be dark, but you will find the viewpoints easily based on Mount Agung's location, which cannot be missed! You are most likely to enjoy the place by yourself as Bukit Cinta Viewpoint is not a tourist attraction where organised tours take their customers as part of an itinerary.
If you go down the road, round the bend, you'll get to the first viewpoint. Then go off-road, down the slope towards the fields. It may be slippery, so watch your steps. Go as low as required until you are satisfied with the frame for your photo. Enjoy the tranquil field during the blue hour and a mesmerising, almost surreal scenery of rice fields dominated by the mighty volcano.
The second viewpoint is up the road from the Bali Asli Restaurant and is a little more accessible because you don't need to go down the slope and it's almost possible to take a photo standing on the road.
Entrance Fee
There are no tickets or charges because the viewpoint is literally a place in the field, off the road. Having said that, the field is private property, so I recommend being respectful and asking for permission if required.
Photography tips
Here are some photography tips based on my experience and also what I wished I did differently:
• Use high aperture to capture the details of rice fields and Mount Agung.

• Shoot in RAW.

• Shoot your photos a little underexposed, you can bring back the detail and colours during editing later on.

• Try different angles and use grass, palm trees and banana leaves for framing.

• If your camera is not high quality or you're using your phone wait for when it gets a little brighter, the difference in quality will be huge.

• Bring with you a tripod, if you want a shared photo with your friend or partner.

• If you have a drone, then take it with you for sure. You can get some epic footage of the rice field. Be careful where you take off, though. If I'm not happy with the surface, I use my hand to take off and land the drone.

• If there is a few of you in the group and all want shots, don't spend too much time shooting one person. The light is changing very fast, and by the time you know it, the lovely morning light will be gone.
Mount Agung Information
Mount Agung is one of Bali's active volcanoes, and it stands at over 3,000 meters above the sea level, and one can see it from a distance from many places in Bali.
It has a massive impact on the weather of the surrounding areas, especially the rainfall pattern. It's also a subject of many myths and local customs, and it's believed to be a sacred mountain.
Mount Agung erupted in 1963, which was a devastating event causing the death of over 1,000 people. The eruption missed by a few meters one of the temples – Mother Temple of Besakih, which Balinese people considered miraculous and a sign from the Gods.
Mount Agung is an active volcano that wakes up from its dormant state from time to time and causes chaos.
The last time it was active in 2017 with several mini-explosions resulting in airports closures and flight cancellations.
During that time, I actually have been in Bali and remember empty streets in Ubud because many tourists feared eruption and cancelled their holidays. Of course, it wasn't a big enough reason to cancel my trip ;).
What to wear?
Early morning, especially around this region in Bali most definitely will be chilli. It is particularly cold when you're riding on a scooter longer distance, so I recommend wearing a light jacket or a jumper and some long trousers or leggings. If you're staying in a nearby hotel and only need to drive a few minutes, then you should be fine wearing short sleeves.
In terms of shoes, I recommend wearing some trainers. Getting to the perfect photo spot will require you to slide down a slope which can be muddy and slippery. You will also be walking through tall grass in the middle of Balinese countryside, which can potentially mean encountering all sorts of wildlife like snakes and giant spiders.
I wore hiking sandals and was petrified going through the grass and was literally clapping in the hope of scaring the snakes off.
I recommend wearing something white or neutral for the photo that will nicely stand out amongst the green field and rice paddies.
Things to take with you
Day Backpack – Especially if you're travelling on a scooter, you will need a backpack. I really like Kanken. It's minimalist, comes in so many different colours, and it's made of quality materials. It's also super comfortable to wear.
Good Camera – If you're into photography but don't want to carry a massive camera with you everywhere, then I recommend buying a compact camera. I use Sony Alpha like many other bloggers and influencers, and I love it. It's light, takes fantastic shots, and you can buy additional lenses that suit your needs.
Drone – If you ask any drone pilot, most will say that best drones are by DJI, I use Mavic 2 Pro and love its auto time lapses, follow me and other cool features. If you're new to drones, start by getting a DJI Mavic Mini, an awesome drone.
Raincoat – You may think I'm crazy that a rain jacket is one of the things that I suggest to pack for Bali. But, trust me, my friend, it rains in Bali, and when it rains, it pours. You may find a raincoat handy on your Bali checklist if you're planning to be more adventurous. Volcano hiking, riding a scooter and visiting the monotonous North, where the weather is more unpredictable, and the temperature much lower will require some kind of rain protection. My favourite rain jacket in Columbia. It's really durable, I've had mine for years, and what I love the most about this jacket is its flattering fit and that it comes in so many pretty colours.
Water flask – Wherever I go, I take my water flask. The times of buying water in plastic are long gone. Nowadays, most airports are equipped with water stations where you can refill your water bottle for free. Bali has also been making a lot of effort to eliminate plastic from everyday use. You'll find that in most hotels, hostels and restaurants you will be able to refill your water flask for free. I love Chilly's bottles. They come in different sizes, and there are so many cool designs to choose from.
Power bank – A power bank can be a lifesaver when you're travelling on a scooter and need Google maps on your phone to get back to your hotel. I really recommend including a lightweight one in your things to pack for Bali.
You may also like:
Is Bukit Cinta Viewpoint worth a visit?
Bukit Cinta made a massive impression on me. The gorgeous rice fields, swaying palm trees and Mount Agung majestically glistering in the early morning sun can easily sweep you off your feet and leave a long-lasting beautiful memory. However, it is also a little out of the way, and if your visit to Bali is short and sweet, you may have to prioritise.
Like me? Pin me for later 🙂