23 Most Beautiful Places in Indonesia
Indonesia is such a diverse country jammed-packed with dreamy beaches, unworldly scenery with soaring clifftops, lush rice paddies and steaming active volcanoes. There is so much more to discover beyond the most famous place in the country – Bali. I asked a group of best travel bloggers to share what they consider the most beautiful places in Indonesia. Check it out and get inspired!
Most Beautiful Places in Indonesia
1. Raja Ampat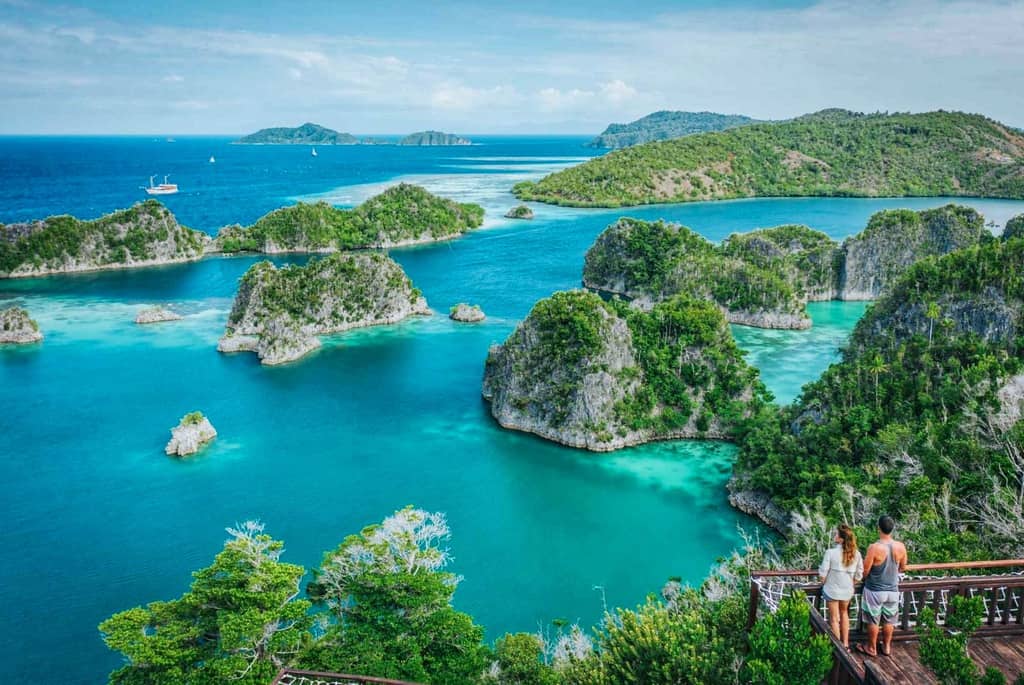 Without a doubt, the Raja Ampat archipelago is one of the most beautiful places in Indonesia – if not the world! It is made up of a series of densely jungled islands which are framed by white sand beaches and turquoise-blue waters. It is still a relatively unknown destination, but those who chose to come to Raja Ampat typically do so for the area's incredible diving.
Raja Ampat is consistently rated as one of the best diving destinations in the world. Nowhere else in the world can you find the same level of biodiversity. This is mainly because it's located in an area called the "Coral Triangle", inhabited by species ranging from sizeable marine life like sharks, saltwater crocodiles and manta rays to smaller creatures like seahorses and other macro life.
We spent a week on a liveaboard dive boat and a few days on land at Papua Paradise Eco Resort and can highly recommend either option for anyone serious about seeing the underwater world.
For the last day of your holiday when diving is not an option or for non-divers in your group, there are a bunch of great land activities to enjoy. You can take tours to local villages, to see the birds of paradise native to the area or going hiking in search of waterfalls. It is truly one of the most unique Indonesia places!
By Oksana & Max from Drink Tea & Travel
2. Mount Ijen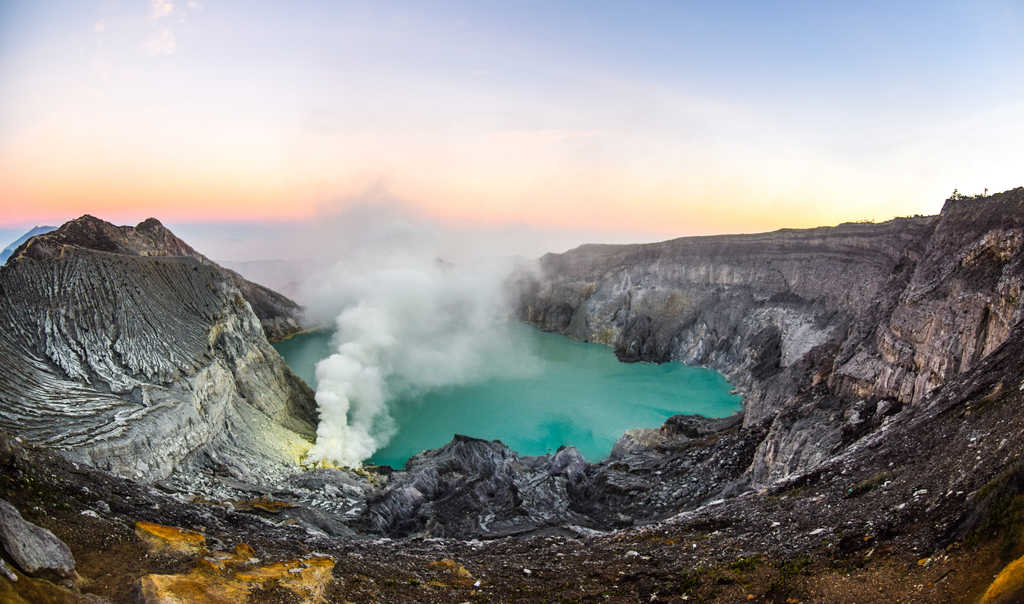 Mount Ijen has to be one of the most memorable places to visit in Indonesia. if you're an adventurer and thinking where to go in Indonesia, hiking Mount Ijen is fo you my friend! The blue crater lake at the top of the largest acidic crater lake in the world and 2148m above sea level – is vibrant, and even more photogenic than I imagined. It is definitely a must-see if you are travelling through East Java, and can be combined with a more extended trip to Tumpak Sewu Waterfall and Mount Bromo.
It is best to do the hike up to the turquoise crater at night. This is because, due to a rare, natural phenomenon, a 'blue flame' appears on the side of the mountain! The blue fire blazes, as if from nowhere. You have to wear a gas mask, due to potent sulfuric gases, but it's worth the challenge. After this, you can head to the top of the volcano and watch the sun rising over the crater lake.
The easiest way to do the hike is to stay in Banyuwangi and book a shared car to take you to the beginning. Inexperienced hikers should also consider booking a guide to assist them on their hike. This is also a great way to give back to the local community, where 'sulphur mining' has become a harsh profession. You will actually see miners carrying huge amounts of sulphur on a wooden beam over their shoulders while walking down the mountain at night.
Walking back down in daylight, you will marvel at white, stone slopes before hiking down lush hillsides, with the jagged horizon tempting you with yet more volcanoes in the distance.
By Cassie from Cassie The Hag
3. Bukit Lawang, Sumatra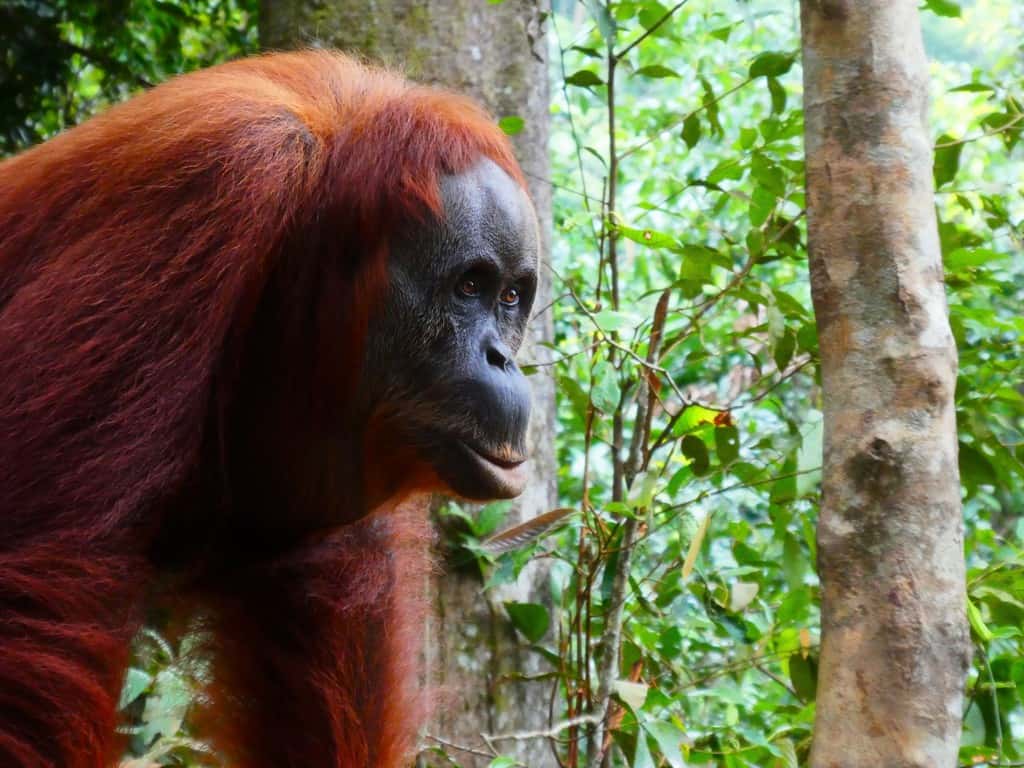 If you're looking for slightly off the beaten track Indonesia destinations and love wildlife – check out Bukit Lawang. Located in the north of Sumatra island, it's at least a 4-hour drive from the nearest airport in the city of Medan.
Bukit Lawang is located right on the Bahorok River with half of the town on one side and the other half on the other side of the river. The place is connected by a series of rope bridges. Bukit Lawang is also right next to the UNESCO listed and popular tourist spot of Indonesia – Gunung Leuser National Park making this the best place to stay to do an orangutan trek.
The reason why this is such a fantastic place in Indonesia is that this is where you can see wild orangutans. Back in the 1970s, two Swiss zoologists came to this area to rehabilitate orangutans who had been orphaned or injured as part of the deforestation of the rainforest. Palm oil is a lucrative business; however, the clearing of the rainforest has a detrimental effect on the orangutans. The Bukit Lawang Rehabilitation for orangutans is the reason why there are so many orangutans in this area today.
The best way to see the orangutans is to go on one of the jungle treks, you can book single or multiple nights. Most people book the 2-day-1-night excursion, which includes one-night camping in the rainforest.
I loved everything about the jungle trek. However, there are a few things to bear in mind. Take comfortable shoes to walk in which don't matter if they get wet (you'll have to go through a few rivers) and quick-drying clothes as it's humid plus it most likely will rain. Also, pack something to cover your legs and arms with to stop the mozzies biting.
By Becki from Meet Me In Departures
4. Nusa Lembongan
Nusa Lembongan is one of the beautiful islands perfect for appreciating Indonesia scenery, part of the group of the three islands that make up Nusa Penida to the south-east of Bali. The island is one of the top spots for diving and snorkelling as the beaches boast of excellent coral reef and rare and abundant marine life. If you love beach holidays, I'd highly recommend Lembongan, which is perfect for a getaway from Bali and a slightly more off-beaten track places to visit Indonesia.
Devil's tears have become the top attraction for tourists visiting Lembongan. Despite the massive crowd, it is worth checking out the magical mist-like water surrounding the rocky cliff. A little further ahead is the cliff jump spot, where you can get your adrenaline rushing!
The main beach is Jungut Batu, which is the longest and offers a lot of water sports, including SUP boarding and surfing. The other is the Dream beach great for fabulous sunset views. Taking a boat trip through the mangrove forests on north-east of Lembongan is another popular activity that you can enjoy. Here, you can also try to stand up paddleboard.
I enjoyed snorkelling the most and was able to spot plenty of corals and deep and bright coloured fish, some of which I had never seen before. Giant Manta Rays are the unique attractions here, which you can spot if you are lucky. You have dive and snorkel tours with Manta rays as well. Also, watching magical sunsets in Lembongan was my other favourite activity.
I'd recommend Hotel Water Blow Huts, which is a comfortable hotel and located in Mushroom Bay area, one of the famous centres for tourists visiting Lembongan.
By Reshma Narasing from The Solo Globetrotter
5. Mount Bromo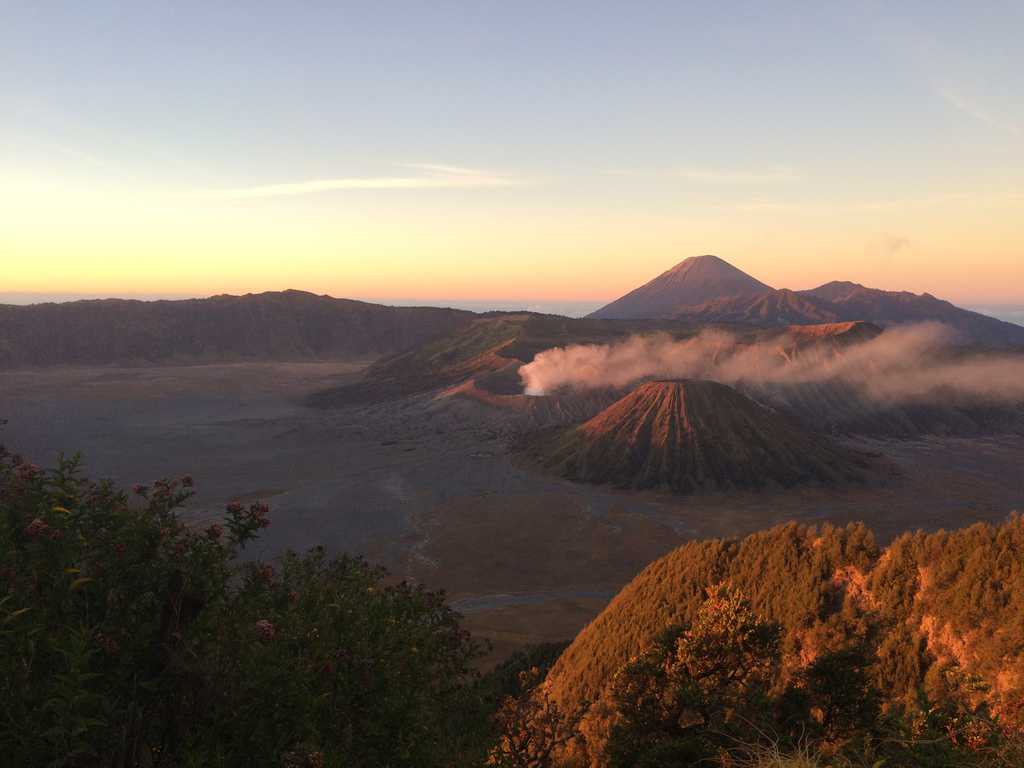 Mount Bromo or Gunung Bromo is an active volcano on the island of Java and one of the best Indonesia places to visit for the adventurous souls. While Bromo is not the most prominent peak, it's undoubtedly the most well known and is one of the most visited areas of Java and one of the Indonesia popular places. Mount Bromo sits in the middle of an area called the Sea of Sands, within the Bromo Tengger Semeru National Park. Most visitors travel to Mount Bromo as part of an organised tour, but it is also very easy to visit Bromo Independently. Trains run to Probollingo and then shuttles run up the mountain to the village of Cemoro Lawang. You can walk to Gunung Bromo from there, or take an organised jeep tour. Many take organised jeep tours to the viewpoint on Mount Penanjakan for sunrise, or you can also walk here (for free) in about 2.6 hours from Cemoro Lawang. There are several homestays available in Cemoro Lawang or book online at the Lava Lava Hostel.
Sunrise on Penanjakan is spectacular, be sure to head to the crater for breakfast served from the mobile kitchens usually motorbikes, that come to deal with the crowds. You'll have a quieter experience heading into the crater in the mid to late afternoon, after most of the visitors have gone, walk across the Sea of Sands and hike up to the Bromo crater.
By Sarah Carter from ASocialNomad
6. Gili Kedis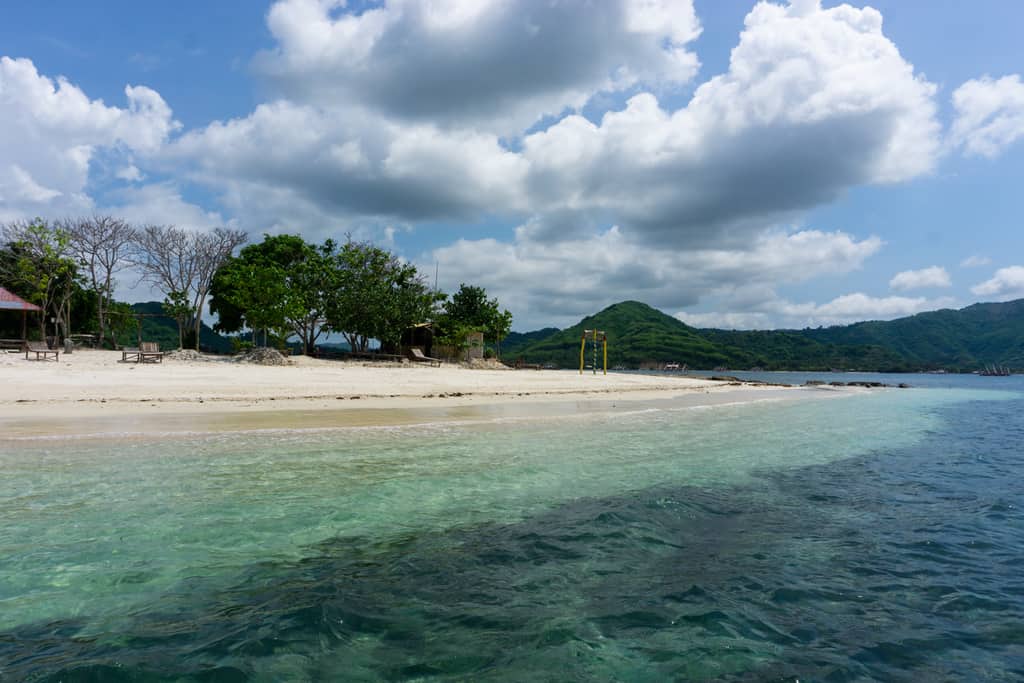 When people hear of the "Gili Islands" in Indonesia, they often think of the hotspot islands of Gili Air, Gili Meno, and Gili Trawangan off the coast of Lombok, one of the most visited destinations in Indonesia. But did you know that that the word "gili" means "small island" in Sasak, and that there are plenty of other islands surrounding Lombok? Visiting places in Indonesia such as Gili Kedis is the perfect way to experience the best of Indonesia.
On your next trip to Indonesia, venture to what's colloquially called the "Secret Gilis," three islands of Gili Gede, Gili Sudak, and Gili Kedis. Gili Kedis is the quietest of the bunch, a tiny island outlined with a ring of soft sand and thriving coral reefs. Pack your bathing suit, hat, and reef-safe sunscreen to head out on a snorkel trip to Gili Kedis. While you can easily spend the day lazing away in the shade, it's worth getting into the water and peering into the vibrant coral bommies in search of anemonefish, nudibranchs, and other exciting reef life. If you get lucky, you might spot a sea turtle as well.
Because the island of Gili Kedis is so small, you won't have to worry about missing out on any island activity. The island itself is so tiny, you'll be able to see it in just a few minutes. This helps you ease into the present and enjoy the moment. After all, there's nothing else to do but relax.
By Chantae from The Salt Sirens
7. Bali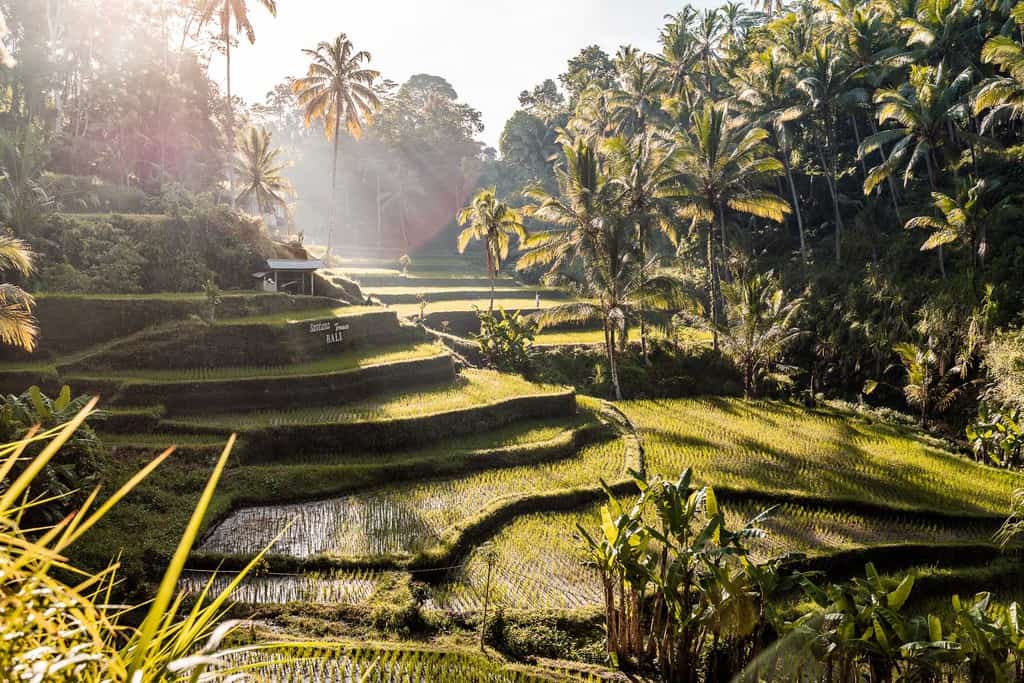 Although it sounds quite mainstream, Bali is still one of the most beautiful places in Indonesia to visit. Everyone should experience at least once in their lives, the friendly hospitality and all the natural wonders the island has to offer. Since the island is quite big, if you're visiting Bali for the first time, it's worth to set aside at least 1-2 weeks to be able to properly explore the island.
Bali has many different faces depending on which part of the island you're planning to discover. If you're looking for great parties, laying on the beach or surfing, you need to visit the southern side for that. You will find all the best cafes in Canggu and Seminyak, so if you're a digital nomad, you'll love this part of the island.
The central area is the cultural heart of Bali, and it's home to the most beautiful places to visit in Indonesia Bali – such as beautiful temples, green rice terraces and gorgeous waterfalls. It's worth to stay in Ubud for at least 3-4 nights because you can visit all the best places around the city on day trips. Ubud is one of the most beautiful places in Bali and home to many yoga retreats, great cafes and interesting art markets so you won't be bored there, that's for sure! For beachgoers, there is Uluwatu with some incredible beaches including Bingin beach – the most beautiful beach in Bali.
In the eastern part of the island, you will find two volcanos – you can even climb on top of one of them! The famous Pura Lempuyang Temple, otherwise known as the Gate of Heaven is also located in the area, so it's definitely worth planning a visit there. The northern climate is quite different from the rest of the island. It's more foggy and rainy, and you will find many amazing waterfalls, lakes and misty mountains in the area. If your time allows, spend 1-2 days in Munduk to experience this side of the island as well!
By Krisztina from She Wanders Abroad
You may also like The Perfect Itinerary for 10 days in Bali.
8. Lake Toba
Most people head to the jungles of Sumatra to catch a glimpse of the critically endangered Sumatran orangutan. Still, there's an equally tantalising and breath-taking natural wonder lying in wait in North Sumatra – and that's Lake Toba.
This enormous volcanic crater lake (the biggest on the planet) is now a peaceful paradise a true Indonesia beauty, belying its violent beginnings. Roughly 74,000 years ago, this caldera was formed in an epic volcanic eruption – the biggest recorded on earth in 25 million years.
Nowadays, it's perfectly safe. Samosir Island (the same size as Singapore) lies in the centre of the lake and draws both local and international tourists. People come to experience the unique Batak culture, enjoy a cooler climate than the lowland regions, and marvel at the out-of-this-world scenery. Think soaring cliffs, tumbling waterfalls, emerald-green rice paddies, and that endlessly sparkling lake.
Many panoramas around the lake look like something from a postcard of the Swiss Alps in summer. However, the Batak houses with their distinctive sloped rooves are characteristic of the area's architecture.
The jaw-dropping scenery and endless tranquillity alone make Lake Toba one of the best places to visit in Indonesia. But add the easy-going, welcoming attitude of the Batak community, and you've got a place you'll find it hard to tear yourself away from.
We recommend heading for Tuk Tuk on Samosir Island (catch the ferry from Parapat, around a three-hour hour drive from Medan). There are plenty of accommodations – from budget to luxury. You'll find freshly-cooked local food or plenty of Western options, a chill vibe, great music, and a home away from home in this tiny but mighty village.
Stay at Reggae Guesthouse for a comfy budget holiday, or upgrade to Tabo Cottages, complete with a pool and German bakery. Don't forget to visit Roy's Pub on Thursday or Saturday night for live music and ice-cold Bintangs.
By Carly and Agung from We are Sumatra
9. Togian Islands
If you are searching for off the beaten track little paradise islands with crystal clear water, powder-white beaches and tropical jungles, the Togian Islands are one of the best places in Indonesia for natural beauty.
Destination Indonesia is made up of more than 17 000 islands, the Togian Islands are some of the most remote, an archipelago of 56 islands in the middle of the Gulf of Tomini off the coast of Sulawesi. Reaching the Togians takes some commitment, you have to travel by a combination of ferries and speed boat taxis for two days. Surrounded by barrier reefs, these islands have some of the calmest water anywhere on the planet. Kadidiri is one of the most popular little hidden islands to visit in the Gulf of Tomini. You can find there gorgeous boutique hotels to stay in and soak in the simple island life that includes swinging in hammocks and looking for wildlife in the jungle. The island is also home for many dive centres that offer diving trips to the local pristine coral reefs. Most people venture to the Togian island to scuba dive in the beautiful coral reefs in crystal clear water with temperatures as warm as 31C! Exploring the wreck of a B24 Bomber plane that crash-landed during WWII now covered in marine life is a unique and popular dive. An extraordinary cultural experience in this isolated location is to visit the Boja settlement, Pulao Papan. Here you can see how the "sea gipsies" of Malaysia and Indonesia still live on the ocean today. This tribe lives in houses on stilts over the sea. They grow up, live and die in the sea.
By Campbell and Alya from Stingy Nomads
10. Gili Trawangan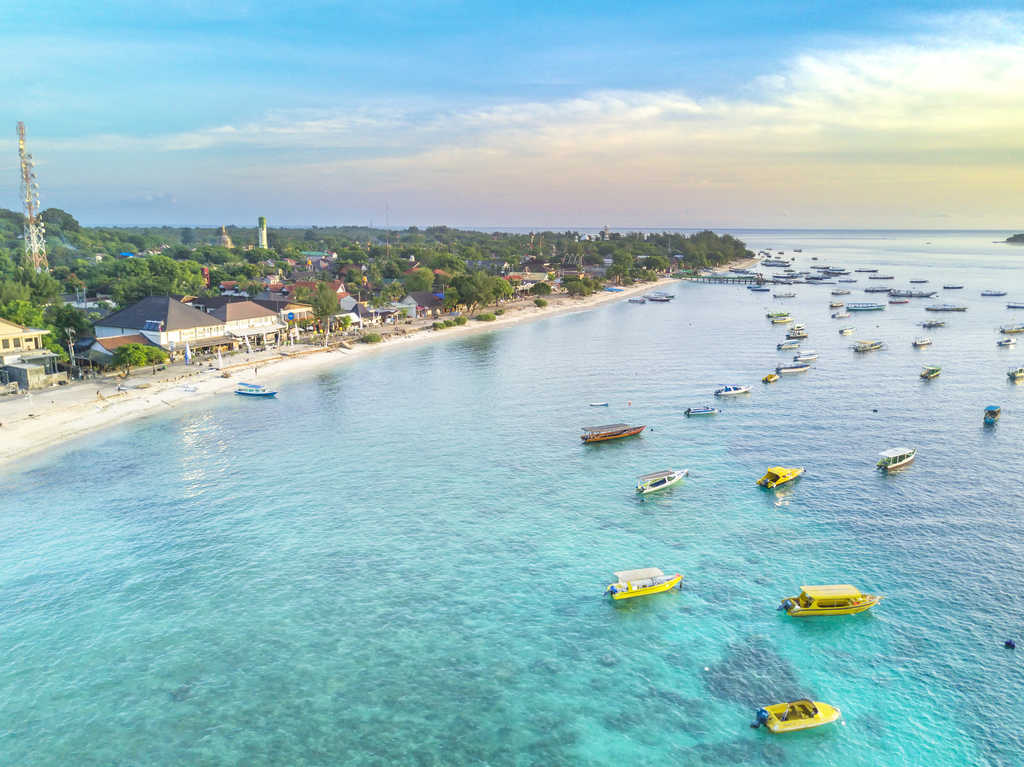 Gili Trawangan is one of, if not the most, beautiful island in Indonesia with also some of the most beautiful beaches in Indonesia . Gili Trawangan, also known as 'Gili T' forms part of the Gili Islands. The three Gili Islands are Gili T, Gili Meno and Gili Air, each with their own personalities.
Gili T has the most going on, being the biggest of the islands and is more popular. This is due to the Island having a lot more to offer in regards to restaurants, bars and clubs. Gili T is the party island of the rest, and you can drink and dance away until the early hours of the morning.
Even though Gili T is known for its nightlife, it is equally known for its beauty in regards to nature and wildlife.
The beaches are soft and white with clear turquoise waters. Snorkelling is popular here as you can regularly spot wild sea turtles swimming alongside you, as well as coloured fish. It is also the place to get a famous instagrammable picture of swings in the sea.
To put the cherry on the top of the cake, Gili T has some of the most amazing sunsets. Watch as the sun goes down turning the sky red, orange and purple.
The best place to stay would be at Scallywags Resort on the beachfront with your own private pool.
You can easily get a ferry from Bali to the Gili T. The most popular areas to depart from are Serangan and Padang Bai. The journey time will vary from where you set off, the weather conditions and whether you choose to go by speedboat or regular ferry. This can range from 1 – 2 hours.
Gili T is not to be missed when visiting Indonesia and should be on everyone's bucket list.
By Kerrie & Woody from Just Go Travelling
11. Borobudur Temple
Abandoned in the jungle for several hundred years, the world's largest Buddhist temple, Borobudur, is a majestic structure and one of the most beautiful places of Indonesia. On the Kedu Plain in Java is the small town of Borobudur. Borobudur Temple is nearby and just over an hour from Yogyakarta. It's possible to stay right next to the Temple. Still, there is also excellent accommodation in Yogyakarta and buses, and private taxis are easy to take in both directions for an easy day trip. In recent years it has become popular to see Borobudur at sunrise, either from the site itself or from nearby hills and mountains. It's best to visit at any time other than the middle of the day when the humidity is fierce.
The sheer scale of the Temple makes it one of the best places Indonesia has on offer. There are almost 2000 stoner reliefs, each intricately carved. Rising from the base of this enormous monument are tiers and galleries that you reach by stone stairways between the levels. Eventually, you arrive at three open-air terraces where there are 72 latticed stupas, each one with a sitting Buddha image inside. These are only some of the 504 Buddha statues at Borobodur. Finally, you reach the large central stupa at the apex of the Temple and can gaze out at the jungles below and the misty mountains all around.
By Monique from Trip Anthropologist
12. Tangkoko National Park, Sulawesi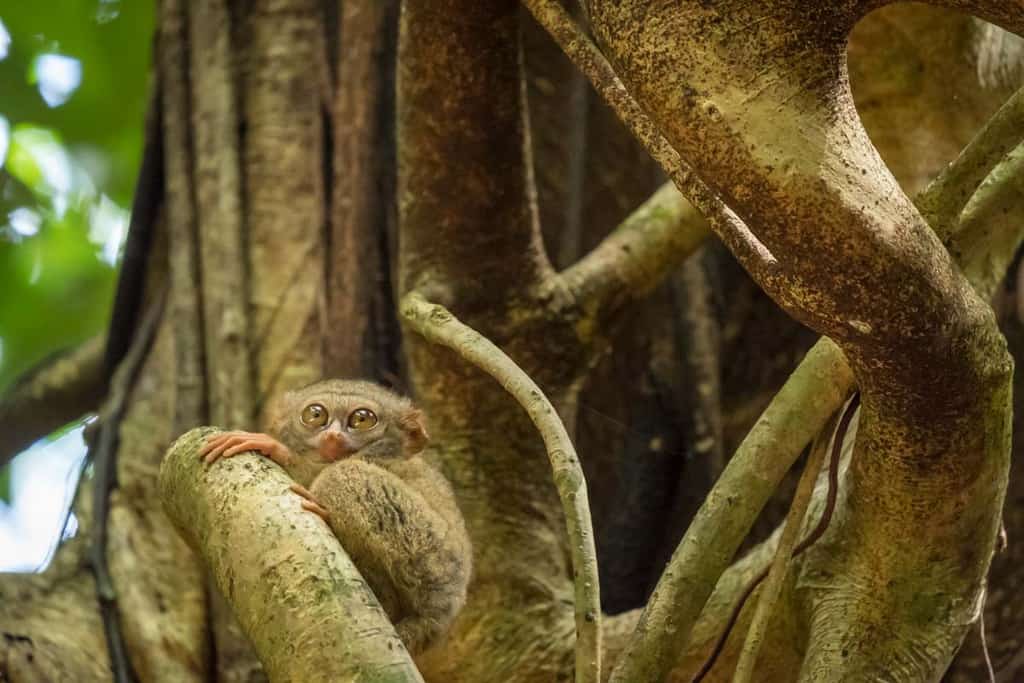 If there is one Indonesian national park that absolutely doesn't get all the honours it deserves, that's Tangkoko National Park. It may be the far-flung location perched on the northernmost tip of Sulawesi. It's situated one hour drive from Manado, and like this area of Indonesia, Tangkoko is a hugely underrated attraction in Indonesia.
But if you love wildlife and the beach, Tangkoko is Indonesia best places to visit: beyond being a perfect place to see the endemic Macaca Nigra — the monkey culpable of the thorny selfie case that involved PETA and photographer David Slater — Tangkoko is home to the rare Spectral Tarsier, one of the smallest primates in the world, Bear Cuscus, and different species of birds. The park is perched on the edge of a volcanic beach, which makes it all the more enjoyable to explore with a guide.
The best time to go is during the week, as ticket prices increase during weekends and public holidays. There's a park entrance where local compulsory guides hang out, and you can negotiate directly with them how long your trip needs to be. We recommend spending at least 4 hours inside the reserve, as you'll be moving on foot, and otherwise, you won't be able to see much.
There's plenty of simple accommodation in the village of Batu Putih right outside the park. Recommended budget lodgings are Tangkoko Hill Cottage or Ranger Homestay, while for a more upmarket experience, the Botanica Nature Resort ticks all the boxes.
By Marco Ferrarese from Monkey Rock World
13. Lombok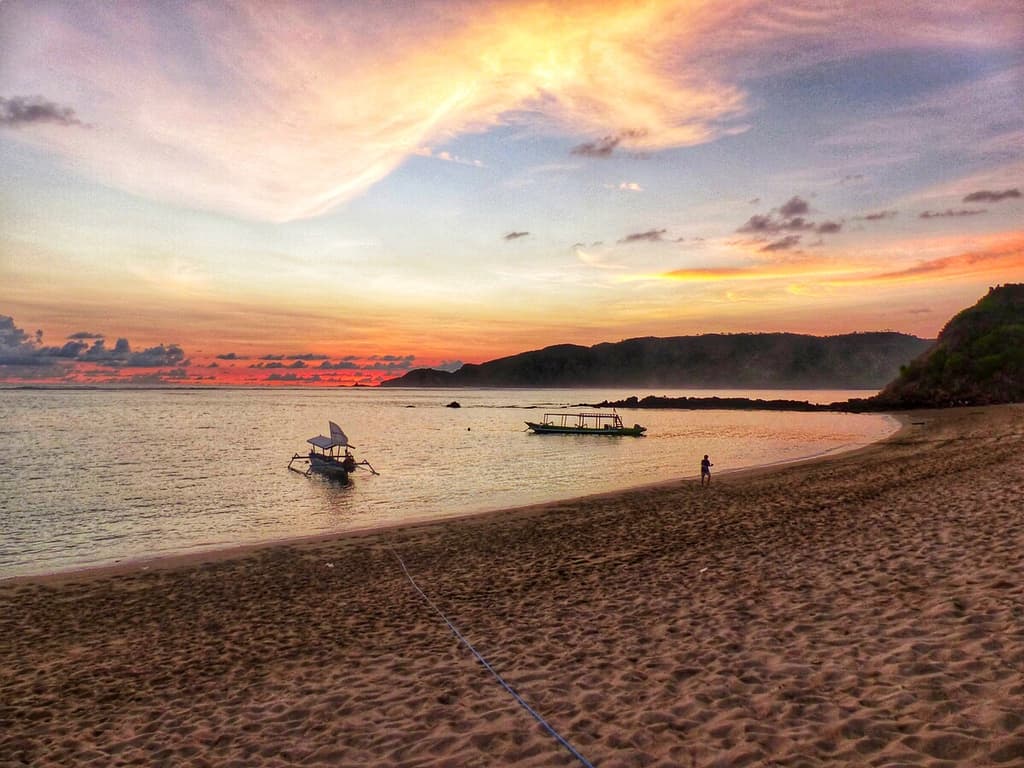 Lombok is a gorgeous island just to the east of Bali and one of the most beautiful places Indonesia boasts. It could not be more worth your precious vacation time. Lombok is packed with lush forests, magnificent coastline, superb beaches, fantastic hiking and volcanoes. It also has opportunities to get to know its traditional culture.
What's even more awesome is that its proximity to Bali makes it very easy to reach, being a short plane trip or ferry ride from that island. At the same time, it's a world away from the trash and traffic jams of Bali.
Some of the best things to do in Lombok are obviously to visit the beaches – I recommend Selong Belanak beach in particular. Also, visiting a traditional Sasak village (Sasak is the name of the indigenous people of Lombok) and hiking up Mount Rinjani, which is Indonesia's second-largest active volcano.
The combination of natural attractions and authentic experiences while still providing a good level of tourist infrastructure and a lack of huge crowds is what makes Lombok so unique. It's gorgeous and easy to visit. I particularly love staying at the Novotel Lombok by Kuta. It has its own magnificent beach and many facilities and activities to make sure you can also enjoy some downtime while still having some amazing experiences while visiting Lombok. The island of Lombok also boasts some Indonesia top surfing spots.
Lombok is best visited from May to October during the dry season. However, this also coincides with more tourists. We have visited during the wet season and did not find the weather to cause any issues with only short downpours, but, of course, you can get unlucky at this time.
By Sharon from Dive Into Philippines
14. Flores Island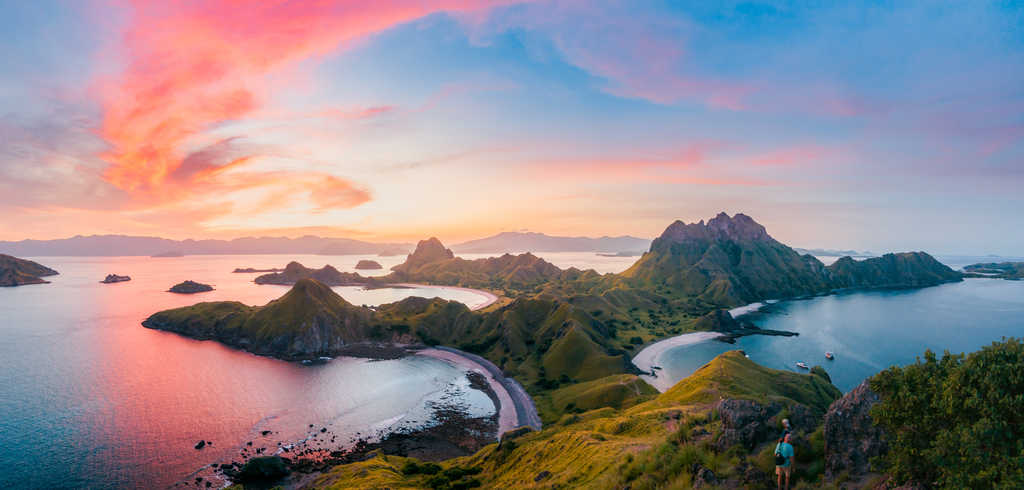 Flores Island is an adventurer's dream destination and hands down one of the most beautiful destinations in the world! Located in the East Nusa Tenggara Province of Indonesia, it's easily accessible from Bali. It makes for the perfect addition to any backpacking trip.
The vibrant underwater world, coupled with the mountainous landscape makes Flores one of the best places in Indonesia to visit for snorkelling and diving.
My highlights include going off-the-beaten-track, where I spent 10 days travelling overland between Ende and Labuan Bajo. This is the best route to follow, which allows you to see the top attractions in Flores. Those include the tri-coloured lakes of Kelimutu, 17 Islands Marine Park, Bajawa hot springs and Mount Inerie before ending your trip in the Komodo Islands where you can go snorkelling with Manta Rays!
While Flores isn't as popular as some of the other Indonesian islands, it's a hit with backpackers, and you're bound to run into a few solo travellers on your trip. The public transportation network makes it easy to travel overland as buses are both readily available and extremely affordable.
Flores Island is best explored in the dry season from May to October when temperatures are cooler, and there are very few rain showers. If you're looking to escape the crowds and discover a different side to Indonesia, add Flores Island to your bucket list!
Carryn from Torn Tackies
15. Pink Beach, Komodo Island
Only a few pink sand beaches exist around the world, their scarcity merely adding to their charm and appeal. Even if you're not a beach lover, you'll be lured by the Pink Beach Komodo Island, located in the remote Nusa Tenggara region of East Indonesia. With its pink-hued sand and turquoise waters, the beach is ideal for photographers, nature-lovers and beach-goers alike. Pink Beach in Komodo Island is one of Indonesia best places to visit.
Set deep within the heart of the UNESCO World Heritage Komodo National Park, you'll need to catch a boat to access the Pink Beach. Located around 90 minutes from the nearest town of Labuan Bajo on the island of Flores, visitors usually set out for the beach as part of an island-hopping tour.
In stark contrast to the hectic pace of Bali, over one hours' flight away, the Pink Beach is uninhabited and has no infrastructure – but that's the sheer beauty of it! Spend a perfect day lazing on the blush-pink sands of this small, quiet cove.
Simply stop and unwind on the blush-pink sands which get their striking colour from fragments of the red coral living in the waters around the island. Swim or snorkel in the crystal-clear waters with its abundance of fish and coral species, just 100 metres from the shore. If energy strikes, enjoy an easy hike up the small hills flanking the cove for panoramic views over the bay. Plus, photographers will love the picture-perfect contrast of the turquoise waters and cotton-candy coloured sands, making for perfect dreamy selfies. The Pink Beach is one of the most magical Indonesia travel places.
By Marie from Alife Without Borders
16. Nusa Penida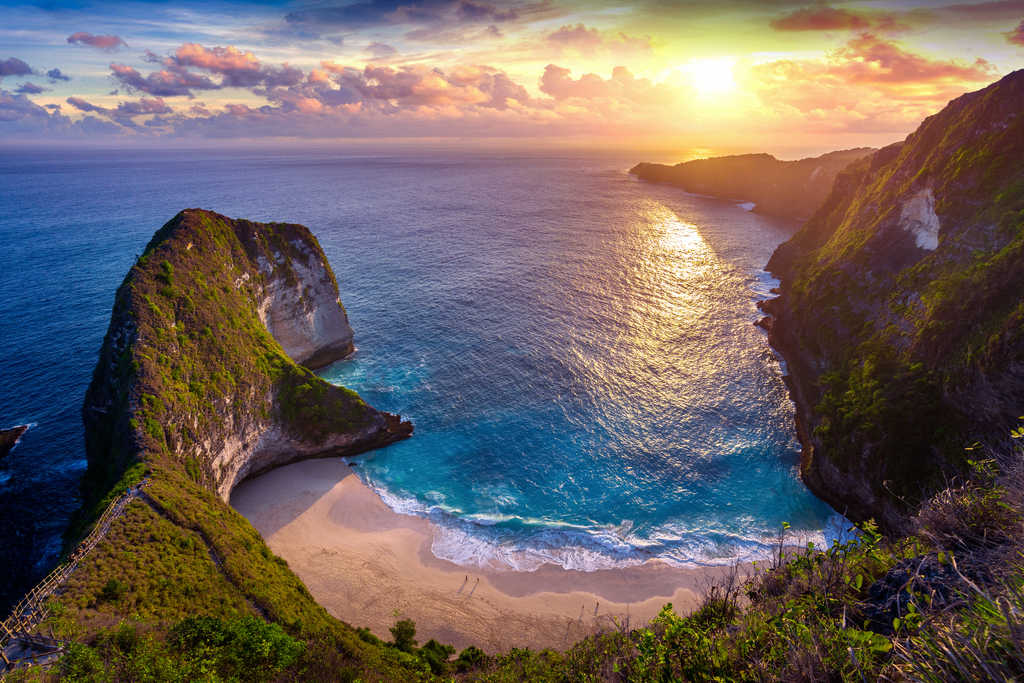 While it's definitely high on the agenda of many avid Instagrammers, it's for a good reason: the island of Nusa Penida is one of the best places to go in Indonesia. Nusa Penida is jam-packed with spectacular sights, pristine beaches and brightly-coloured coral reefs.
From going in search of the famous 'T Rex' dinosaur-shaped landmark at Kelingking beach (one of Indonesia must-see places) to perching on the wooden ladder of the gorgeous Rumah Pohon treehouse, you'll find yourself leaving Nusa Penida with a hard drive full of phenomenal photos, and of course the memories from this exquisite island. Explore the many beaches like Diamond Beach (and try that death-defying staircase at your peril!). Check out the crystal clear tidal pool of Angel's Billabong or meander on the cliff walk to see the natural archway of 'Broken Beach'.
One of the best things to do is to go snorkelling in Nusa Penida, to come face-to-face with its most famous inhabitants: the magnificent manta rays – Indonesia must-see creatures. While snorkelling in the waters will offer up everything from angel and parrotfish to turtles, it's the mighty manta ray that reigns supreme. Nusa Penida is one of the best places in the world to spot them at spots like Crystal Bay, Manta Point and Manta Bay.
By James from Travel Scribes
You may also like:

18 Incredible Things to do in Nusa Penida
17. Mount Rinjani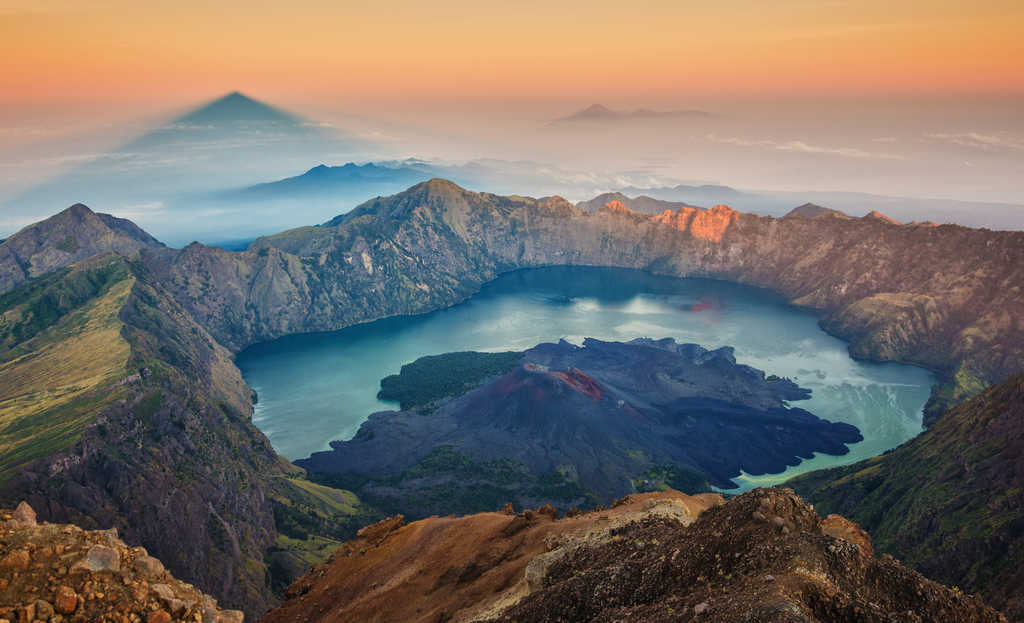 Mount Rinjani is an active volcano on the island of Lombok in Indonesia. With 3.726 meters it's the second-highest one in the country, and one of the best destinations in Indonesia for hiking. The Rinjani volcano is well known for its trekking possibilities and very popular among tourists to do so. However, note that it's an extremely tough and strenuous hike and should only be done if you have hiking experience.
If you do not wish to climb all the way to the top (a 2-3 day expedition), you may also opt to hike to the rim only, which is a two-day trek. From here you can gaze into the emerald green crater lake and hopefully see a bit of smoke coming from the crater. The Rinjani trek was severely damaged during the big earthquake a few years ago, and not all hikes are currently open. Check with a local agency (my suggestion is Rinjani trekking club) upon arrival in Lombok which trails are open and which hikes can be undertaken.
Of course, you can also enjoy Mount Rinjani from below, the villages of Sembalun or Senaru are recommended places to go in Indonesia.
By Antonette from We 12 Travel
18. Gili Nanggu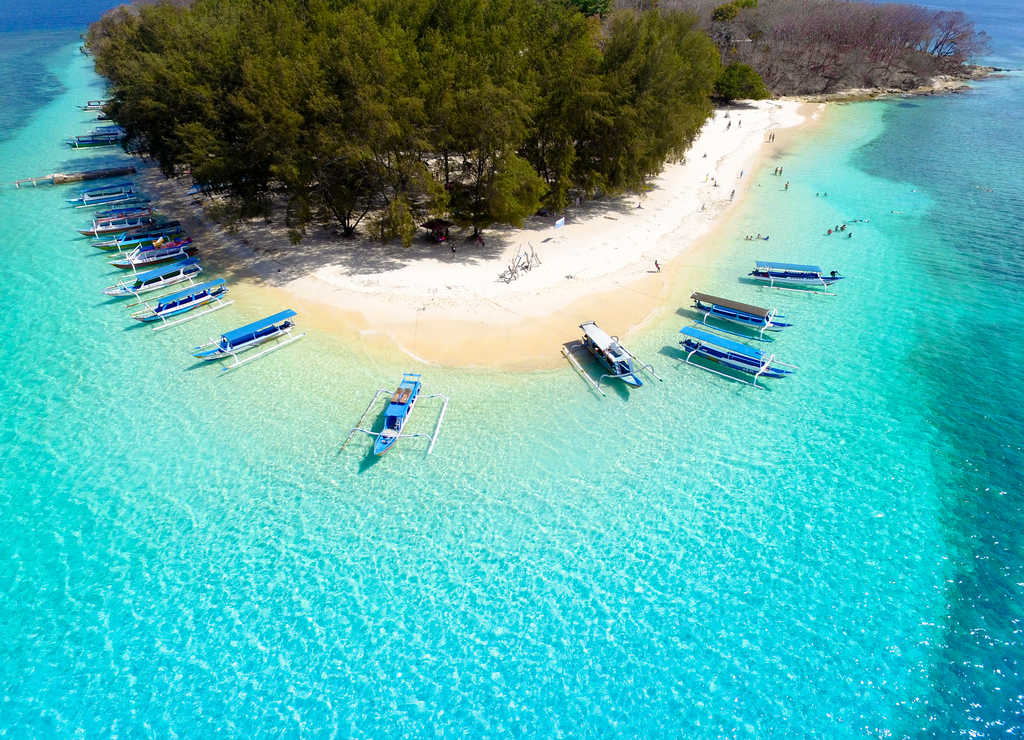 Indonesia as a tourist destination has so many incredible islands and one of them is Gili Nanggu. Gili Nanggu is a small island off the coast of mainland Lombok. There is only one little place to stay on the island (Gili Nanggu Cottages), so you don't have to worry about it being overcrowded.
This place is absolute paradise and one of the best places to visit Indonesia. The water surrounding Gili Nanggu is so clear you can see your feet even when the water is up to your shoulders. The sand is so soft, the water so warm and the fish are colourful and friendly!! We were absolutely surrounded by fish keen to come and say hi! Seriously it was like swimming in an aquarium.
To reach the island, you can join a day trip, or my favourite way is to make your own way to the Tawun Harbour and hire a fisherman and his boat for the day. It's then only a quick ride out to the Gili Nanggu. As you start to come into the shores of Gili Nanggu, you notice the ocean starts getting clearer and clearer, and you can literally see the ocean floor.
This place is paradise and easily a contender for one of the most beautiful places in Indonesia.
By Melissa from Queensland Camping
19. Nusa Cenningan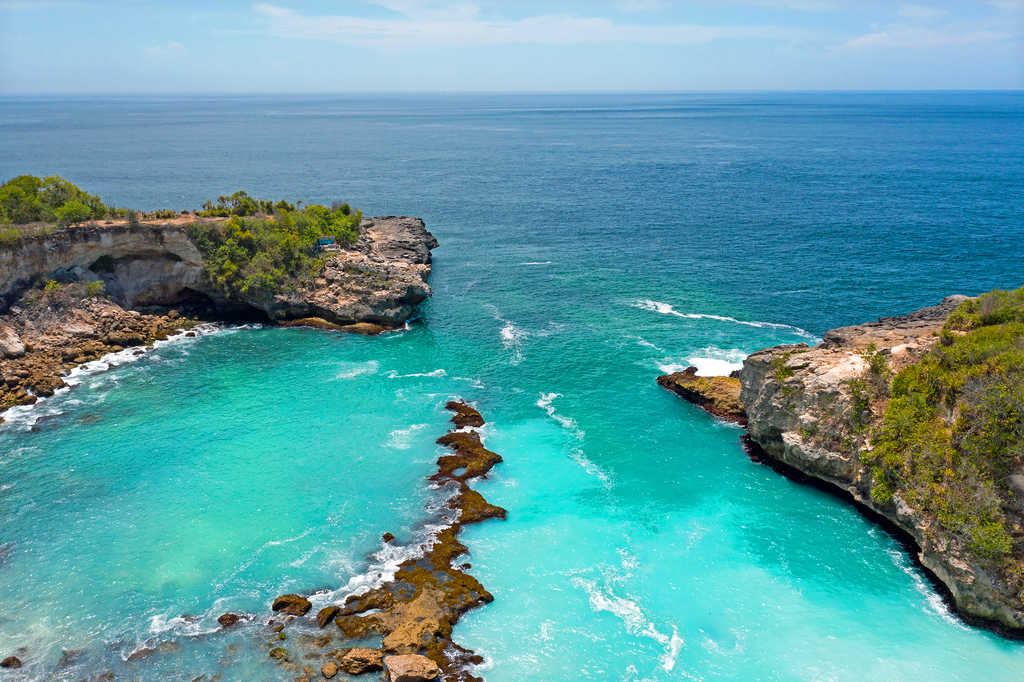 One of the best places to see in Indonesia is the small island of Nusa Cenningan. Said to be how Bali used to be before the whole Eat, Pray Love situation exposed it for being the unbeatable picturesque place that it is. The Nusa islands are exactly what the real backpacker adventure needs to be. Exploring a highly localised area, without the trappings of mass tourism which still retains the natural and local beauty of the area.
Nusa Cennigan is the baby brother and the smallest of the Nusa Islands. Though don't let its size fool you, there is still a mix of activities that can be done here and many gorgeous Indonesia sights to explore.
For those looking to relax then the most beautiful beach here is the Secret Beach. If you want to marvel at some of the most beautiful blues, then head over to the Blue Lagoon. Too relaxed? Then why not head down to Mahana Cliff Jump if you're brave enough to try the 15m jump (be careful and don't do this during low tide!). There's now also a new area called Cennigan Cliff Point which looks like it's been created to draw in the Instagram crowd, but still worth a visit for the view.
By Akid from Chasing Continents
20. Gangga Island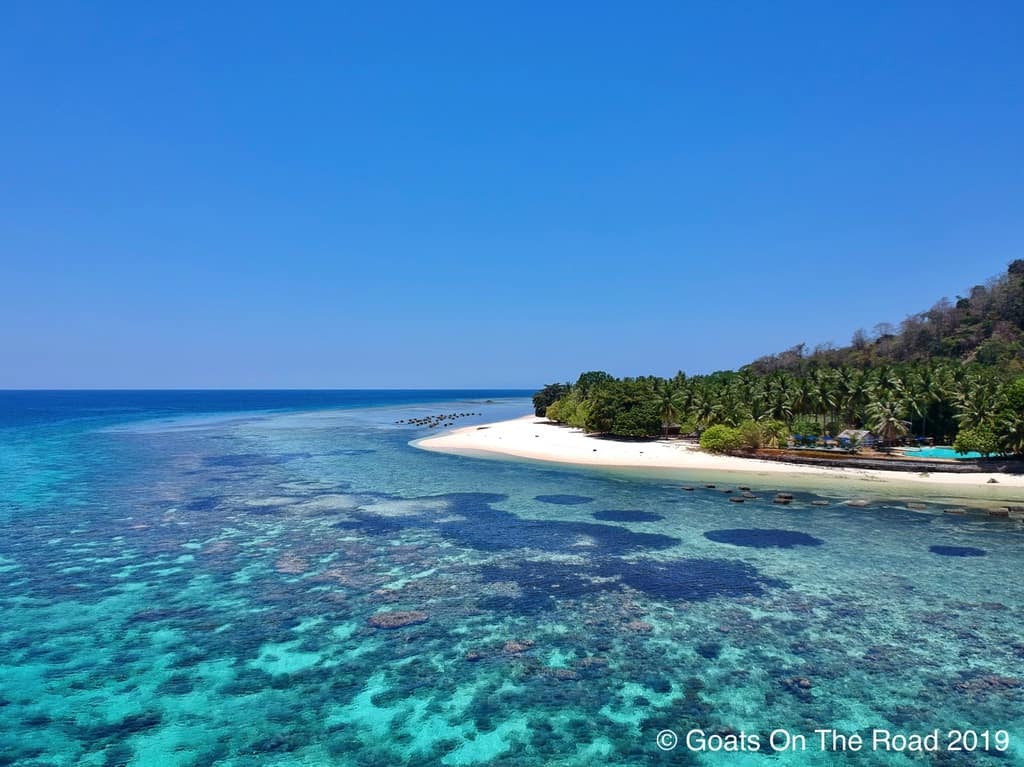 Having spent 3 months living in Bali and another 3 months travelling all around the country, I've seen some pretty places of interest in Indonesia.
There's something magical about the island that continues to draw me back — the diverse landscapes, the tasty cuisine, and the jovial people are just a few of the many reasons.
Recently, my spouse and I took a trip to Gangga Island, which is a best destination in Indonesia for an off-track experience, located in North Sulawesi. To get here was a bit of a journey, we flew from Bali to Manado, then took a 1.5-hour van ride to the port, and a 20-minute boat ride to the island. But, as soon as we arrived, we knew our efforts would be rewarded.
There's just one accommodation option on the island – Gangga Island Resort and Spa. Gorgeous seafront bungalows surrounded by palm trees with a veranda offer magnificent views out to the Celebes Sea.
Around the island, the best things to do are snorkelling and scuba diving. There are a few dive and snorkel sites nearby, but more serious divers will want to explore the Lembeh Strait and Bunaken National park — which is home to 50 dive sites.
But, if you're not into either of those, there are 2 local villages on Gangga with incredibly curious and friendly locals. We spent a day wandering around the two communities while meeting the people and enjoying village life at its finest. It was a great experience.
By Dariece from Goats on the Road
21. Gili Air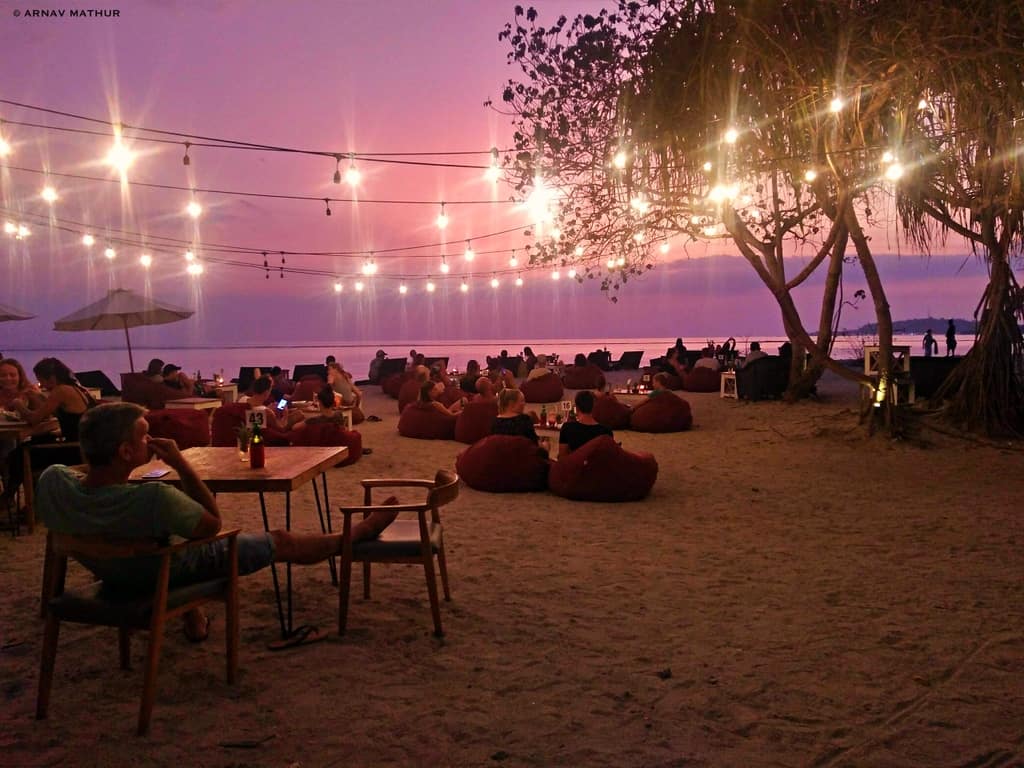 Gili Air is one of the three paradisiacal islands located off the coast of Lombok – one of the perfect Indonesia vacation spots. I was lucky enough to have lived the digital nomad lifestyle along with doing scuba diving daily for 6 months back in 2018, and it was indeed one hell of an experience.
You might have heard that Gili Trawangan, the largest of the three, is notoriously famous for being the party island, and Gili Meno, ideal for the honeymoon couples. Gili Air is the best of both worlds and one of the best Indonesia places to go.
The sunset strip lined with bars and restaurants comes alive in the evenings. At that time, everyone on the island heads there to catch the magical sunset, meet up with other travellers, along with a chilled bottle of Bintang.
Even though it's a small island, there are tons of things to do. The best activity on Gili Air is scuba diving in the pristine waters filled with fish and watching magnificent sunsets. Other interesting activities include participating in beach cleanups and trying out different foods from various cafes and warungs spread across the island.
Also, one thing you should know is that Gili Air is a non-motorised island, meaning there's no vehicles, only bicycles, and horse-drawn carriages. Cycling around the island is one of the best things you can do during your stay in Gili Air.
Accommodation wise, there are plenty of dive resorts such as Manta Dive Resort, Oceans 5 Dive Resort, Slow Villas and a ton of amazing small scale boutique hotels.
By Arnav Mathur from Eat Travel Live Repeat
22. Yogyakarta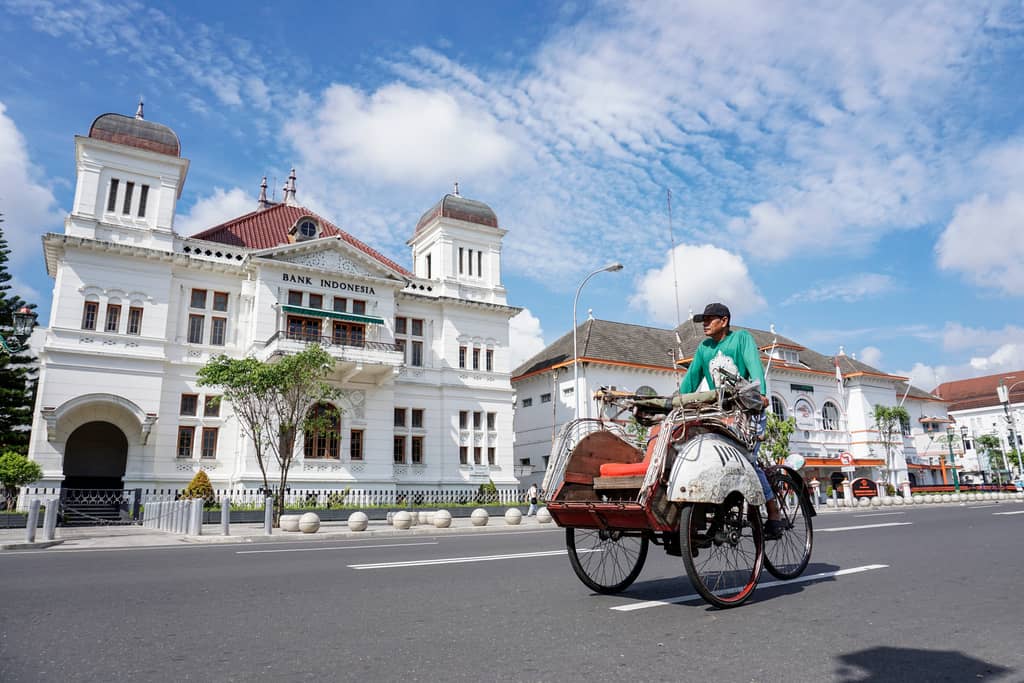 If you're wandering where to visit in Indonesia for a city experience, Yogyakarta may be the place for you! Yogyakarta a.k.a. Jogja is a city in the Indonesian island of Java, known for its traditional arts and cultural heritage of Javanese people. An hour from Bali by air, it's one of the cities that you should not miss out on. There are many things to do in Yogyakarta which cannot be covered in a single day.
The most famous is the Borobudur Temple, the largest Buddhist temple in the world. The sunrise is a must-do thing in this architectural marvel. Similarly, sunsets are famous at Prambanan temple complex, characterised by its tall and pointed architectures.
The other attractions include Candi Pawon, Ramayana ballet at night, Candi Plaosan, the Sultan palace, Taman Sari water castle, and Wayang Kulit show. The Sultan palace or The Kraton has many open courtyards where classical Javanese dance shows are played. Other performances include concerts of gamelan music, performed by gongs, chimes and plucked string instruments.
Another fun activity is at the southern square to be done at night.
The Javanese experience is not complete without sampling local food, including two local drinks. Kopy Luwak is the world's most expensive coffee, and Jammu is a medicinal drink made of milk, honey and some herbs. In terms of food, you must try Gudeg and Sego Pecel.
I would recommend Abhayagiri restaurant for a sumptuous local meal. The views and the ambience are not to be missed. Manohara restaurant in Borobodur temple is also good.
The Phoenix hotel or Gaia Cosmo hotel are good options to stay.
By Nisha & Vasu from Lemonicks
23. Natuna Island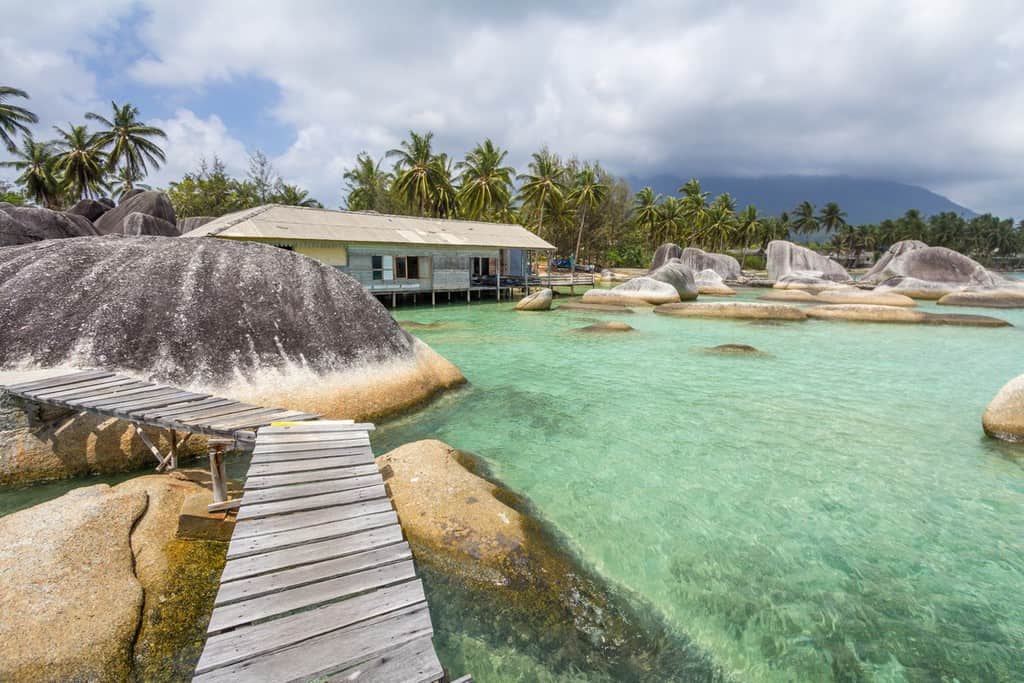 Sometimes the most beautiful places in the world are the least accessible. This can be said for Natuna Island, one of Indonesia's remote Riau Islands. Natuna Island is located in the disputed South China Sea, roughly halfway between Sarawak and Peninsula Malaysia. Tourists are inadvertently kept away due to limited flights, expensive airfares, and an out of the way diversion via Batam.
But it is the difficulty of reaching Natuna Island that helps retain its authenticity. Stunning beaches scatter the undeveloped coastline, while the island's interior remains virtually untouched where even sealed roads and electricity supply are limited. Small town streets remain quiet most of the day, without the hustle and bustle of bars you may find at Indonesian hotspots like Bali. This is a destination for immersing yourself in the experience rather than ticking off a top 10 things to do list in a couple of days. Bear in mind that Natuna Island is a heavily Islamic community, so be respectful of differing traditions.
Apart from the one-room airport, there are limited tourist facilities on the island. For accommodation, you can try the rather basic Natuna Hotel in the main town of Ranai. For a nicer stay, we recommend Alif Stone Park about 7 kilometres north of town where rooms are literally built into the rocks along the coast.
By Josh Shephard from The Lost Passport
Like me? Pin me for later! 🙂