Bingin Beach Uluwatu – The Ultimate Guide
Bingin Beach is one of my favourite beaches in Bali. It is because, Bingin Beach offers more off the beaten track experience compared to other beaches in Uluwatu. Main tourism hasn't got there yet nor the big hotel developments. And with small bars and warungs and a surfer base, Bingin Beach offers a great vibe and laidback atmosphere.
This post is a complete guide to visiting Bingin, happy reading!

How to get to Bingin Beach

Bingin beach is located on the western side of the Bukit Peninsula in Uluwatu. It only takes about 30 minutes' drive to get here from the Bali Airport and 15 minutes from Uluwatu main area.
Bingin Beach is perched between Dreamland Beach and Padang Padang. The best way to get there is on a scooter or by car. Bingin is one of the best Uluwatu beaches for surfing.

By motorbike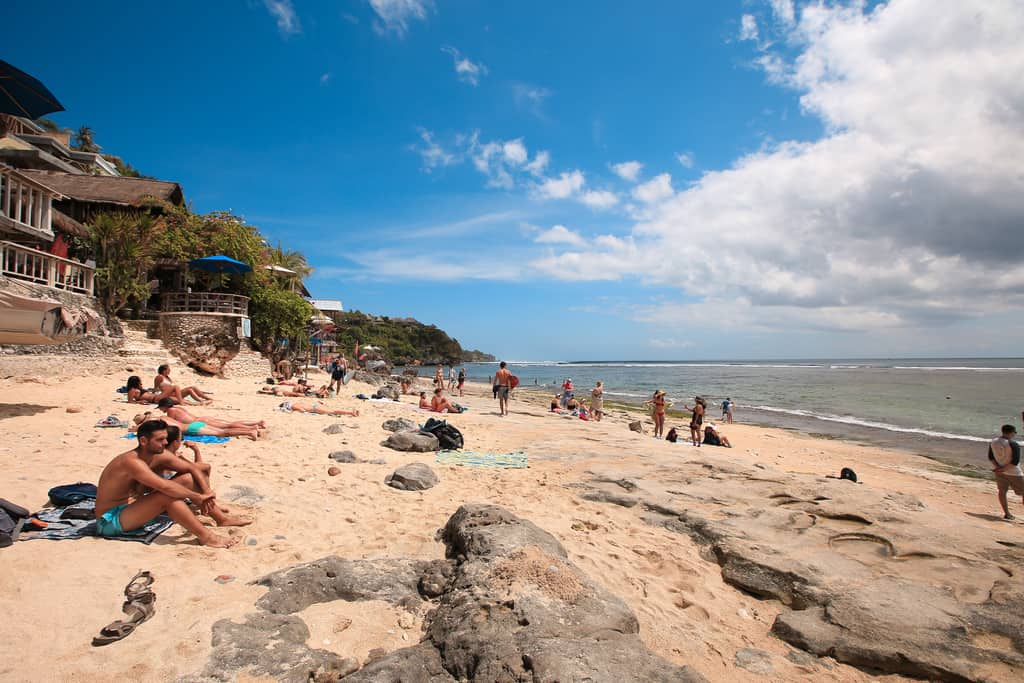 Scooter rental can be found in various locations in Uluwatu and normally cost 50k IDR per day, and you're expected to fill up the petrol yourself. If you prefer to book it in advance, you can pre-book your scooter here which includes delivery to your hotel. Alternatively, you can email your hotel, and they may be willing to arrange it for you or advise on the nearest motorbike rental.

Always check the scooter before you embark on your ride. Check breaks and light and make sure you are given a helmet.

Simply type 'Bingin Beach' and follow the Google directions. I recommend listening to the instructions through earphones instead of looking at your phone while riding a scooter.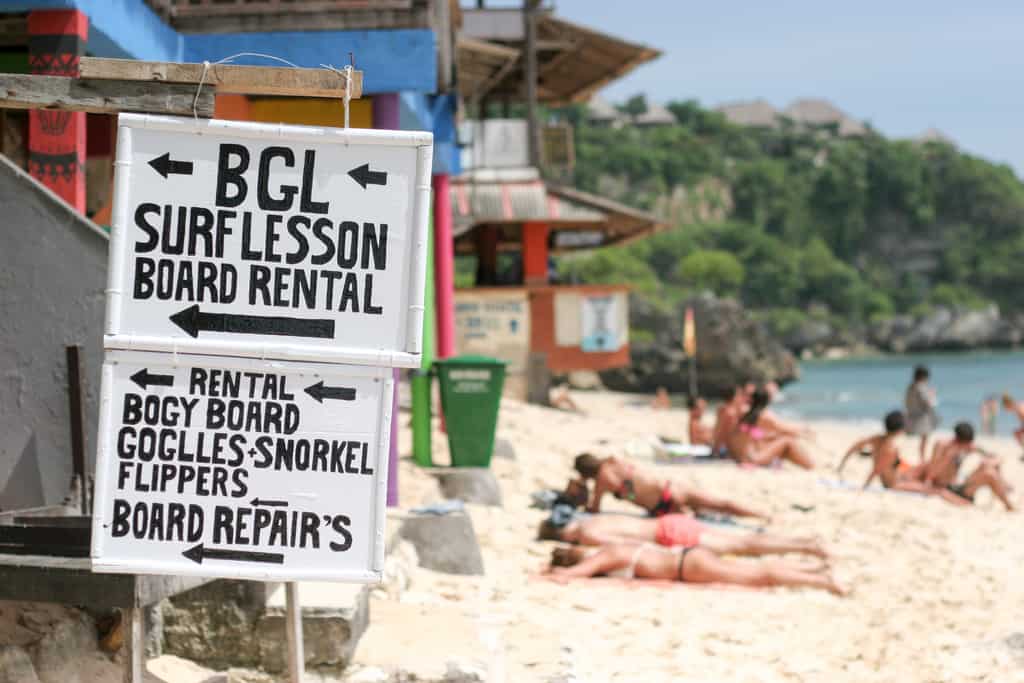 By car

If you prefer not to use a motorbike, you can either book a driver for a whole day or download a Go Jek or Grab app on your smartphone (they are Asian equivalents to Uber Drive) and get a lift with them.

My personal experience using Go Jek and Grab is very good. They are reliable and efficient and so much cheaper than a Taxi which charges typically more if you're a tourist!
Places to stay near Bingin beach
Luxury– Suarga Padang Padang
---
Midrange– Dreamsea
---
Budget – Sal Secret Spot
---

What to expect on arrival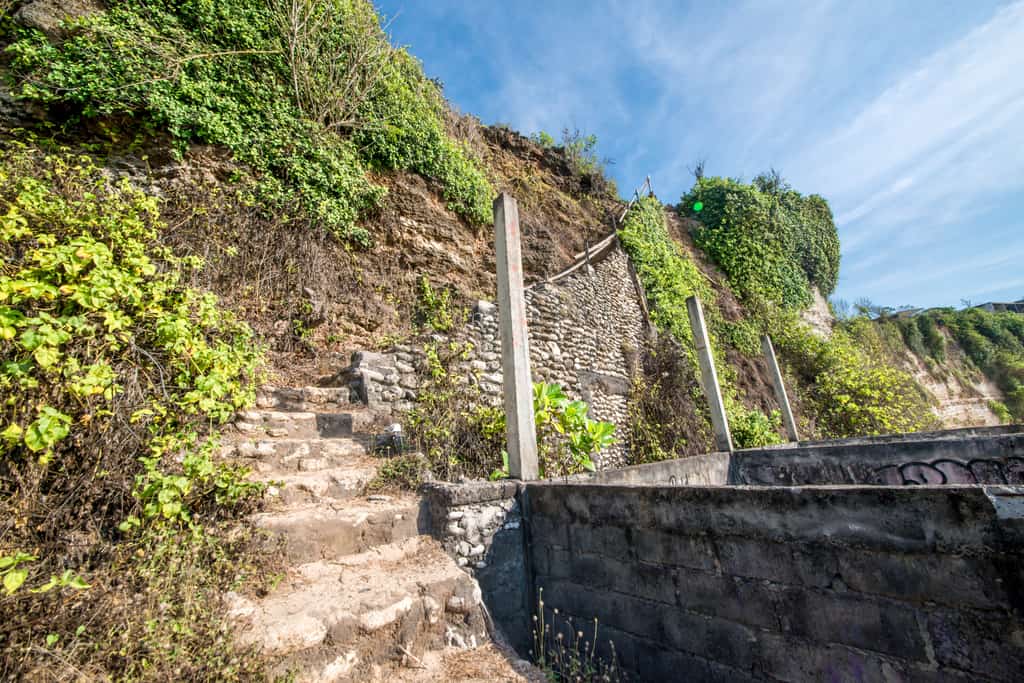 There is a Bingin car park where you need to pay 2K IDR for parking. Once you parked up, just follow the swirly path down the cliff, which takes about 5-10 min and involves climbing down nearly 200 steps. You'll go through some narrow, dodgy alleys too.
Don't worry. This is the right way down to the beach! I promise it will be worth the effort! There are a few exits and no matter which one you choose, you'll end up in the right place – on the beach.

Pantai Bingin

Bingin Beach has a lovely powdery white sand, and there is plenty of space to put down your towel and relax. There are a few homestays right on the beach offering very basic rooms for really low prices. However, if you have large luggage with you, it's not recommended to stay here due to the strenuous climb down.

A few local warungs operate on the beach where you can grab a nice lunch or stay over for a BBQ in the evening.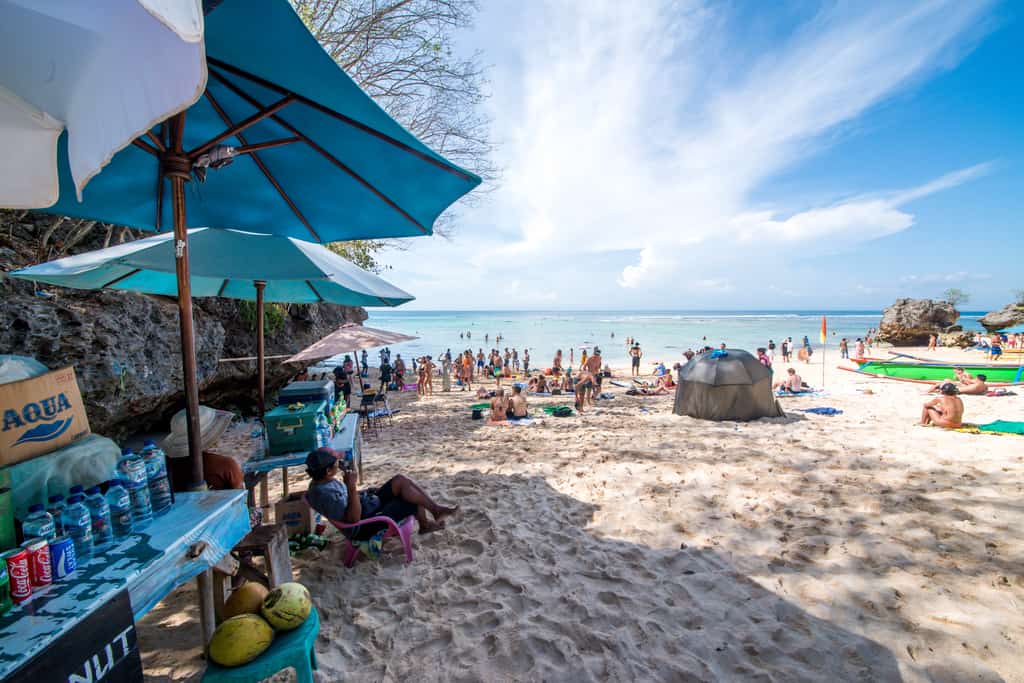 There are also a few surf rental shacks where you can get your board. It's also possible to book a surfing lesson here if you're a beginner.

Bingin Beach attracts professional surfers due to its high-quality waves. But even if you're not a surfer, the place is cool to hang out and watch the action from the beach with a cold Bintang or coconut water in your hand.

If you keep walking left, there are smaller parts of the beach to explore more secluded and intimate than the central part with the warungs.
Things to do on Bingin beach

• Surf the Bingin barrelling wave! To the right of the beach is Bingin surf break, which is famous amongst experienced surfers. If you one of them go ahead and try it, if not get some coconut water and enjoy watching the surfers from the comfort of your beach towel. There are some surf shacks on the beach where you can rent out a surfboard. It cost around 50,000 IDR for two hours. There are also some surf lessons available on the beach.

• Walk to the neighbouring beaches. During the low tide, it is possible to walk to Dreamland beach which is situated to the right and Padang Padang beach to the left. Be careful; the tide may change quickly.

• Watch the sunset. The sunsets in Uluwatu are one of the most epic I have ever seen! Have a Bintang and enjoy this simple pleasure.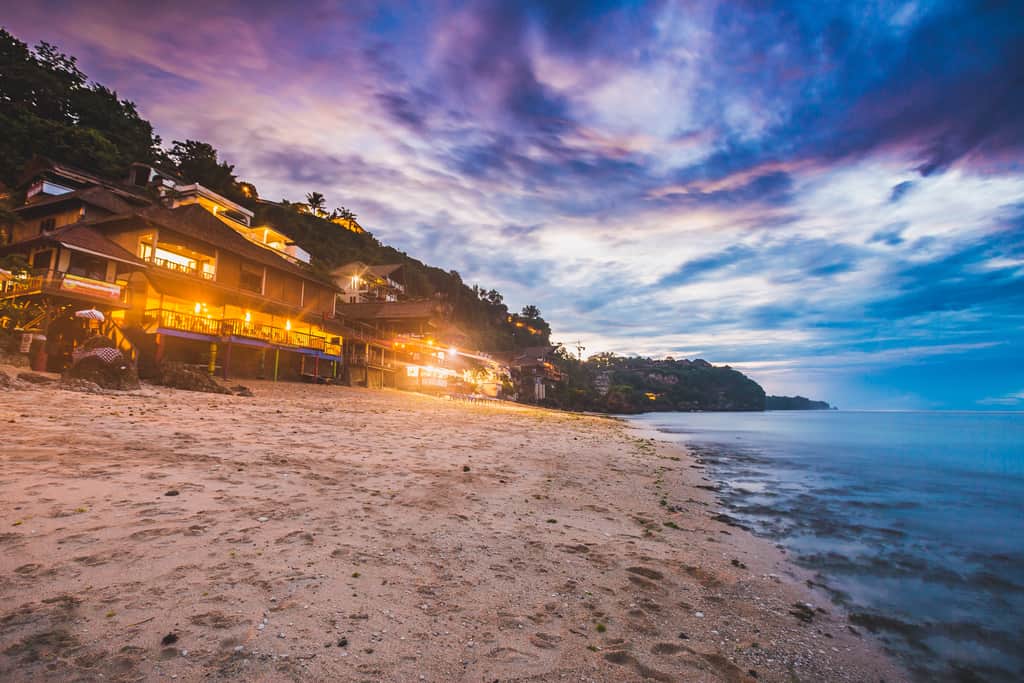 • Have a BBQ at sunset. There are plenty of warungs where you can have fresh food from a BBQ at sunset time. The beach is not as touristy as other Bali beaches so you can enjoy its serenity. My favourite was Kelly's Warung where you can enjoy great smoothie bowls, wraps, juices and Indonesian cuisine. The best thing about this place is that it is right in front of where the wave breaks and all the surfing action happens!

Other restaurant options include:
Cashew Tree serving tasty smoothies and salads and Lucky Fish situated right on the beach serving fresh seafood from BBQ daily.

Best time to visit Pantai Bingin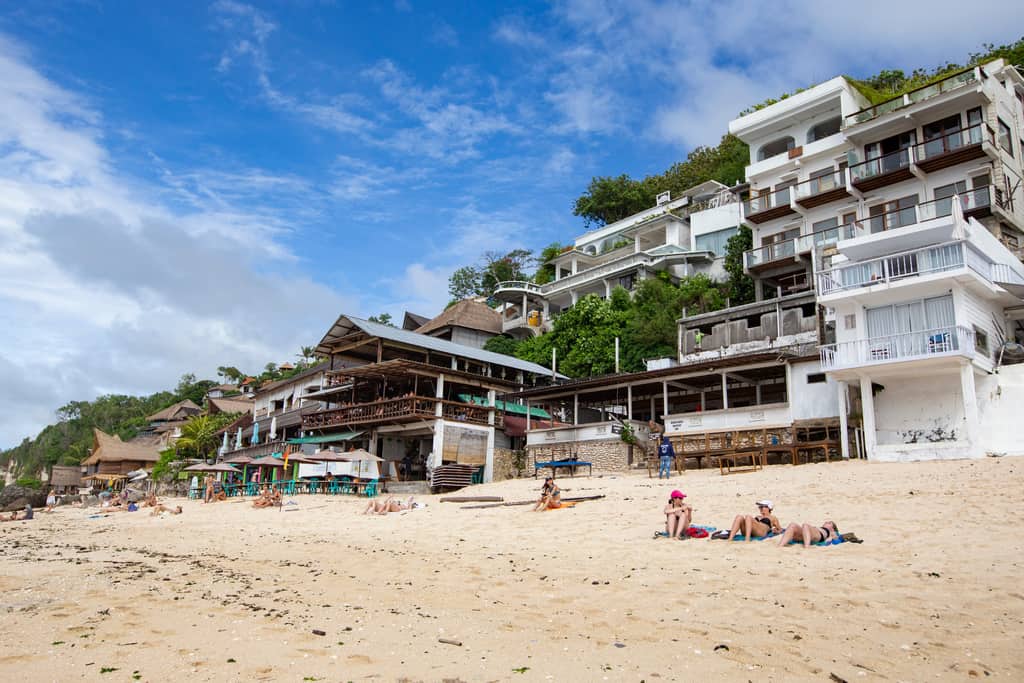 Best time to visit the beach is during the low tide. At high tide, most of the beach is submerged under the water and not a lot of space to stretch your towel and chill out. The best time to visit will obviously be different if you're planning to surf.

Things to take with you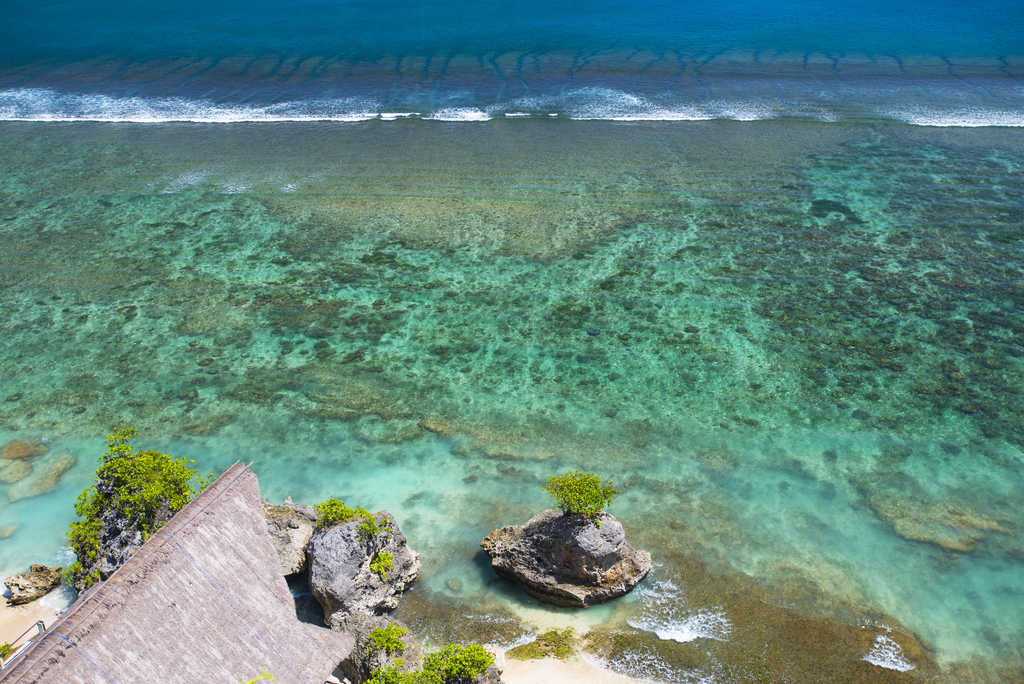 For more tips on what to pack, visit "Bali Packing List".
Other points of interest nearby
To find out about more incredible beaches, go to "Uluwatu Beaches Guide".
Just a short motorbike ride from Bingin Beach there is Uluwatu Temple. An incredible way to fully appreciate this temple is to watch Balinese traditional dance called Kecak that generally starts around sunset time in an amphitheatre within the temple grounds.
To explore Balinese culture in more depth head to Garuda Wisnu Kencana Cultural Park, which is also situated in Uluwatu area.
Finally, for an epic sunset view visit Single Fin Beach Club which is situated on the dramatic clifftop with breathtaking views and great vibes.
For more inspiration, what to see and do visit "10 Days in Bali Itinerary".
Other Bali Beach Guides:
Summary
Bingin is an excellent beach slightly off the beaten track and way less touristy than Seminyak or Kuta beaches. I particularly enjoyed lazing in the more secluded part of the beach, which can be found by walking south of the entrance to the beach.
Like me? Pin me for later!