A Guide to Tirta Gangga – Bali's Water Palace
Tirta Gangga – Bali's former Royal Water Palace was literally built by a king! This majestic garden is a proud heritage of the Karangasem empire. It is also one of the most iconic spots in Bali popularised by social media.
Whether you're interested in the Balinese culture or after the perfect Insta shot or both, you'll find this post useful. Keep reading for tips and curious facts about Tirta Gangga.
What is Tirta Gangga
Tirta Gangga also known as Taman Tirta Gangga is a formal Water Palace of Bali's Karangasem Empire. Tirta Gangga means 'water from the Ganges River' in India.
It was built in 1948 by the last king of Karangasem, which was famous for having a hands-on approach to the construction of his beautiful water garden. Apparently, he didn't mind getting dirty and helping out in the creation of the garden. For that reason, the king was loved and respected by ordinary people. In 1963 Mount Agung erupted, and the royal gardens were destroyed. But, after a few years, they were restored and brought back to their original glory.
Today, Tirta Gangga is a place for various Hindu ceremonies and religious processions. For the tourists, Tirta Gangga Water Palace Bali is famous for the stepping stone pool where Insta-fans come to take the perfect shot with goldfish in the pond.
Places to stay near Tirta Gangga
After your visit, I recommend staying in Amed, which is a pretty little coastal town, only 30 minutes' drive from Tirta Gangga. You can chill out on a black beach here and go back or continue to the Gili Islands.
Luxury – Amed Boutique Hotel
---
Midrange – Blue Moon Villas
---
Budget – Anda Amed Resort
---
Where is Tirta Gangga?
Bali's Water Palace is located in the eastern part of the island near the town of Amlapura and 10 km away from Pura Lempuyang which is also worth a visit. It's surrounded by the countryside and lush rice paddies.
Tirta Gangga is 40 min drive from Amed, which is a lovely coastal town with excellent snorkelling spots and striking black sand beaches. From Kuta or Ubud, it's an under 2 hours' drive and from Uluwatu over 2 hours.
Please be aware that Bali often experiences heavy traffic, especially during any religious events. For example, it took me over 3 hours to get from Uluwatu to Tirta Gangga due to bad traffic and because my driver got lost.
How to get to Tirta Gangga Bali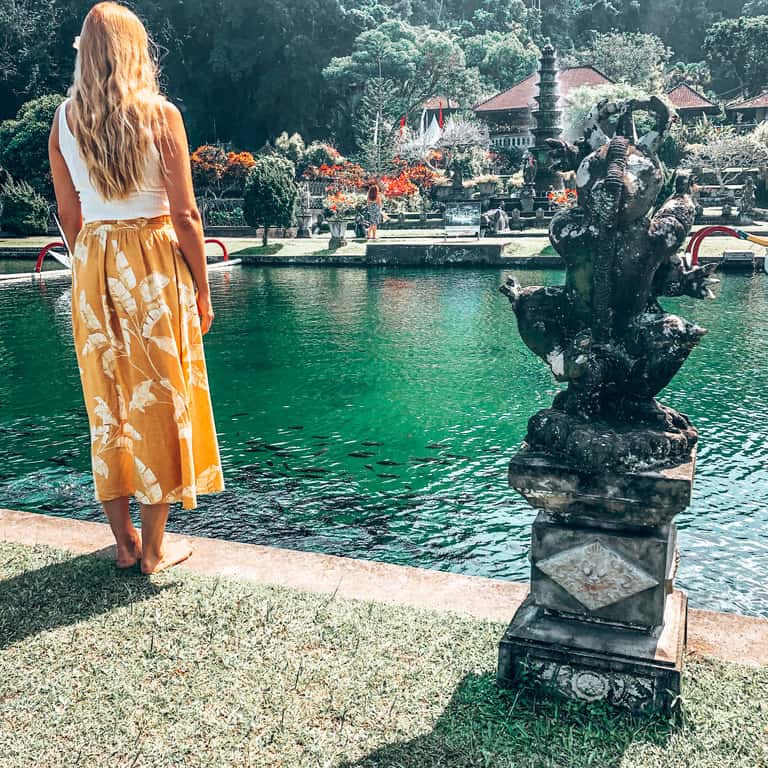 Unfortunately, public transport doesn't really exist in Bali, but there are at least 3 other ways to choose from to get to Tirta Gangga water garden.
Hire a scooter
If you are travelling from Ubud, you can rent a scooter. It should cost around 60k IDR to get a motorbike for the day, and you will also need some petrol money. This option is great if you're an experienced scooter driver as roads in Bali, can be challenging. The drive should take around 2 hours one way.
Hire a driver with a car
Another option is to pay for a driver to take you there in their car. This alternative is great if you're not that confident with motorbikes. You can also create your itinerary and let the driver take you to other places you're interested in. Just ask your hotel to recommend you a driver. This should cost around 900k IDR for 8 hours.
Take a tour
If you prefer to have everything organised for you, then I recommend taking a one day tour. Check out the Instagram Highlights Tour which will take you to Tirta Gangga and other Bali's most iconic places worthy ending up on your Instagram feed.
Tirta Gangga Entrance Fees
Entrance- 40k IDR
Fish Food – 5k IDR
Parking – free
Opening Hours
Tirta Gangga Water Palace is open from 6 am to 6 pm 7 days a week and all year round except Nyepi the Day of Silence, which is Bali's bank holiday.
What to expect at Tirta Gangga Bali Water Palace?
There is parking at the front and various stools selling Bali souvenirs, drinks, snack and food.
As you go through the entrance, there are two large ponds. The main one called Mahabharata Pond features a set of stepping stones that enables the visitors to go through it. The pool is filled with koi fish that are the size of a dog! The trick is to feed them, so they gather around you for a photo. This pool is a little crowded with people feeding the fish and taking the photos.
TIP: Buy some fish food from the vendors outside the gate.
At the back of the pond, there is an impressive 11 tiers fountain. The fountain called Nawa Sanga was built to resemble a lotus flower.
The rest of the garden is way less crowded. There are numerous sculptures of deities and demons scattered around Bali's water park, mystical creatures spouting water into the ponds and beautifully ornamented bridges.
Things to do at Tirta Gangga
• Take an Insta-famous shot on the stepping stones with koi fish in the main pond.
• Bath at the swimming pools at the back of the garden. There is freshwater spouting from a demon's head into the pool with black volcanic soil. The water is believed to be holy. There is a nominal additional charge to swim that includes the use of changing rooms.
• Take a minute to meditate in the meditation area.
• Have an ice cream in a café.
Other things to see nearby
I recommend combining your trip to Tirta Gangga Royal Water Garden with visiting Pura Lempuyang. You can also continue east to Amed. Amed is a small but very charming coastal town with some excellent snorkelling spots and gorgeous black beaches. From Amed, you can also take a speed boat to the Gili Islands, which is precisely what I did.
Alternatively, if you have more time and want to do an off-beaten track experience, you can stay in the area and do some hiking. Tirta Gangga is sounded by some most scenic rice fields in the eastern Bali.
Check out "10 Days in Bali – The perfect Itinerary" for more inspiration on Bali must-see places.
More Bali Guides:

Top 20 Things to do in Sidemen

Lahangan Sweet – Mt Agung Viewpoint

Bukit Cinta – Mt Agung Viewpoint
Summary
Tirta Gangga is a charming water garden that brings the 'old Bali'. It's totally worth a visit as a part of a day tour that includes other nearby points of interests like Pura Lempuyang or as a part of ongoing travel to Amed and the Gili Islands.
Like me? Pin me for later!