Suluban Beach Bali – All You Need to Know
Suluban beach is one of the coolest places to hang out, especially at sunset when the whole area is vibing. It's a world-class surfing spot with Uluwatu's famous left-hand break at Blue Point. But even if you're not a surfer, you'll find this beach super special. This post is a comprehensive guide to visiting Pantai Suluban. Read on for best tips and recommendations.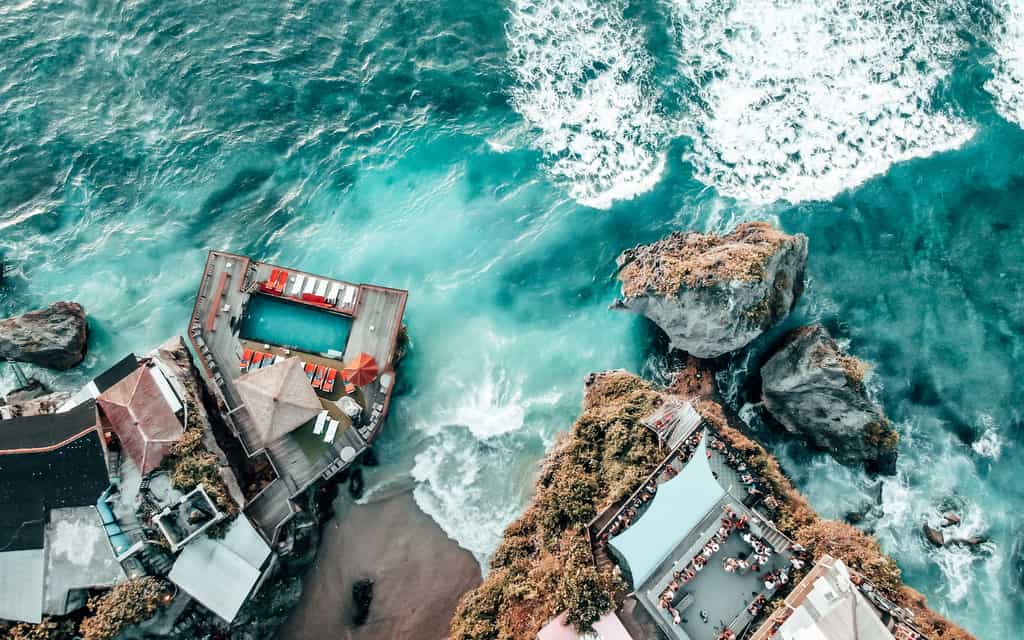 Uluwatu Beaches Tour
If you're pressed for time but still want to experience best Uluwatu beaches, take an organised tour. It will bring you to top spots in Uluwatu hassle-free.
Get Your Guide Tour
Where to stay near Suluban Beach Uluwatu
Luxury– Suarga Padang Padang
Suarga Padang Padang is a sustainable boutique hotel featuring 36 villas built with a minimal impact on the environment using recycled wood and solar panels. It's located on a clifftop boasting some epic views over the ocean, an infinity pool, and it's only a five-minute walk to Padang Padang beach and a seven-minute drive to Bingin beach.
---
Midrange– Dreamsea
This boho boutique hotel is located right on the cliff, where you can feel and hear the ferocious waves crashing against the shore. The location is also great for some of the best Uluwatu cafes as well as it is within walking distance to Padang Padang Beach.
---
Budget – Sal Secret Spot
Sal Secret Spot is situated within walking distance to Bingin Beach, a white sanded beach excellent for swimming with a calmer sea. Rooms are small but comfortable, and there is a beautiful boho-style pool area to enjoy.
---
How to get to Suluban Beach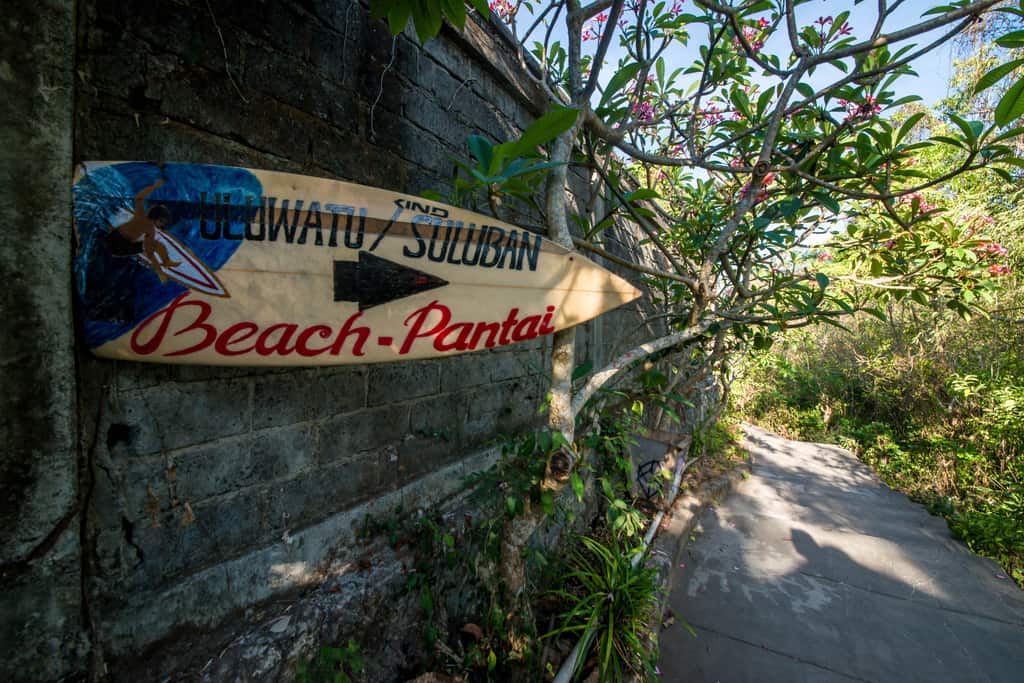 Suluban beach also called Blue Point beach, is located at the very South-West tip of the Bukit Peninsula in Pecatu Village. It's about 30 min drive from Denpasar Airport. Other close beaches to Suluban are Thomas Beach and Padang Padang.
When you arrive, there is a 5k IDR parking charge for your scooter or 15k IDR for a car. After you pay, keep driving to follow the directions to Single Fin Beach Club. When you see an area where lots of scooters are parked, which is just outside of the beach club, this is it. Just before the sunset, this place is filled with motorcycles, so it may be a little tricky to find a spot.
Don't drive a scooter? No problem, you can get a Grab or Gojek and ask for Suluban Beach. You will be dropped off near the parking area where everyone leaves their scooters. On your way back just get to the main road and use your app to book a ride back to your hotel.
From the scooter parking area, follow the sign to Suluban beach on the right and the stairs down. On the way down, there are various cafes and warungs where you can take a break and many interesting souvenir shops, which makes the strenuous walk down more attractive and even enjoyable!
What to expect at Pantai Suluban Bali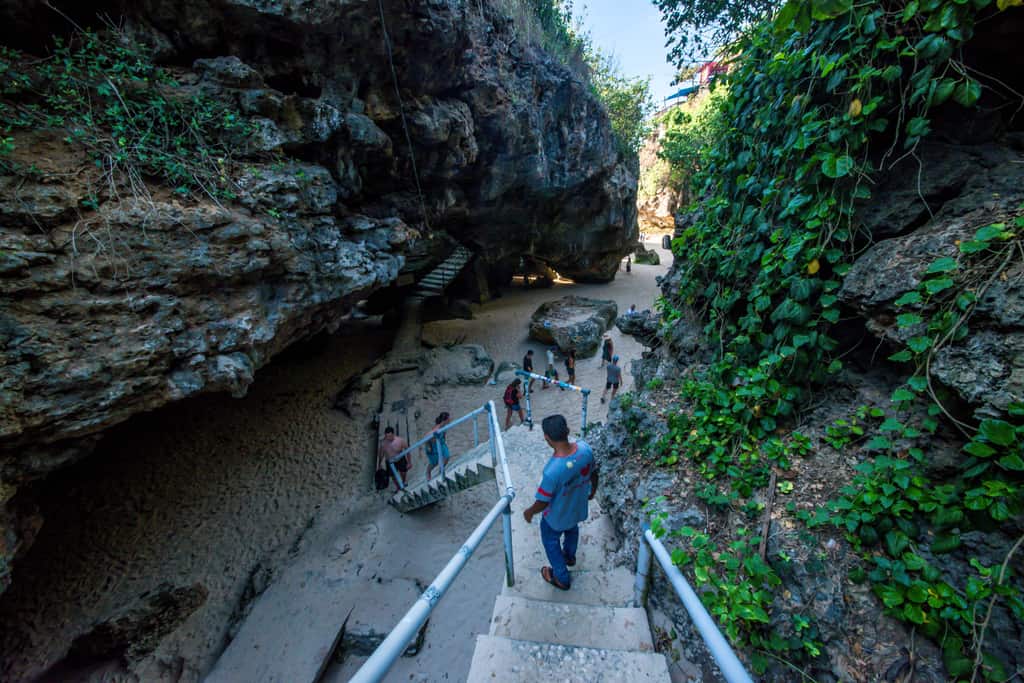 There are about 100 steps down, the path is steep but very accessible and take maybe around 10 minutes to get down. You'll notice many surfers racing through the staircase like pros. As the stairs finish, there is a tunnel-like path amongst the limestone cliffs leading to the beach (locals also call it Pantai Uluwatu).
The beach itself is relatively small, both its edges are shaded under large rock formations, and the middle gets sun. The water at Suluban beach has the perfect shade of turquoise blue and no wonder people refer to it as the Blue Point Beach.
If you want to laze on the beach, make sure you check the tide first; otherwise, it may not be possible to chill due to strong waves crashing against the shore. If you're planning to surf, then you can come at any time.
At low tide, you can explore the Suluban cave and even walk through to another beach. Just make sure you assess the sea conditions first and use common sense.
The beach is not ideal for swimming, there is a lot of sharp coral reef, and at low tide, it's almost impossible to get through it walking. It's different for surfers that can paddle through the reef floor.
Things to do at Suluban beach
• Take a selfie. When you get to the bottom, you quickly notice that the beach is very popular with surfers and Instagram influencers posing for that perfect shot.
• Explore the cave. The beach is best explored at the low tide time when you can safely explore the cave and another smaller beach that becomes accessible during the low tide.
• Take a walk instead of swimming. The beach is not really for lounging, and there is lots of coral and rocks which make it hard to swim.
• Take in the fascinating view. Watch the waves breaking on the cliffs and the surfers riding the mighty waves.
• Watch the sunset in style. Arrive at the beach late afternoon and on your way back watch the spectacular sunset from one of the chic Uluwatu beach clubs!
You may also like "The Ultimate Guide to Uluwatu Beaches" where you'll find more awesome beaches in Bali.
Blue Point Beach Bali Surfing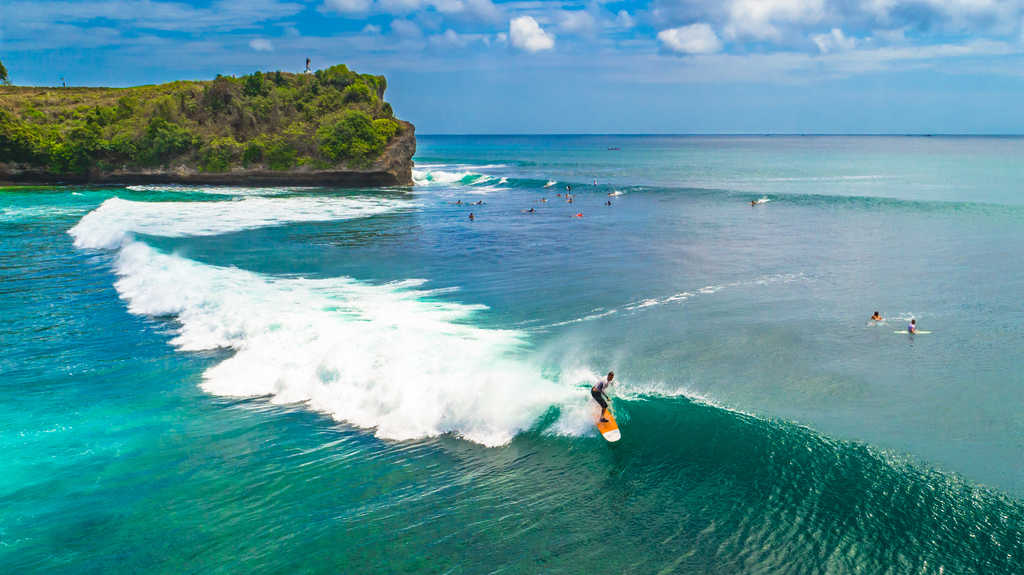 Suluban Beach or Blue Point Beach is an internationally renowned surfing spot. International surfing events take place here during the year, and many professional surfers visit the famous left-hand barreling reef break.
The best time for surfing at Blue Point Beach Uluwatu is at Bali's dry season which is from May to October. And it's possible to surf on all tides but mid to low tides are best.
If you're not a professional surfer, you can still surf here with a surf school that will guide you what part of the line-up will work best for you, based on your level.
And what's really cool about this place is that many shops will take photos of you surfing for a fee. Make sure you negotiate a reasonable price per photo!
Best time to visit Suluban Surf Beach
The best time to visit Suluban Beach is at low tide when more sandy beach is available to sit on. And you can also explore the Suluban Beach cave safely without being washed off by strong waves. You can check tide times here.
Blue Point Beach Uluwatu is also perfect for visiting in the late afternoon when you can experience some of Bali's most epic sunset!
Sunset at Pantai Suluban
Suluban beach is one of the best spots for sunset in Bali! You can walk down to the beach and watch the sunset there at low tide or watch it from one of the clifftop bars which I recommend.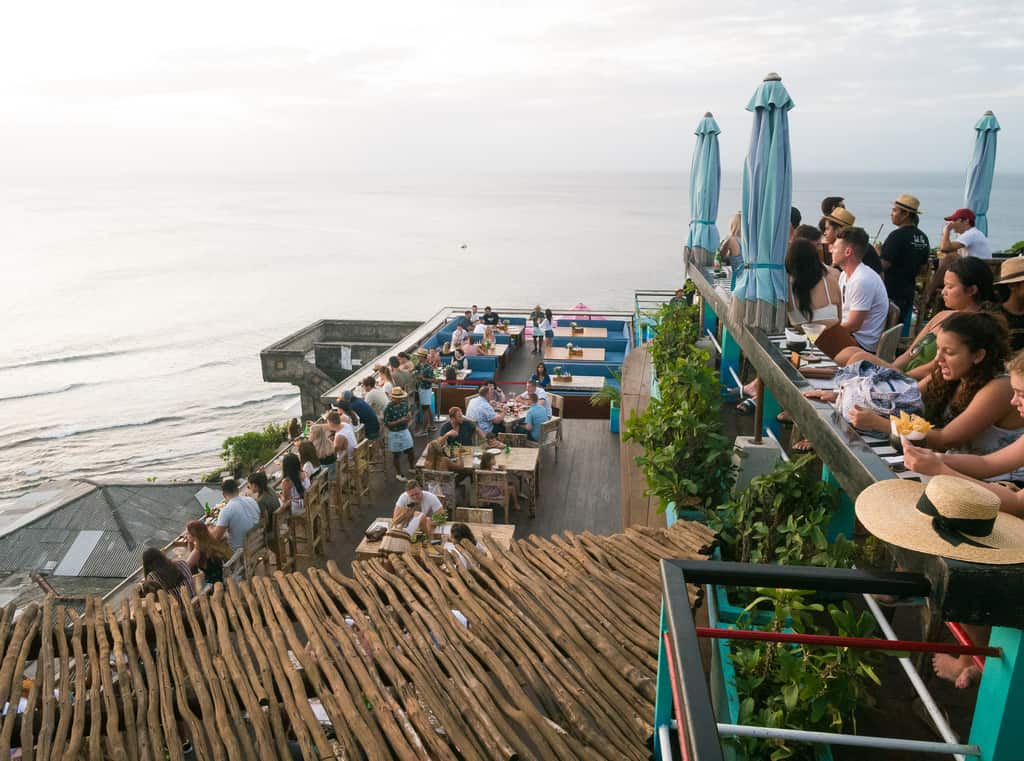 One of the most famous sunset bar is Single Fin Beach Club. You can find it at the very top of the cliff by the scooter parking area. They've got a great terrace where you can grab a beer (65k IDR for a small Bintang) and watch the sun going down and the surfers down below. There is also a swimming pool if you prefer to watch the sunset dipped in the water.
Single Fin has a great vibe with tourists and ex-pats mingling over a beer. They often organise different events, and they have DJs performing sunset shows. You can check their website for upcoming events here.
Another excellent place for watching the sunset is Top Warung, which is located about halfway down to the beach. The prices are more affordable than at Single Fin, 40k IDR for a large beer and 25k IDR for a fresh juice.
Suluban Uluwatu Beach – Entrance Fee
The entrance to the beach is free, but you need to pay for parking.
5k IDR – for motorbike
15k IDR – for car
Uluwatu motorbike rental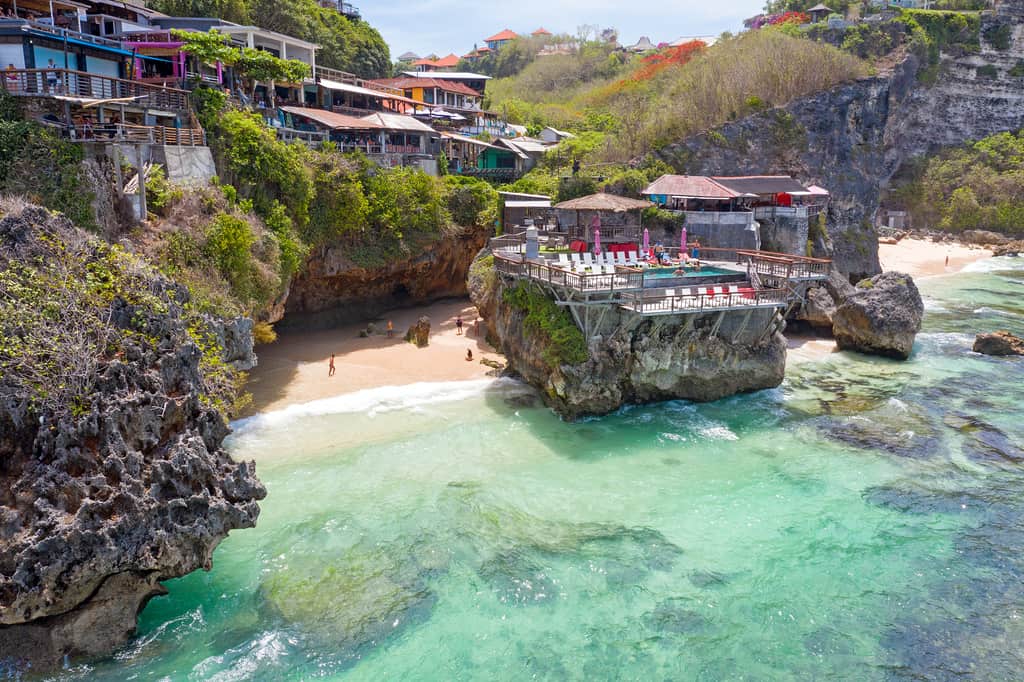 The most convenient and cheapest way to visit Uluwatu beaches is to rent a motorbike. Rental shops are widely available throughout Uluwatu and Jimbaran areas. You can contact your hotel/hostel to arrange this for you ahead of your arrival. They can also advise you about the rental services closest to your accommodation.
Things to check

If it's your first time, make sure you are shown how to operate your scooter. Check that breaks and lights work correctly. Always wear a helmet! Remember to drive on the left side (same as in the UK).
If you need to top up your fuel, petrol is sold in glass bottles on the side of the road. It's cheap but doesn't last very long. Always make sure you've got enough petrol to come back to your accommodation.
If you're planning to watch the sunset, remember that you'll be coming back in the dark, again make sure your lights work and your phone has enough battery so that you can use maps and get safely back to your hotel. Also, after dark, there is way more traffic so if you're not so confident, consider another mode of transport.
All beaches can be found on Google Maps and are relatively easy to navigate to. When you're on your motorbike, don't look at your phone but put your headphones on and listen to the audio navigation. Read the next section on how to get cheap internet in Bali.
Price – 50,000 IDR per day
Suluban beach by car
If you don't want to rent a scooter you can get to places by ordering a taxi through Gojek or Grab. Simply download their apps to your smartphone. You can register your credit card, but cash is the preferred payment method while using these apps
Other Beach Guides:
Summary
Suluban beach has a relaxed surfer vibe which I loved, and it's excellent for exploring caves during the low tide. I definitely recommend coming here to watch the sunset from one of the clifftop bars.
Like me? Pin me for later!