The Epic Bali 5 Day Itinerary
Searching for the best Bali 5 day itinerary?
Bali is by far the most famous island in Indonesia and a solid contender to many bucket lists. And there is no surprise here! Bali is a piece of paradise with alluring pristine beaches, soaring clifftops, lush rice paddies and exquisite temples.
Bali can be a perfect beach getaway, cultural exploration or adventure-packed break. There is so much to do and see here, that no matter what's your travelling style you will find Bali appealing.
Below you'll find the perfect Bali 5 Day Itinerary which includes a balanced mixture of adventure, relaxation and sightseeing.
Planning A Trip To Bali
Best time to visit Bali
Bali has a tropical, warm and humid climate with two main seasons to consider – dry and rainy seasons. The temperature in Bali oscillates around 30 degrees.
The rainy season starts in November and lasts until March. If you want to make the most of Bali's beaches, I would avoid this time. But if you're going to do more sightseeing, then this is still a good time. When it rains in Bali, it pours for a short time and then the sun comes out again.
July, August as well as Easter and Christmas are considered high season. It's the time when Bali gets the highest number of visitors. Beaches are a little more crowded, traffic gets heavier, and accommodation prices are at their highest.
Between April and June and September to October, crowds are lighter and hotel prices cheaper. Those months are still within the dry season with blue skies and clear water, perfect for scuba diving, snorkelling and other water sports.
On my last trip to Bali, which was in June, the sky was blue every day, and I witnessed the most stunning sunsets of the year.
Currency and money
The currency used in Bali is the Indonesian Rupiah (IDR). These are the rough exchange rates (updated for 2023):
$1 = 15k IDR
£1 = 19k IDR
€1 = 16k IDR
I would never carry on me a lot of cash because ATMs in Bali are widely available. When travelling, I always use a prepaid travel card (in the UK we have Monzo card) with free cash withdrawal around the world which is really handy!
Visa
Most Western countries can get a free 30-day visa on arrival. But double-check the visa exemption policy for your nationality before you book your trip. 
Getting around Bali
Public transport in Bali is virtually non-existing. The road system is not very well developed, and Bali often suffers from bad traffic. What should be an hour drive can easily take double. So please have that in mind while planning your logistics. Don't be over-ambitious like me, thinking you can do two remote areas in one day.
With a private driver
The most convenient way to get from one area to another is hiring a private driver, especially when you want to follow a whole day itinerary. In Bali, everyone is a driver, so it should be fairly easy to get one. You can ask your hotel/hostel or book one online. The going rate for a driver is around 900k IDR for 8 hours, including petrol and small parking fees.
With Go Jek or Grab
Another way to get around Bali is by downloading a Go Jek or Grab travel app. They are the Asian equivalent of UBER. I've had a good experience with them being reliable and much cheaper than regular taxis, especially the ones ordered at hotels where a hotel gets a cut of your fare. You usually need to pay by cash to the driver. And they also offer a food delivery service to your hotel room, which can be really handy after a busy day of exploring.
On a scooter
For smaller distances, I recommend hiring a scooter. It should cost around 60k IDR for a whole day. It can be a fun way of moving around as long as the traffic is not too bad. I rode a scooter for the first time in my life in Uluwatu. The area is not very busy, and I found it fairly easy. Ubud is a little more hectic, but if you've done it before, you will be fine. But please, if you don't feel comfortable, don't do it and get a Grab ride instead!
Scooter Safety in Bali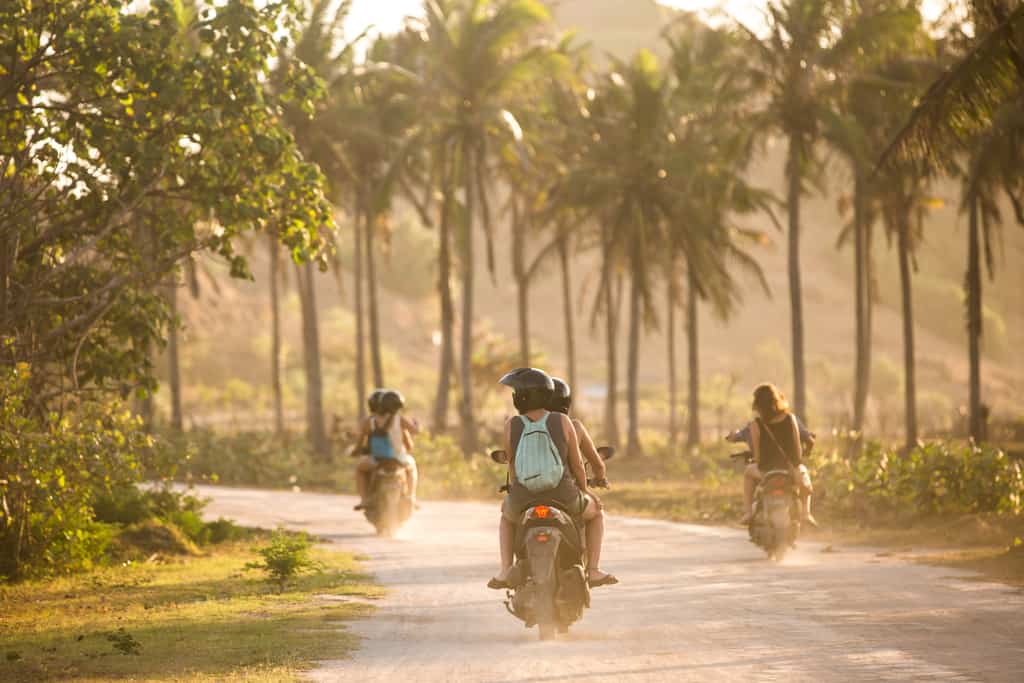 If it's your first time, make sure you are shown how to operate your motorbike. Check that breaks and lights work correctly. Always wear a helmet! Remember to drive on the left side (same as in the UK).
If you need to top up your fuel, petrol is sold in glass bottles on the side of the road. It's cheap but doesn't last very long. Always make sure you've got enough petrol to come back to your accommodation.
If you're planning to watch the sunset, remember that you'll be coming back in the dark, again make sure your lights work and your phone has enough battery so that you can use maps and get safely back to your hotel. Also, after dark, there is way more traffic so if you're not so confident, consider another mode of transport.
Most points of interest in Bali can be found on Google Maps and are relatively easy to navigate. When you're on your motorbike, don't look at your phone. Instead, put your headphones on and listen to the audio navigation.
Bali SIM
The cheapest way to use the internet on your phone in Bali is to get a local SIM card. You can choose how many GBs you want and the card costs around $5. Best places to buy your card are specialised SIM shops, where you can buy your internet top-up, and they will set everything up on your phone, so you don't need to worry.
Be aware! SIM cards sold at the airport are a lot more expensive. Also, when you get a taxi from Denpasar Airport, your driver may stop in a shop for you to buy one. The prices of those SIM cards are at least five times more expensive, and your 'helpful' driver gets a cut for bringing you to the store. Simply, politely turn down the offer and ask the driver to take you to your accommodation without any more detours.
Rai International Airport
Rai International airport is located in the Denpasar area.
I know how overwhelming it can be to arrive at the airport in a foreign country that you're visiting for the first time, especially as a solo female traveller. So here a few tips to get you through it painlessly:
• There are official taxi stands at the airport after customs in the arrival area where you can get a fixed price taxi depending on the area you want to get to.
• If you're travelling solo and you are worried talk to the taxi counter and get a fixed fair or pre-arrange the pickup with your hotel. This option will be more expensive, but it will give you peace of mind after a long flight.
• Alternatively, you can talk to a driver outside but agree on the price before you get into their car.
• Go Jek and Grab are not allowed to pick up customers from the airport.
• If you don't have any Indonesian money, use an ATM at the airport to withdraw enough money to pay for a taxi. The maximum you can withdraw is 3m IDR per transaction. While it is essential to have some cash to pay for food at small warungs, drinks, tips and small souvenirs, I would never carry large sums of money with me. Also, check with all your hotels if they take cards. Some small hotels in Bali will only accept cash payments, so check with them and be prepared.
You may also like "Bali Packing List"
Bali 5 Day Itinerary
So, what a 5 day Bali itinerary can cover? Well, in 5 days you can get the feel of Bali best beaches. You will also visit Bali's cultural hub – my personal favourite – Ubud and explore a little bit of the North. Sounds good? Let's dive in!
Day 1 Ubud Area
Ubud is situated in the middle of the island, and it's a great place to start your Bali 5 days itinerary. Ubud is the cultural heart of Bali, and it's an excellent base for visiting sites further North. Ubud also has got some of the best vegan and vegetarian restaurants. The fresh food served there will blow your mind and taste buds away (even if you're not vegetarian). Finally, Ubud has some great yoga studios and fantastic accommodation!
When I first visited, this was also the first place on my Itinerary in Bali. I remember it being tranquil because people were worried about a nearby volcano that became active during my visit. The volcano never erupted, and I had an awesome time there!
Campuhan Ridge Walk
As your first activity in Ubud, take a sunrise stroll along the Instagram famous Campuhan Ridge.
The walk takes you through a ridge between beautiful rice fields and palm trees. You'll be surrounded by lush greenery and will be able to experience Ubud from a different perspective.
Why come in the morning? You will avoid the crowds and will manage to have an intimate experience, no other people on those awesome photos you're going to take. Also, there is not much shade and during the day may just be too hot.
The path is literally behind the main street, but the vibe is so different from the hustle and bustle of Ubud town.
You can easily walk here from the centre of Ubud or come on a scooter. Simply find Warwick IBAH Luxury Villas and Spa on Google Maps. When you get to a crossroad, on the right, you will see a sign to IBAH so take the opposite direction to reach the start of Campuhan Ridge Walk.
If you come on a scooter, there will be a car park before the bridge. There are no entrance fees. After the bridge, there is a pretty little temple that you can check out and to continue, walk along its fence to the right.
The walk is short and sweet, but you can continue as long as you want and go back when you're ready.
Tegalalang Rice Terraces
After your morning activity head to Ubud Rice Fields which are the most scenic rice terraces in Bali. Not surprisingly, they are a tourist hot spot and one of the most epic Ubud places to visit!
Tegallalang is located a 20 minutes' drive from Ubud town. There is a small entrance fee of 10k IDR payable in a small ticket office. You can enter the rice fields from multiple locations off the busy street that has got some cafes and warungs alongside. Don't be surprised if you get asked to give a small donation by a farmer to enter their part of rice paddies. Another 10-15k IDR should be sufficient.
In the rice fields, you can find the iconic Bali swing, which is one of the top Ubud attractions. It's enormous and swinging on it can give you some sweet adrenaline rush, and it's a pure treat given the scenery! Not to mention the fantastic shot of you in a flowy dress swinging over lush rice paddies! The price for this pleasure is 300k IDR which is steep by my standards.
Pura Tirta Empul Temple & Purification Ceremony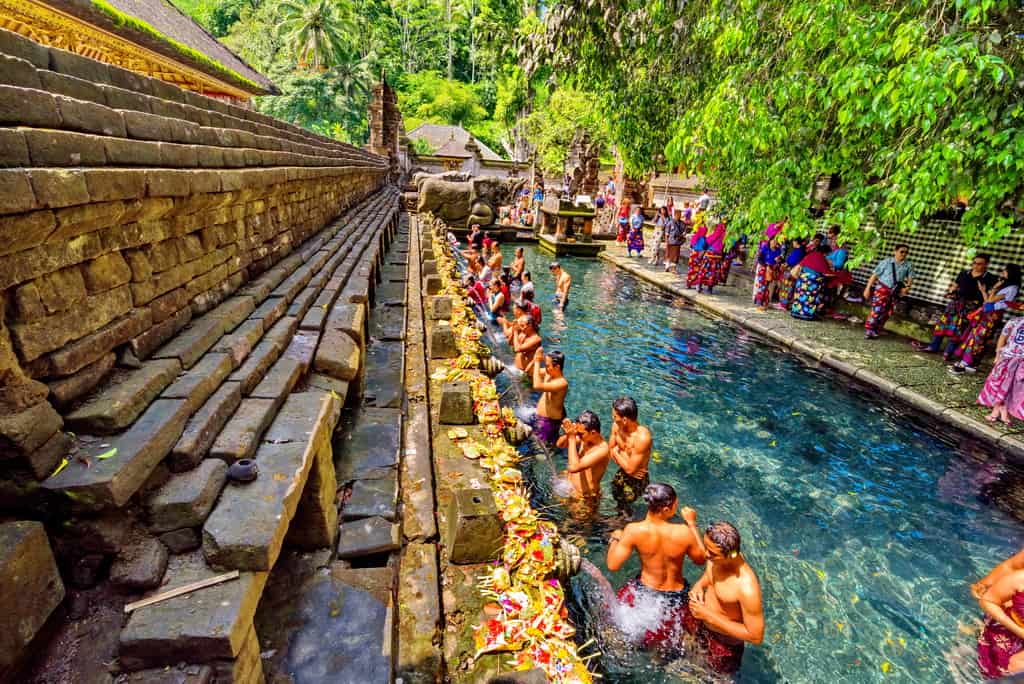 Tirta Empul is a Hindu temple complex dating from 960 AD is a national cultural heritage. Tirta Empul means 'holy water spring', and it's a natural water source that feeds the temple pools and ponds and is connected to Tukad Pakerisan River.
What to expect?
The temple complex consists of a tropical, lush garden that welcomes you upon your arrival. There are various sculptures and pavilions for prayers, and the central part of the complex is a large bathing pool where the purification ritual takes place. You can either watch other people performing it or join in!
Cleans Ritual at Tirta Empul
During my visit, there was a festival in the temple with many locals attending the purification ritual in the pool. I also decided to take part in the festivities. I rented out a green robe with a belt and was directed to a changing room where I put on my temple outfit and left my belongings in the locker. Then, I joined the line of people waiting to do their ritual in refreshing spring water. Families with children, couples and a handful of curious tourists were waiting with me in the queue exchanging glances and giggles on how cold the water was. Big, colourful fish were swimming amongst us.
After a while, it was my turn. I submerged my head under the first sculptured sprout gashing with freezing water. I bowed with my hands crossed and prayed. I repeated the ritual 11 times under each source of water, leaving the last two as instructed. The experience was exhilarating. It was great to be able to participate in something that special.
Tirta Empul temple is located 15 min drive from the Tegallalang rice fields and under half an hour from Ubud.
Tukad Cepung Waterfall
Tukad Cepung Waterfall is one of my favourite waterfalls. It's unique because it's a waterfall in a cave! It's located just over an hour drive from Ubud, and it's the next stop.
There is a small entrance fee of 15k IDR and a steep path down to the waterfall. I recommend wearing water shoes as you'll be walking through muddy and rocky water. Along the way, you'll go past many little cafes where you can take a break and chill out.
You may also like a full post on Ubud itinerary
Where to stay in Ubud
Best hotels in Ubud
Luxury – Bee House Dijiwa
The hotel is tucked away from the hustle and bustle of Ubud. Seven stylish wooden villas are overlooking the lush greenery of rice paddies and a lagoon-styled swimming pool. Would you like to try the Bali specials like floating breakfast, flower bath or a massage? The hotel will make it happen for you.
---
Midrange – Villa Cella Bella
This beautiful property is located just 10 minutes' drive from the centre of Ubud. This boutique hotel boasts an infinity pool overlooking rice fields and a lush valley with a stream at the bottom where local people attend to their daily bath rituals. The staff can arrange a floating breakfast and flower bath in an outdoor setting. Villa Cella Bella is the best place to stay in Ubud, Bali, if you want to wow your Instagram followers.
---
Budget – Puri Garden Hotel & Hostel
This hostel has a great location as it is situated right in Ubud, close to all Ubud points of interest. It's a luxury hostel with a nice pool, free yoga classes and different type of entertainment every evening, including live music, BBQ and movie nights.
Day 2 Mt Batur Hike & Ubud Town
Mount Batur
The Sunrise hike of Mount Batur is probably one of the more adventurous things to do. Ubud is a great base to do it because it's located only about an hour drive from where the hike begins.
I love experiencing things that involve an effort because it gives me a sense of achievement and this sunrise hike is no different.
Mount Batur, also known as Gunung Batur, rises to 1,717 metres. It's a strenuous hike, but at the end, you get rewarded with an incredible and tear-jerking sunrise view stretching over Mount Agung. On the way back, there is a treat for you – a hot spring stop where you can soak those sore muscles and enjoy the magnificent view of the lake.
Get Your Guide Mt Batur Hike:
If you don't fancy a hike, you can swap this activity with morning yoga in Ubud at Yoga Burn.
Ubud Royal Palace
After the hike, have a little break and continue sightseeing Ubud, there is still so much more to experience!
Ubud Royal Palace or Puri Saren Agung is located right in Ubud on Jl. Raya Ubud 8. It is where the royal family of Ubud used to reside.
There is also a dance performance every evening which is one of the best things to do in Ubud at night. The entrance fee for the evening show costs around $6.
Art Market in Ubud, Bali
A visit to Ubud wouldn't be complete without a visit to the art market. The market is situated very close to the Royal Palace on Jl. Raya Street and it's open for business every day from 6 am to 6 pm.
The market is vibrant and full of colours and a variety of products, and it's the best place to do your Bali Ubud shopping. Even if you don't want to buy anything, it's an experience on its own. There is plenty of merchandise from colourful scarfs, hand-made pottery, dream catchers, traditional figurines and some fantastic paintings to Bintang t-shirts and fridge magnets. My favourite 'Bali souvenirs' are gorgeous wicker handbags!
The typical street market rules apply here. The asking price is always a starting price, and you are expected to haggle. Remember to stay polite and respectful and that a lot of these people are poor and the additional dollar will make a difference to their income. Also, if you want to buy silver, gold or batik, the street market is not the best place. Instead, go to a properly certified shop to avoid any possible scams. Just use common sense, and you'll be fine.
Ubud Monkey Forest Sanctuary
Spend the afternoon exploring the monkey forest. Yes, monkeys in Ubud have their own park where they can rule the world, or at least the park! Sacred Monkey Forest Sanctuary is a natural habitat for over a thousand long-tailed monkeys. The park is also an important conservation centre.
There is a small entrance fee which is around $6 (80k IDR) for adults and a little less for children. You can also buy some bananas for the monkeys.
The opening hours are 8:30 am to 6 pm.
It is essential to follow the rules set by the park because an upset monkey can be really vicious. As a general rule, you shouldn't be carrying any plastic bags, plastic bottles or any loose objects that monkeys can snatch of you. Leave everything in your hotel, including sunglasses and never look them in the eyes. Lol, I know how it sounds, but it's official advice.
If you follow the rules, you'll have an enjoyable visit and will be able to observe wild monkey's life. There are many cute monkey babies! But be aware of their protective mothers that can attack you to defend their offspring if they feel threatened by you. So, stay at a distance.
Ubud Spa & Flower Bath
A visit to Ubud wouldn't be complete without a spa experience. Nothing beats a massage or a whole spa package in Ubud. I visited Jaen Spa, which is a little away from Ubud, located in a peaceful village overlooking the rice terraces. They offered a free pick up and drop off service, so the location wasn't a problem. We got welcomed with snacks, a drink and a cold towel. I had a scrub, whole-body massage and a flower bath. It was such a lovely experience, and I felt like a newborn princess after it! There are so many excellent spas in Ubud, and you pay a fraction of the money you would pay back home for the genuinely royal treatment!
Day 3 North of Bali
As I mentioned previously, Ubud is an excellent base for exploring further North. Today take a day trip to see highlights of the North. You can either go on an organised tour or hire a motorbike and drive there yourself, whatever you're comfortable with. Here is the suggested itinerary that worked for me.
Get Your Guide Northern Highlights Tour:
Ulun Danu Temple
This northern Bali, Hindu temple also known as Pura Bratan, is located on the shores of Lake Bratan, in the northern part of Bali, 52 km away from Canggu. It is another temple taken straight from a Bali postcard picture. It's one of the most important temples in Bali, and the Pura Ulun Danu Beratan complex consists of 6 different temples.
There is an entrance fee of 30k IDR. The monument is very busy with local people paying a religious visit and international tourists alike.
Handara Gate
Handara Gate is one of the most Instagramable places in Bali. In Balinese culture, gates like this one have an important meaning, signifying coming from the outside world to the holy place, usually a temple. Ironically, this gate is an entrance to the golf course.
What to expect at Handara Gate
Expect to pay an entrance or shall I say a photo fee of 30k IDR and wait between 30 and 60 minutes in the queue to take a picture at the gate! I know, it's absolutely crazy. I must admit that I succumbed to this madness and waited my turn in the queue! In my defence, however, the magnificent Handara Gate and the lush mountains in the backdrop create some dramatic scenery for a breath-taking and unique photo! So, no regrets on my part!
Wanagiri Hidden Hills and Bali Swing
You probably have seen a photo of a giant swing over a lake on your Instagram feed? Well, you will have the opportunity to take your very own here. The place is not far from the Handara Gate, and it charges 300k IDR entrance fee. At that price, you will have access to a giant swing, a nest and other photosets. Be aware that on the same road, other photo stations are imitating the Wanagiri Hidden Hills. They are nowhere near as good as the original, but it's a way of making extra money for the locals.
Banyumala Twin Waterfall
If you're not too tired and want to explore more then, I recommend checking out Banyumala Twin Waterfall. It's about 40 minutes drive from Ulun Danu Temple, the entrance cost 15k IDR, and it's really worth it.
The hike down to the waterfall is very scenic with lush greenery, and the waterfall itself looks incredible. Take a refreshing dip in the pool. It's a fantastic way to reward yourself for a productive day of sightseeing and exploring Bali's North.
Day 4 Uluwatu
Uluwatu has an entirely different vibe from Ubud. Situated on the Bukit Peninsula, Uluwatu is home to some of the best Bali beaches, and the choice is ample! Uluwatu is also famous for some of the world-class surfing spots attracting professional surfers from all over the world and a chilled vibe.
Spend the morning lazing on the beach
I recommend Bingin Beach, where you can watch the surfers from a local warung or take a surfing class yourself. Padang Padang is also a great choice. During the low tide, you can actually walk between those two beaches. On Padang Padang, you can do some stand-up paddleboarding or canoeing.
You may also like a full guide on Uluwatu Beaches
Uluwatu temple
If you love exploring temples like me, don't miss this one! Uluwatu Temple, also known as Pura Luhur Uluwatu, is located in a dramatic setting – on a steep, narrow clifftop. Don't forget to cover your knees and shoulder during your visit.
An incredible way to fully appreciate this temple is to watch a traditional Balinese dance called Kecak that is performed within the temple grounds.
Single Fin Beach Club
Finish off your day in the iconic Single Fin Beach Club sipping a cold Bintang from an infinity pool. The place has a great vibe despite being touristy. It's situated on the clifftop so be prepared to experience a breath-taking sunset while watching the surfers riding the waves.
If you have some spare time, go down to Suluban beach where all the surfers hang out, and you can explore some cool caves during the low tide too.
Where to stay in Uluwatu
Luxury– Suarga Padang Padang
Suarga Padang Padang is a sustainable boutique hotel featuring 36 villas built with a minimal impact on the environment using recycled wood and solar panels. It's located on a clifftop boasting some epic views over the ocean, an infinity pool, and it's only a five-minute walk to Padang Padang beach and a seven-minute drive to Bingin beach.
---
Midrange– Dreamsea
---
Budget – Sal Secret Spot
Sal Secret Spot is situated within walking distance to Bingin Beach, a white sanded beach excellent for swimming with a calmer sea. Rooms are small but comfortable, and there is a beautiful boho-style pool area to enjoy.
Day 5 Nusa Penida
So, a standard Itinerary of Bali would take you to Kuta or Seminyak, which are the most touristy spots in Bali and typical beach resorts where most people stay. However, I want your Itinerary for Bali to be truly epic, and to do that, you can't leave Bali without seeing Nusa Penida! You'll thank me later.
Nusa Penida is a small but mighty island just off Bali shore. Penida Island has some of the most incredible scenery I have ever experienced!
You can get a speed boat from Sanur harbour. The boat journey takes only about 30 minutes.
Best things to do in Nusa Penida in one day:
Kelingking Beach
Kelingking viewpoint or the T-Rex is an absolute top of things to do on Nusa Penida island. If you only could do one thing, then do this! This is the most famous rock formation (which looks like a head of a T-Rex) that makes this ocean view genuinely spectacular.
There is a 10k IDR entrance fee.
There are a few viewpoints here. The first is the most famous. You just sit on a block of concrete with your legs down. To get to the second one, you climb a few steps down. Hold on to the wooden fences and take it slowly. And the last one can be found on the way back, just keep walking along the cliff edge, after a few minutes you will see the opening. There is actually a tree where people climb to get a drone-like image.
If you've got the time and guts to do it, climb down the perilous staircase down to the beach.
Angel's Billabong
Angel's Billabong is a natural rock lagoon formatted where Nusa Penida River ends in the sea. It is located on the Western side of the island.
The entrance is free of charge, but there is a 5k IDR collected for parking.
It is possible to swim in this crystal-clear natural pool but only during low tide. Otherwise, you can watch quite a spectacle of massive waves crashing into sharp rocks.
The place is very popular for photography due to its unique scenery.
Broken Beach
Just a few minutes walk from Angel's Billabong, you can find Broken Beach Nusa Penida.
This is another epic and incredibly unique place on Nusa Penida and a perfect spot to take that jaw-dropping photos.
Broken Beach was formed by the erosive power of the sea where part of the shore collapsed, and a natural lagoon was formed.
Walk the rock archway to the viewpoint where you can see mantas swimming down below in the sea.
Crystal Bay Beach
Crystal Bay Beach is probably the busiest Nusa Penida beach where all-day trips tend to finish, and visitors get free 'time to kill' before their departing boat. It's also located conveniently a 15 minutes drive from the speed boat port where you can go back to Bali mainland.
There are many warungs on the beach where you can grab something to eat or simply sip your Bintang and chill on a binbag.
The sea here is protected within the bay, and it's actually suitable for swimming once you get passed the wave breaking point.
The place is excellent for snorkelling, and you can hire a mask and flippers and even a towel. There are also organised snorkelling boat tours that leave from here.
Tip: Bring your water shoes as there are lots of sharp rocks and broken coral in the water.
You can also visit Nusa Penida on a day tour with hotel transfers, speed boat and guide included.
Read:
Best hotels on Nusa Penida
Luxury – Le Royale Tropical Bamboo Exotic Sunset Villas
Le Royale Villas are situated between Crystal Bay and Toya Pakeh. This property looks like a perfect Instagram photo! It offers an open living concept in a wooden villa with a large terrace to soak in the epic sunset views. It's got a hot tub and a private pool, a big-screen movie in the communal area, and offers a free BBQ service.
---
Midrange – Penida Bay Village
Penida Bay Village is situated 10 minutes' walk from Crystal Bay Beach in a traditional local village with good proximity to a few little shops and local warungs. The bungalows are clean and spacious and include free wifi use and toiletries in a private bathroom. There is an onsite restaurant that serves a good breakfast that is included in the room price, but also lunch and dinner for an extra charge.
---
Budget – La Roja Bungalows
La Roja property is also one of the best Nusa Penida hostels that offer private and shared rooms. It is located within 20 minutes drive from the harbour on the western coast, a minutes walk from shops and small, local restaurants. The hotel boasts a pool area with white decking and a well-kept garden. There is a choice of older bungalows and newer ones situated around the pool, simple yet very tastefully designed. La Roja is an excellent option for solo travellers and budget travellers.
Bali 5 Day Itinerary: Summary
Bali is such an incredible place to experience. The 5-day itinerary will definitely give you a good amount of flavour of this paradisical island. And who knows, you may fall in love as deeply as I did, and will be back to explore more! 
Like me? Pin me for later!