18 Incredible Things To Do In Nusa Penida Island
Are you ready to escape the crowds of Bali mainland and immerse yourself in the natural beauty of Nusa Penida? Check out this post for 18 amazing things to do in Nusa Penida.
Nusa Penida Tours
If you only have a limited time to explore this epic island, I recommend booking an organised tour to make sure you'll see all the Penida highlights. Here are some best torus by Get Your Guide:
If you have more time, you can organise the tour of Nusa Penida yourself. Read the next section on how to get here from Bali and the best places to stay.
Getting Around Nusa Penida 
Getting around Nusa Penida is not the most straightforward. If you're an experienced motorbiker, you can rent a scooter for 75-100k IDR a day. The roads are narrow and in most places in very bad shape so be prepared for a bumpy road in heat and dust. Having said that, this option gives you the most freedom and is the most rewarding (we appreciate things more when we work hard for them lol).
If you don't feel comfortable riding a scooter, you can hire a car with a driver. The prices will vary but expect to pay around 600k IDR per person per day, based on two people sharing a car.
How To Get To Nusa Penida From Bali
Boats leave 9 times a day from Sanur to Nusa Penida and are run by two companies: The Marlin Fast Boat and Crown Fast Cruise. The boat to Nusa Penida takes 45 minutes and arrives at Toya Pakeh Harbour. You can buy your ticket online before departure or arrive early in Sanur port and buy your ticket there. Expect to pay around 100k IDR.
You may also like other itineraries:
Nusa Lembongan To Nusa Penida
If you're planning to go to Nusa Lembongan as well, you can take a small boat to Penida from where the yellow bridge is. You can negotiate the price but expect to pay around 50k IDR per person per way to get to Nusa Penida. The boat takes around 25 minutes to Penida.
Read the full guide:
Where to stay on Nusa Penida
Luxury – Le Royale Tropical Bamboo Exotic Sunset Villas
Le Royale Villas are situated in between Crystal Bay and Toya Pakeh. This property looks like a perfect Instagram photo! It offers an open living concept in a wooden villa with a large terrace to soak on the epic sunset views. It's got a hot tub and a private pool, a big-screen movie in the communal area, and offers a free BBQ service.
---
Midrange – Penida Bay Village
Penida Bay Village is situated 10 minutes' walk from Crystal Bay Beach in a traditional local village with good proximity to a few little shops and local warungs. The bungalows are clean and spacious and include free wifi use and toiletries in a private bathroom. There is an onsite restaurant that serves a good breakfast that is included in the room price, but also lunch and dinner for an extra charge.
---
Budget – La Roja Bungalows
La Roja property is also one of the best Nusa Penida hostels that offers private and shared rooms. It is located within 20 minutes' drive from the harbour on the western coast, a minutes' walk from shops and small, local restaurants. The hotel boasts a pool area with white decking and a well-kept garden. There is a choice of older bungalows and newer ones situated around the pool, simple yet very tastefully designed. La Roja is an excellent option for solo travellers and budget travellers.
You may also like the full guide:
18 Things To Do In Nusa Penida 
1. Kelingking Clifftop – A must see
Kelingking viewpoint or the T-Rex is an absolute top of things to do on Nusa Penida island. If you only could do one thing, then do this! This is the most famous rock formation (looks like a head of T-Rex) that makes this ocean view truly spectacular.
There is a 10k IDR entrance fee.
There are a few viewpoints here. Have a look at the pictures below. The first is the most famous, you just sit on a block of concrete with your legs down. To get to the second one, you climb a few steps down. Hold on to the wooden fences and take it slowly. And the last one can be found on the way back, just keep walking along the cliff edge, after a few minutes you will see the opening. There is actually a tree where people climb to get a drone-like image like the one below.
Tip: Kelingking clifftop gets really busy during the late morning to early afternoon when all day-trippers from Bali arrive. The traffic gets mad and the queue to the Insta-famous picture spot reaches insanity level. So, if you want this incredible place to yourself, arrive in the early morning or late afternoon.
2. Kelingking Beach
If you are a little adventurous, you're not scared of heights and are prepared to get a little dirty, then go ahead and climb down to the Kilingking beach which is one of the most spectacular Nusa Penida beaches. The path down is very steep but there are wooden fences built to help visitors with the descent. It takes about 30 minutes to get down. If it's rainy, I wouldn't recommend going down, because the path may get slippery and very dangerous.
When you get down, you'll be able to enjoy a pristine beach with turquoise water and white, soft sand. Spend as much time as your itinerary allows it.
Unfortunately, you can't really swim here because the waves are so crazy! Don't underestimate them. I actually got swiped by one while walking by the shore, they are that strong!
There was even a man with a whistle that was warning people from wild waves.
Tips:
– You need some good footwear- trainers or at least steady sandals with straps.
– Take water and snacks with you. The hike is really strenuous and you will thank yourself later. There may be a man selling drinks, but I wouldn't count on him entirely.
– If you're planning on going down to the beach, arrive early. You'll have it to yourself.
Read More:
3. Rumah Pohon Nusa Penida
This famous treehouse on Nusa Penida is definitely something that you will never forget. It is situated a short drive from Atuh beach. There is a small entrance fee (5k IDR) and an area where you can park.
To get to Rumah Pohon treehouse from the car park, follow the path down, it's fairly steep but should take no longer than 10 minutes' walk.
There are actually a few tree houses there where you can stay overnight. The one with the best view is to take photos only. There is a ladder that you can climb and get to the house. The view is truly jaw-dropping!
Tip: To take the best photo, climb to the tree which is slightly behind and to the right of the treehouse. This way you get the best angle of the ocean view as well.
If you follow the path further and uphill, you'll get to two more viewing points. At the last one, there is a bench under a small roof where you can take a break from the heat.
On the way back, by the parking area, there is a small warung where you can stop over for a cold drink or an ice cream.
4. Thousand Island Viewpoint
This is the viewpoint which is located in the same spot as the Rumah Pohon. It is included in the 5k IDR entry fee while visiting the treehouse.
There are two spots where you can take in some incredible views over some interesting rock formation and crystal-clear turquoise sea.
The first one is a thin, bridge-like path that is fenced off by sticks and robe.
The second one, slightly higher up where you can see the treehouse at the bottom.
5. Atuh Beach
Atuh Beach is located on the Eastern side of Nusa Penida, on the opposite side to where the speed boats arrive from Bali.
A new road was recently built that connects the Easter part of the island with the North. Using the new road, it now takes about an hour to get there from the ferry port.
The place is truly breath-taking and you can easily spend here the whole day. Also, the sea is much calmer so you can enjoy a nice swim.
There is a parking fee of 5k IDR and an entrance fee to the beach collected by locals of 10k IDR.
I arrived at Atuh beach late morning at the car park was already almost full so I would recommend arriving early.
From the car park, follow the path uphill and you'll get to the high point where you'll have Atuh beach on the left and Diamond beach on the left.
The steep stairs will lead you down to the beach. The hike is fairly strenuous but the stairs are in good shape so you should be able to get down without issues.
There are a few warungs on the beach and umbrellas and sunchairs to rent out for the day. I sat on the binbag for free in exchange for buying some food and drink later on. The sun loungers were 100k IDR for the day. I got some coconut water for 25k IDR and some fresh cut mango (20k IDR) and fries (20k IDR).
6. Diamond Beach
Diamond beach is also located on the Eastern side of Nusa Penida. It can be reached in about 1 hour via the new, East coast road.
The beach is accessible from the same car park as for Atuh beach. Entrance fee is 10k IDR and parking fee 5k IDR.
Most people arriving at the spot, will only take a photo from the top and go to Atuh beach. Only a few will go all the way down to Diamond beach. It is because, the path down is very challenging, very narrow at times and the stairs not very well maintained.
If you're on a tight schedule, I would recommend going down only partway down to get the feel.
The beach offers some killer views that can be appreciated without going down.
The beach itself is mostly in the shade and it's not suitable for swimming because of the huge waves that can sweep you off your feet.
7. Angel's Billabong
Angel's Billabong is a natural rock lagoon formatted where Nusa Penida River ends in the sea. It is located on the Western side of the island.
The entrance is free of charge but there is a 5k IDR collected for parking.
It is possible to swim in this crystal-clear natural pool but only during low tide. Otherwise, you can watch quite a spectacle of massive waves crashing into sharp rocks.
The place is very popular for photography due to its unique scenery.
8. Broken Beach, Nusa Penida
Just a few minutes' walk from Angel's Billabong, you can find Broken Beach Nusa Penida.
This is another epic and incredibly unique place on Nusa Penida and a perfect spot to take that jaw-dropping photos.
Broken Beach was formed by the erosive power of the sea where part of the shore collapsed and a natural lagoon was formed.
Walk the rock archway to the viewpoint where you can see mantas swimming down below in the sea.
9. Manta Cliff Viewpoint
It's the top cliff view where you can look down and see mantas swimming in the sea. To get to the spot, walk through the rocky archway of Broken beach until you reach the cliff end.
10. Peguyangan Waterfall
Peguyangan waterfall is located on the Western side of Nusa Penida, an hour drive from the main port area.
It is a lesser-known place, so expect an off-beaten track experience. There is a 5k IDR charge to park. There is also a warung where you can eat, drink and use a toilet.
You will be required to wear a sarong to enter the hike as at the bottom, there is a temple. You can rent that out from the locals for 10k IDR.
The hike down takes around 30 minutes, depending on how fit you are. On your way, you'll go past the friendly locals doing the whole descent barefoot. There will be a few viewpoints, my favourite being where the 750 blue staircase begins.
Watch your steps, the gaps between the stairs can be huge and scary. Having said that small kids were walking down the stairs too.
At the bottom, there is a small waterfall, a place of worship and a natural pool in the cave. The place is not as spectacular as other spots on Nusa Penida however it is a more genuine experience.
13. Goa Giri Putri Cave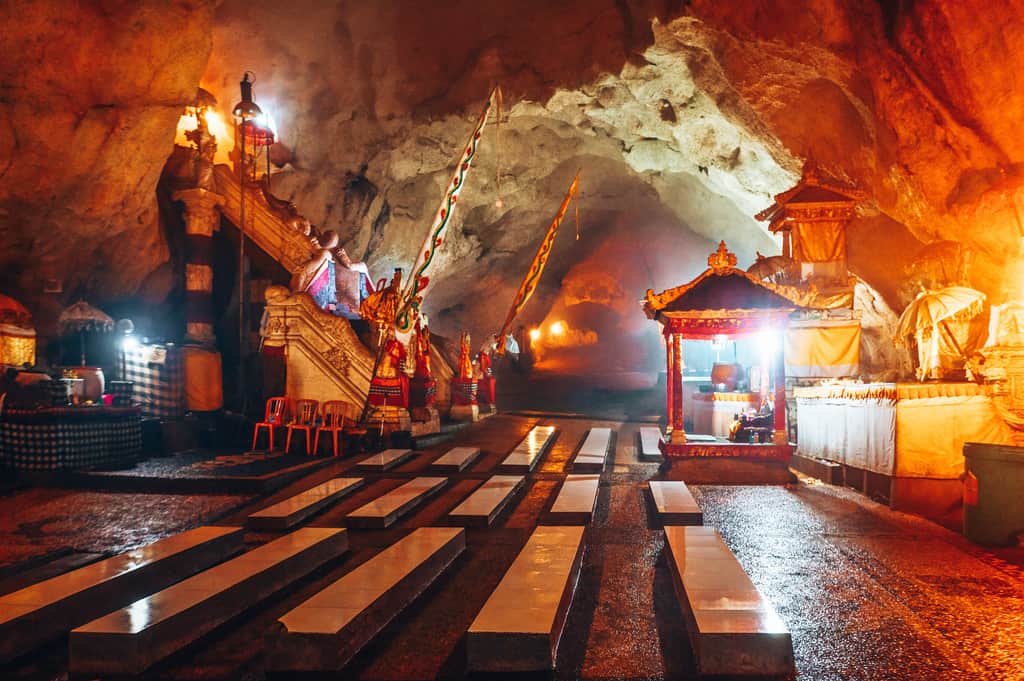 Goa Giri Putri Cave is located a 30 minutes motorbike ride from the main port area. It is definitely one of the least known places on Nusa Penida so if that's something that appeals to the go for it.
There is a car park where you pay a customary 5k IDR to leave your ride. The cave is a place of worship so you will need to wear a sarong. There is a donation fee to enter of a minimum 20k IDR.
At the entrance, there is an elderly man that will greet you and do the blessing pouring some holy water on you. The cave entrance is through the smallest triangle hole you can possibly imagine. Once you through is, the cave itself is huge!
If you're lucky you may get offered a holy blessing. If not just watch the local people praying amongst the incense-filled air and explore the cave not disturbing the rituals happening in the cave.
11. Crystal Bay Beach
This is probably the busiest Nusa Penida beach where all-day trips tend to finish and visitors get free 'time to kill' before their departing boat. It's also located conveniently a 15 minutes' drive from the speed boat port where you can go back to Bali mainland.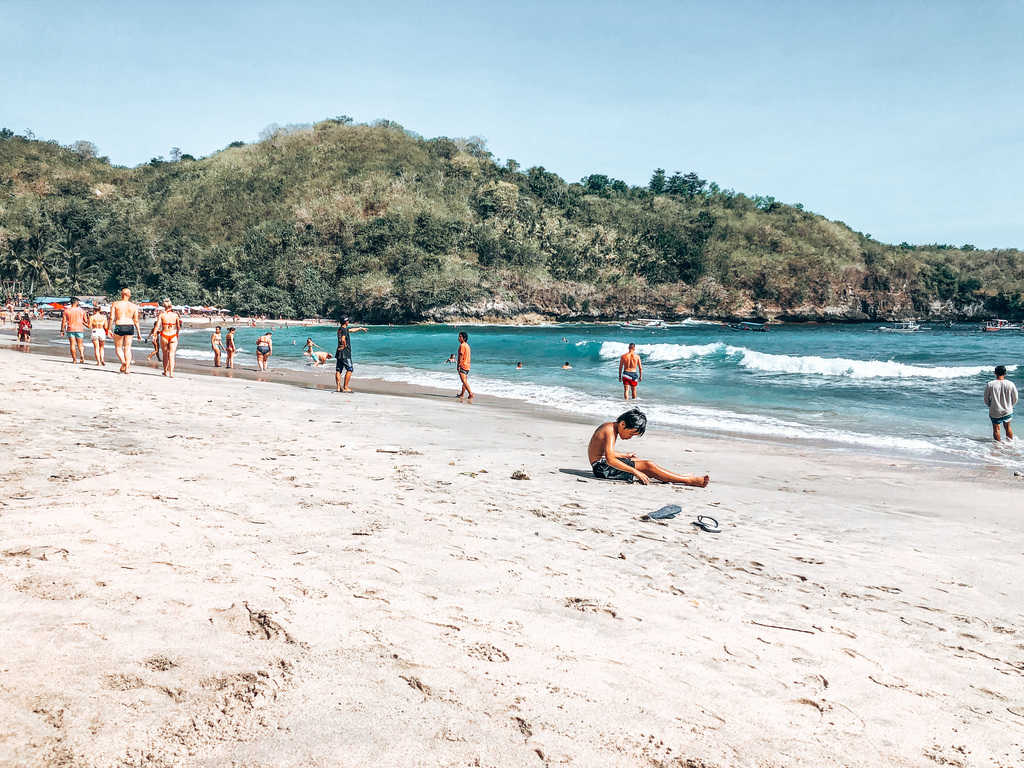 There are many warungs on the beach where you can grab something to eat or simply sip your Bintang and chill on a binbag.
The sea here is protected within the bay and it's actually suitable for swimming once you get passed the wave breaking point.
The place is good for snorkelling and you can hire the mask and flippers and even a towel. There are also organised snorkelling boat tours that leave from here.
Tip: Bring your water shoes as there are lots of sharp rocks and broken coral in the water.
12. Banah Cliff Point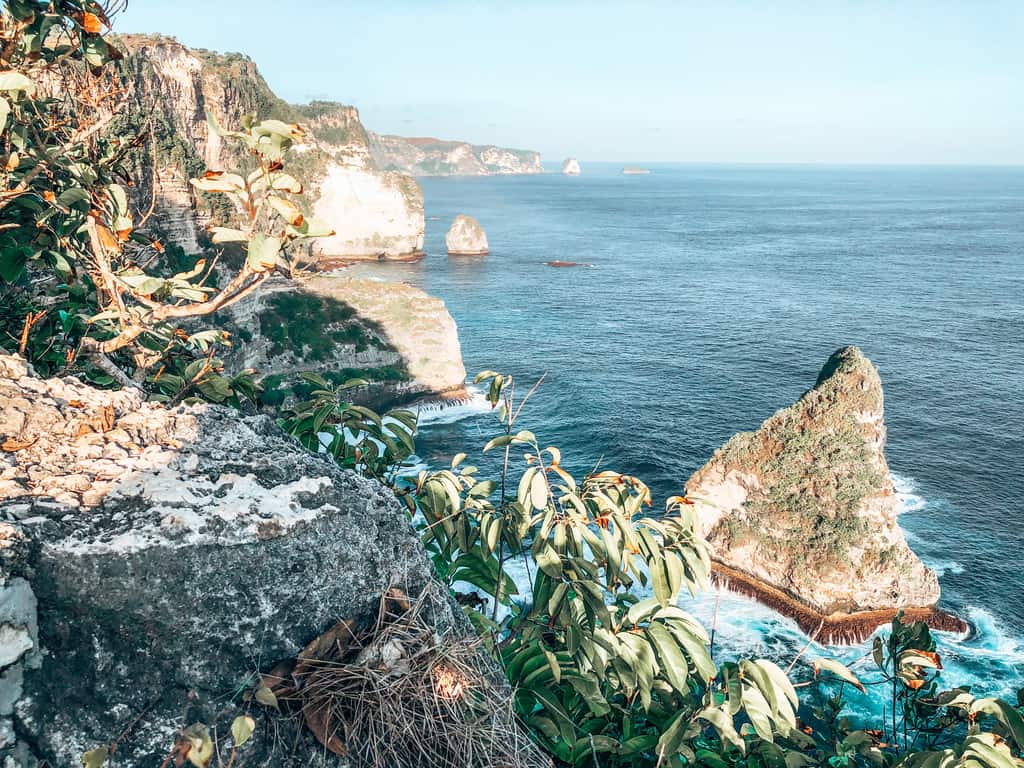 Banah Cliff viewpoint is located on the southwestern side of Nusa Penida island. The place is not as popular as other spots and there is no charge to park on the entrance fee.
It is located what I would call out in the wild. It's about 50 minutes' drive from the main port area through Penida countryside and forest.
There are two viewpoints here, one facing west. There is a sign 'Banah Sunset Point' and a wooden bench where you can sit watch the sun goes down.
The second viewpoint is much harder to find. Go past the first one until you reach some bushes, there is a path that leads to the cliff edge and a set of very treacherous steps down to a lower platform.
When you get to the viewing platform overlooking a rock that looks like a croissant in the sea, you'll know you're in the right place.
13. Tembeling Natural Pool
Tembeling natural pool is located on the western side of the island. It is definitely one of the more adventurous activities to do on Nusa Penida!
There are 3 different natural pools where you can go for a swim and a rocky beach where you can truly relax in peace. The place is not that popular with tourists because it's difficult to get there. But you can find here local kids playing in the water and jumping off the rocks.
When you get to the area, there will be locals charging 75k IDR for a return motorbike ride down the very steep and perilous track. Don't attempt it yourself if you're not very experienced motorbike driver.
14. Manta Point, Nusa Penida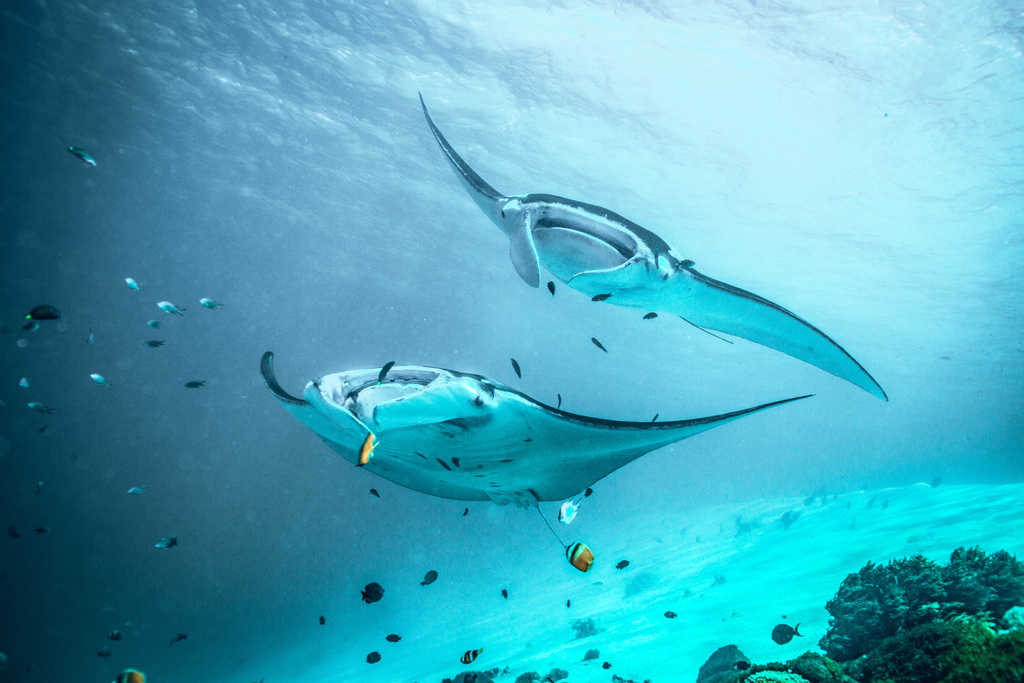 If you're a fan of snorkelling, this will be one of the best things to do on Nusa Penida for you! There are many good snorkelling spots around the island, most famous one being Manta Point, also called Manta Bay. It's also possible to do diving on Nusa Penida. This spot which is about 10 minutes by boat from Crystal Bay beach is the place where manta rays hang out and you will be able to come very close and swim with those peaceful sea giants.
Nusa Penida Snorkelling Tour with Get Your Guide:
You can book your trip in advance and combine it with other main Nusa Penida points of interest. Alternatively, if you have more time, you can book a trip from the local vendors on the Crystal Bay Beach. The boat trips leave from this beach too.
15. Teletubbies Hill
Teletubbies Hills are situated on the eastern part of Penida and can be reached within 30 minutes' drive from the port area. The hills are a great destination if you want to go for a ride on a scooter. The lush greenery is particularly enjoyable during the rainy season.
16. Suwehan Beach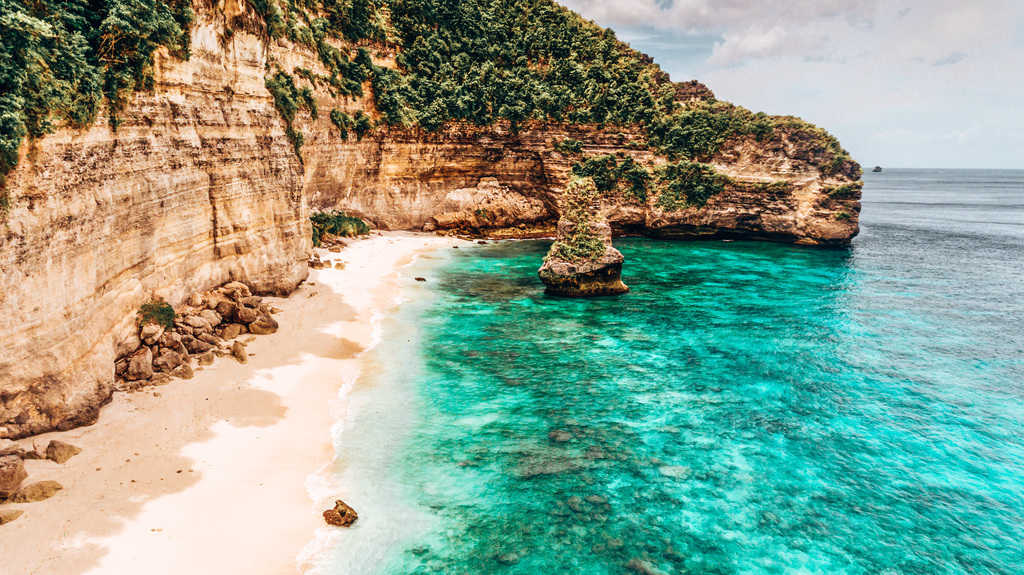 This is one of the hidden germs on Penida and my favourite Nusa Penida beach. The beach is like paradise on earth. Soft, white sand and crystal clear, turquoise water with some epic waves crashing into the beach. The best thing is that you are most likely to be there on your own.
The beach is really hard to get, it's located on the eastern side of Nusa Penida, around an hour drive from the ferry port and 40 minutes' drive from Atuh beach.
The road is pretty treacherous. There is no parking fee. Once you arrive, follow steps down. There are some robes for support. The climb down is not the easiest, however, if you're fairly fit you will be able to make it down. Rembert to wear trainers or at least hiking sandals with good straps.
17. Nusa Lembongan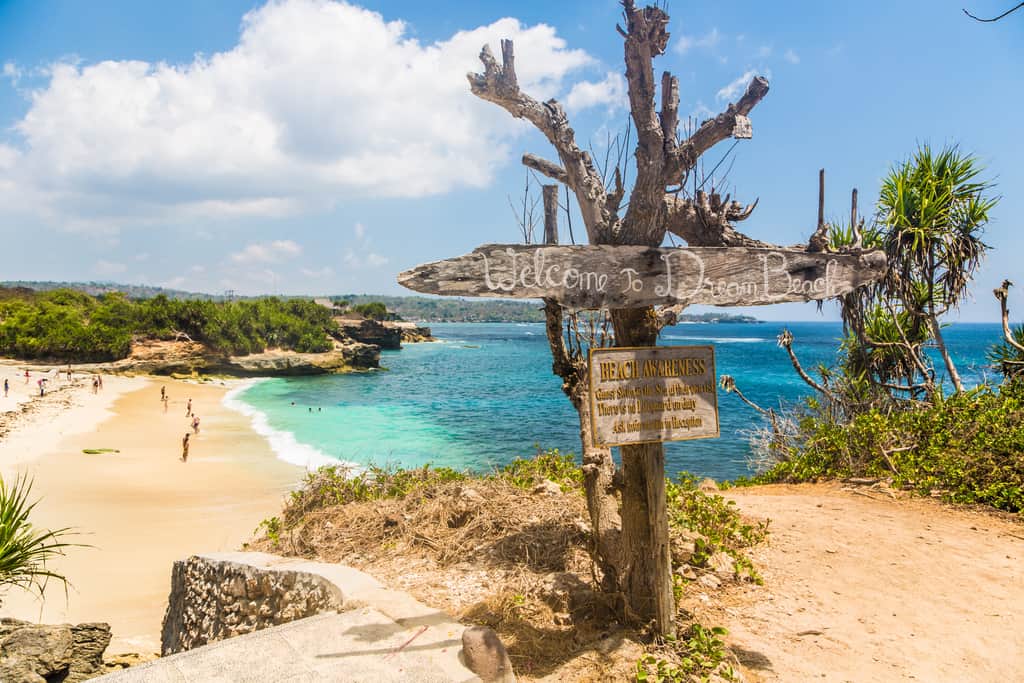 Already in Nusa Penida and hungry for more stunning places? Why don't you stay longer and explore Nusa Lembongan!
One of the best things to do in Nusa Lembongan is lazing on one of its spectacular beaches Dream Beach or Jungut Beach. If you're more of an adventure seeker, hire a boat and explore its scenic mangrove forest and end your day eating and having a few drinks on the Mushroom Bay Beach. Lembongan is way less touristy, so if this is something that appeals to you get there fast before the crowds find out about it!
More Nusa Lembongan Guides:

Things to do in Nusa Lembongan
18. Nusa Ceningan
Last but by no means least is Nusa Ceningan island, located right by its two big sisters Nusa Lembongan and Nusa Penida. Weirdly, the most famous thing to do here is to walk on the yellow bridge which is called 'The Bridge of Love'. If you have a day to spare, I highly recommend crossing the bridge and exploring this lesser-known island. Don't forget to find the Blue Lagoon which is a number one thing to see here.
Like Me? Pin me for later! 🙂