Peguyangan Waterfall (The Blue Stairs) – A Complete Guide
Hungry for off beaten track experiences on Nusa Penida? Visit Peguyangan Waterfall!
Immerse yourself in the Balinese culture and take in some stunning clifftop views on your trek down. And at the bottom, bath in a soul purifying natural infinity pool filled with holy water.
This post is a comprehensive guide containing all the information and best tips you need for visiting Peguyangan Waterfall.
Where Is Peguyangan Waterfall Located?
Peguyangan Waterfall is situated on the southwestern coast of Nusa Penida about 45-60 min drive from Toya Pakeh harbour where boats come from Bali.
Locally known as Air Terjun Peguyangan or commonly referred to us the Blue Stairs, the site is a sacred temple where local people bring offerings and come to pray. To reach the temple and the waterfall, you need to climb down through over 700 steps!
Where To Stay On Nusa Penida?
Luxury
This hotel consists of a beautifully designed cottages with tasteful accessories made of natural materials like stone and wood. They come with lovely outdoor bathrooms and a porch and are situated in a well-kept, lush garden. There is a nice pool where you can get your breakfast served on a floating tray or served in your room if you prefer that, both for no extra charge. The hotel offers a free pick up and drop off at the harbour. Kompyang cottages are located on the west side of Nusa Penida within 20 minutes drive to Toya Pakeh harbour and within walking distance to a good selection of local warungs.
---
Midrange – Penida Bay Village
Penida Bay Village is situated 10 minutes' walk from Crystal Bay Beach in a traditional local village with good proximity to a few little shops and local warungs. The bungalows are clean and spacious and include free wifi use and toiletries in a private bathroom. There is an onsite restaurant that serves a good breakfast that is included in the room price, but also lunch and dinner for an extra charge.
---
The hotel, which is also one of the best Nusa Penida hostels offers private and shared rooms. It is located within 20 minutes' drive from the harbour on the western coast, minutes' walk from shops and small, local restaurants. What I liked most about this property is a beautiful pool area with white decking around it and a well-kept garden. There is a choice of older bungalows and newer ones situated around the pool which are so cute, simple yet very tastefully designed. This is an excellent option for a solo traveller for very cheap but quality accommodation with chic communal areas!
How To Get To Peguyangan Waterfall
From Bali
From Bali, speed boats leave a few times a day from Sanur Port. You can get your ferry ticket online before your departure. You can also arrive in Sanur the night before and head to Sanur's promenade where you can buy it off the local vendors.
By scooter
For those already staying on Nusa Penida, the easiest way to get to Peguyangan Waterfall is by hiring a scooter and driving there yourself.
Motorbike rental on Penida is a little pricier than in Bali mainland so expect to pay around 75k IDR for a full day. Remember to ask for a helmet and check breaks and lights before you set off.
Also, the roads in Nusa Penida are poor, narrow with many bumps and potholes. If you've never ridden a scooter before, then this is not the place for your first time. However, if you're an experienced driver, you may find it strenuous, but you will be fine. And a lot of visitors choose that option so you definitely won't be alone.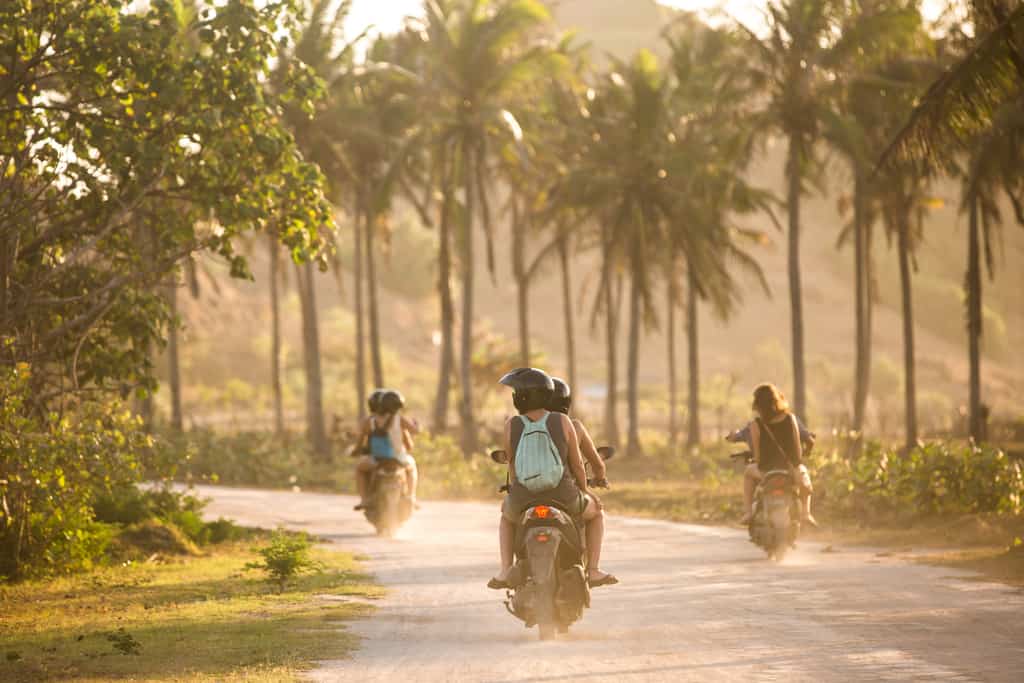 From the main harbour area, it should take around 60 minutes to get there. If you're already on the island, try to leave before the ferries arrive with day-trippers. I've witnessed some crazy traffic from the ferry port at 'rush hour.'
With a driver
If you don't feel comfortable to ride your scooter, you can hire a car with a driver. A full day should cost around 600k IDR. The advantages of hiring a driver are you don't need to worry about driving and navigating steep, bumpy roads that often turn into dirt tracks. Also, it is nice to relax in the air-conditioned car while getting to your next location.
Nusa Penida Day Tour
If you only have one day on Nusa Penida, I recommend taking a tour where everything is arranged for you, and you don't need to worry about the logistics.
Tips Before Visiting Peguyangan Waterfall
Entrance Fee
There are no entrance fees, but there is a 5k IDR parking fee and 10k IDR sarong rental fee because the waterfall is within a sacred temple site. But you can bring your own sarong.
Opening Time
There are no official opening times, but you should visit by day and before the sunset. It's not a leisurely hike, and doing it after dark may be really dangerous.
Best Time to Visit
Best time to visit the site is in the morning or late afternoon when the temperature is a little lower. However, any time will work just fine as long as it's during the day.
What To Expect At Peguyangan Waterfall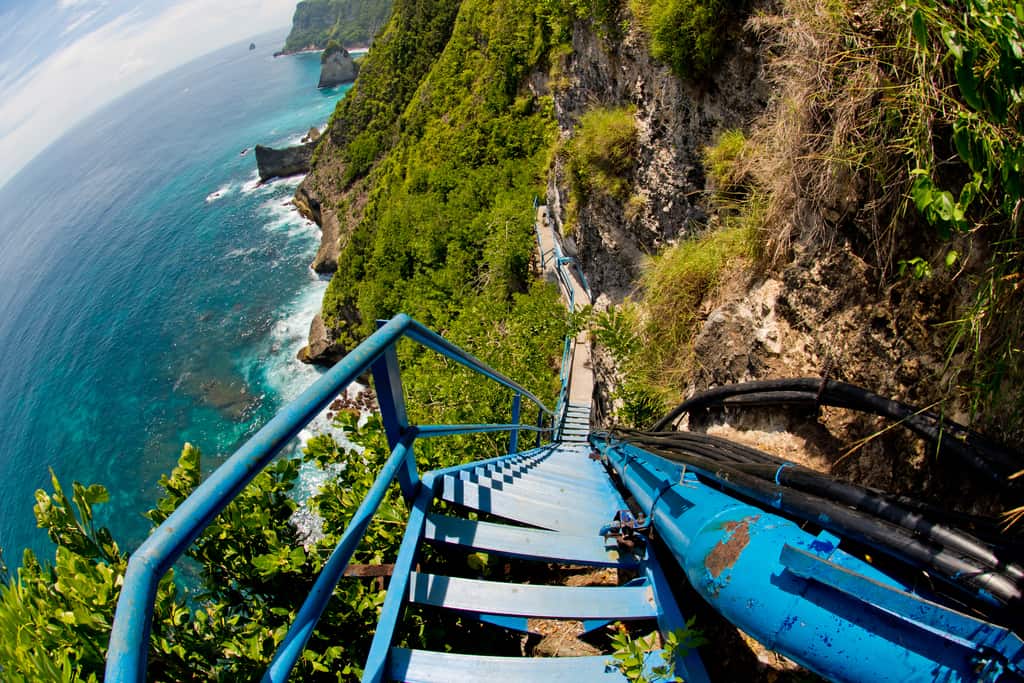 Arriving at Peguyangan Waterfall
When you arrive at the site, there will be a small car park where you can leave your motorbike or car. There are a few buildings and a small warung where you can order something to eat or drink and use their toilet before you embark on the hike to the waterfall.
At the entrance, local men rent out traditional sarongs to tourists. You are required to cover your legs because the whole site is sacred to the Hindu people. Many of them do the entire hike barefoot and wearing their best, festive temple clothes.
The hike down to Peguyangan Waterfall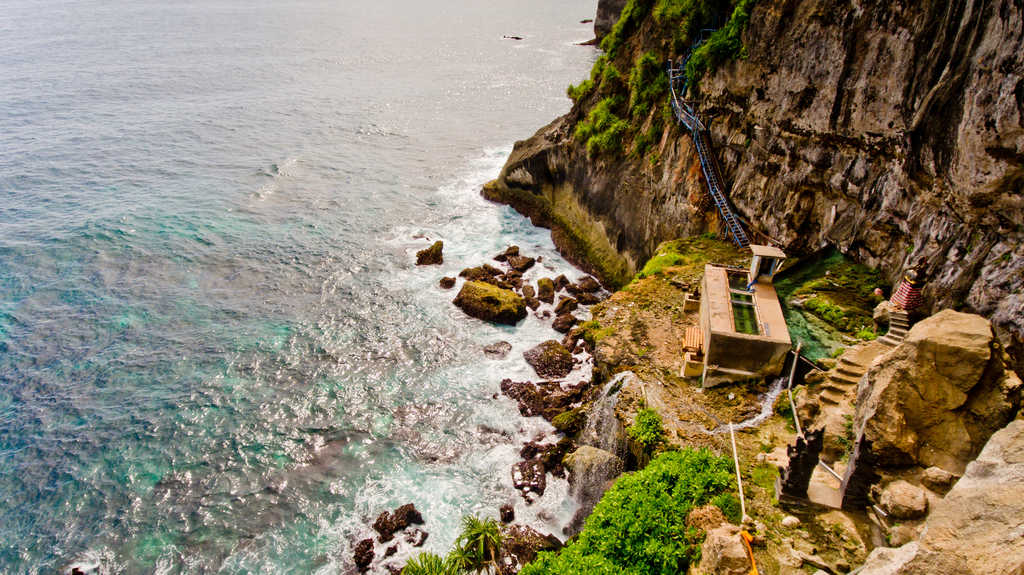 It will take around 20 minutes to get down. The hike is a little strenuous, and there are over 700 blue steps and a few sets of staircases! The gaps in the stairs are massive, and underneath there is a deep abyss! You really need to focus and watch your steps. I took off my sarong during the hike because it was just dangerous to walk in it. I put it back on in front of the temple.
Having said that, we met local kids doing the hike all alone! I'm suspecting the parents were walking behind them.
There are some great viewpoints along the way. Don't forget to stop and take in the stunning views of the steep cliffs and mighty waves crashing against the rocks. The best photo spot was just before the blue staircase.
During my visit on the way back, we met a really large group of local people going down. It caused a little congestion on the lower staircase, as the stairs are very narrow in places with enough room only for one person to walk through. However, we didn't mind as it was interesting to see how festive their clothes were. The women wore traditional yellow, lacy tops and man wearing white. They were also really friendly, saying hi to us and we even had some small conversation with a few monks that knew English. That made the experience even more rewarding!
The temple and the waterfall
When you arrive at the temple, you will be welcomed by four waterspouts, where local people purify their bodies from the worldly sins before entering the sacred grounds of the temple. I saw some men showering under them wearing only shorts. Unfortunately, I don't think the same is acceptable from women, so try to be respectful to the culture.
You will then see the Peguyangan waterfall flowing from the rocks. It is not as impressive as the epic waterfalls in Bali. It's more of fresh spring water streaming through the cracks in the rocks down to the ocean.
As you walk through the split temple gate, you'll see a small offering area with people gathered around praying and offerings of fresh flowers, food and drink scattered around.
As you go around, there is a cave and a natural pool with crystal clear water. You can take a dip there. The water is believed to be holy and is believed to have soul purification qualities. The pool is situated in a cave, and it resembles an infinity pool overlooking the ocean. There is also a small stream running down from the top of the cave providing more fresh, cooling water.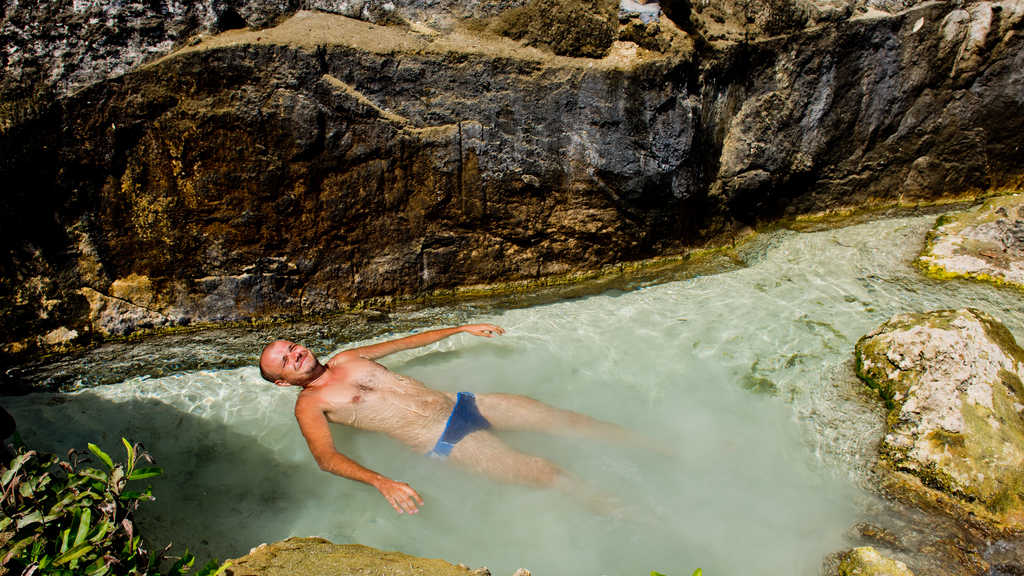 What to take with you
Day Backpack – for this adventure and many other ones, you'll need a day pack. My favourite one is the stylish and minimalistic Kanken. It is made of durable materials and it's super simple and super comfortable.
Mirrorless camera – I love Sony cameras! If you're looking for an entry-level, compact camera that takes awesome photos, go for Sony Alpha 6400, I've used it for years and took some excellent pictures with it. For a more advanced selection, I recommend Sony A7iii, I can't be more happy with it, and I know lots of professional photographers and creators who use it too.
Power bank – power bank to charge my mobile phone saved my life a few times, no kidding. It is handy if you're using Google maps which is a drain on the phone's battery. I recommend choosing a lightweight one
Raincoat – I know you're probably thinking I'm crazy, but trust me, the raincoat is essential, especially if you're scootering your way through the island. When it's rainy, it actually gets cold on the scooter, and during the rainy season, which is between November and April, it rains buckets!
Reusable water bottle – water flask, especially thermal ones, is so practical here in Bali. Many hotels and restaurants let their guests refill the bottles for free in an effort to reduce plastic use on the island.
Sun cream – this is another essential to carry with you and frequently reapply. Choose an eco-friendly and vegan one to do your part for the environment.
Adventure sandals – sports sandals with straps are the best type of footwear for any Bali adventure. They dry quickly and are sturdy enough to keep you safe on your hikes. I use North Face sandals, I've had them for years and they never let me down.
Other Places nearby
I recommend combining a visit to Peguyangan Waterfall with other awesome places nearby:
• Kelingking Beach – the number one Nusa Penida attraction is a must-see place on Nusa Penida with its epic and Insta famous ocean viewpoint with T-rex rock formation
• Broken Beach and Angel's Billabong – the natural tidal, infinity pool overlooking the ocean.
• Tembeling Natural Spring and Forest – offering of beaten track exploration of lush forest, empty beach and nature-made pool in a half cave.
Read also:

18 Incredible Things to do on Nusa Penida

14 Best Things to do on Nusa Lembongan

Where to stay on Nusa Lembongan
Peguyangan Waterfall: Wrap-Up
Peguyangan Waterfall is an excellent place if you are seeking an off beaten track experience in Nusa Penida. If you're expecting a breath-taking 50m cascading waterfall, then you will be hugely disappointed, so I recommend you skip this one. Peguyangan Waterfall and temple is excellent for observing the local customs and how they go about their worship practises. If that's something that interests you then go ahead, you will love it!
Like me? Pin me for later!