Banyumala Twin Waterfall – Ultimate Guide
Banyumala Twin Waterfall is the most stunning waterfall in Bali! Yet, it's not as well frequented as other waterfalls due to its location! Get there before everyone else and have a paradise-like experience. Read on this comprehensive guide to find out everything about the waterfall!
Where is Benyumala Twin Waterfall?
Banyumala Twin Waterfall is located in the Northern part of Bali. It is 57km from Ubud which takes under 2 hours' drive and 72km from Kuta which should take a little over 2 hours and only under one hour from Lovina. For those that decide to stay in Munduk for the night, it should be a 30 minutes' drive. Banyumala Twin Waterfalls is situated in the mountainous area called Munduk. As soon as you approach Munduk, you'll notice that the temperature is much lower here than in Kuta or Seminyak with a pleasant refreshing breeze coming from the mountains.
Best places to stay in Munduk
Luxury – Munduk Moding Plantation
Munduk Moding Plantation is located 20 minutes' drive from Munduk.The hotel's best part is its infinity pool overlooking the working coffee plantation with some incredible sunset views. The rooms feature four-poster beds and a Balinese-styled yet modern design. The guests can enjoy various day activities, spa, gym, tennis tournaments and yoga classes. Munduk Moding is one of the best hotels to stay in Bali.
---
Midrange – Munduk Menir Villas
Munduk Menir features different type of traditional, wooden cottages surrounded by nature and stunning views all way round. Each cottage has a bathroom, coffee and tea making facilities and an outdoor sitting area. The hotel is located within proximity to Munduk best waterfalls: 6 km to Munduk Waterfall and 10 km to Git Git Waterfall. The hotel also features a large pool and an onsite restaurant.
---
Budget – Aditya Homestay
It's a small hotel comprising six guest rooms with free wifi and balconies overlooking the valley and rice fields. Guests can enjoy complimentary breakfast, and there are also some small warungs and cafés nearby. Aditya Homestay is a great budget option for staying in the Munduk area. You can rent a scooter from the hotel or a map they provide; you can hike to local waterfalls and rice paddies. This place is great for couples looking for a romantic getaway in the serenity of nature.
---
How to get to Banyumala Twin Waterfalls?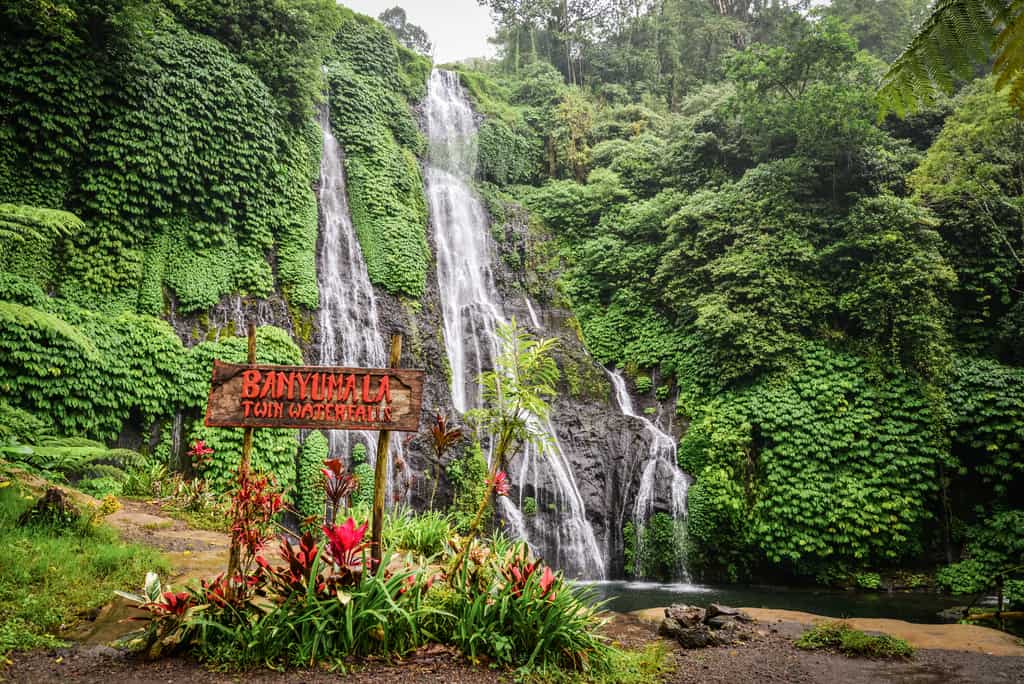 By motorbike
The easiest way to get to Benyumala waterfall from the main tourist locations is to hire a scooter and drive there yourself. Be mindful of Bali's bad traffic that can easily add an hour to your trip. It should be reasonably easy to follow Google directions that will take you through Jalan Raya Wanagiri road and alongside Lake Buyan.
Prebook your bike with Get Your Guide:
It should cost around 60k IDR to hire a motorbike for the day, and you will also need some petrol money. This option is great if you're an experienced scooter driver as roads in Bali can be challenging.
TIP: Remember not to look at your phone while riding your moppet but instead use your earphones and audio navigation. Keep your phone battery fully charge for the way back.
Hire a driver with a car
Another option is to pay for a driver to take you there in their car. This alternative is great if you're not that confident with motorbikes. You can also create your itinerary and let the driver take you to other places you're interested in. Just ask your hotel to recommend you a driver or book one in advance.
With a tour
If you prefer to have everything arranged for you, then I recommend taking a tour that combines a few other activities in the same area.
Get Your Guide Bali's Northern Charm Tour
What to pack with you
Day Backpack – for this adventure and many other ones, you'll need a day pack. My favourite one is the stylish and minimalistic Kanken. It is made of durable materials and it's super simple and super comfortable.
Mirrorless camera – I love Sony cameras! If you're looking for an entry-level, compact camera that takes awesome photos, go for Sony Alpha 6400, I've used it for years and took some excellent pictures with it. For a more advanced selection, I recommend Sony A7iii, I can't be more happy with it, and I know lots of professional photographers and creators who use it too.
Power bank – power bank to charge my mobile phone saved my life a few times, no kidding. It is handy if you're using Google maps which is a drain on the phone's battery. I recommend choosing a lightweight one
Raincoat – I know you're probably thinking I'm crazy, but trust me, the raincoat is essential, especially if you're scootering your way through the island. When it's rainy, it actually gets cold on the scooter, and during the rainy season, which is between November and April, it rains buckets!
Reusable water bottle – water flask, especially thermal ones, is so practical here in Bali. Many hotels and restaurants let their guests refill the bottles for free in an effort to reduce plastic use on the island.
Sun cream – this is another essential to carry with you and frequently reapply. Choose an eco-friendly and vegan one to do your part for the environment.
Adventure sandals – sports sandals with straps are the best type of footwear for any Bali adventure. They dry quickly and are sturdy enough to keep you safe on your hikes. I use North Face sandals, I've had them for years and they never let me down.
The hike to the waterfall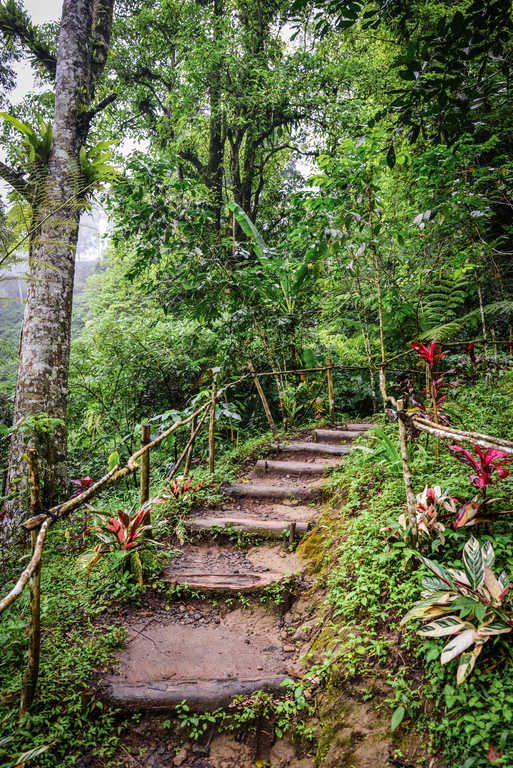 The hike to the waterfall takes around 15-20 minutes each way depending on your fitness level and how many times you stop for a photo. From the parking area, you will see a clear path to follow. At first, it's a concrete path, and at around halfway through, there is an official entrance where you pay your fee.
From that point, the path gets steeper with a few muddy patches and a rocky bit closer to the waterfall.
TIP: While it's doable to do the hike in flip flops, I recommend taking more sturdy shoes- trainers or hiking sandals would be ideal.
On your way back, there are a few warungs to stop over and have a bite. There are also toilets.
And if you're tired or in a rush, once you're out of the forest, local men are offering a lift back to the parking area on their motorbikes for 25k IDR.
What to expect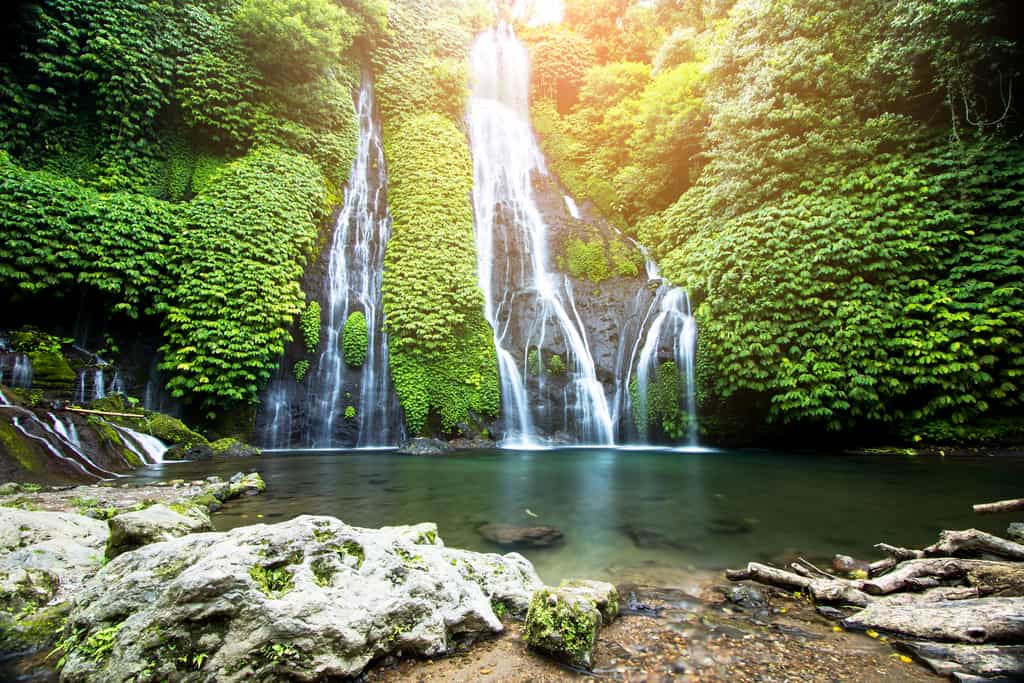 Once you reach the waterfall, there are modest changing rooms if you wish to take a dip, which I highly recommend. The area around the waterfall is pretty extensive with enough space, even if a few other people are visiting at the same time.
The water is really chilly and very refreshing after a hike down! The pool is not very big or deep, but there are many interesting angles for taking some awesome shots.
TIP: Don't forget your water shoes! You'll thank me later as the pool is a little uneven and slippery and I personally don't like stepping on things I can't see.
Banyumala Twin waterfall is one of the most impressive in Bali. If you have time, I highly recommend adding it to your itinerary! Also, the place is so lovely and relaxing you can easily spend here a few hours so maybe have that in mind when you plan your itinerary.
Best time to visit
Best time to visit Banyumala Waterfalls is in Bali's dry season which starts from March and ends in October. It is possible to visit in the rainy season, but the path down to the waterfall may get muddy and slippery, making the hike more difficult and even a little dangerous. Having said that, I can imagine that in the rainy season Banyumala Waterfall looks more impressive due to rainwater adding to the volume of the waterfall. So, it's a trade-off between the visual aspects and the safety of the hike down and your experience.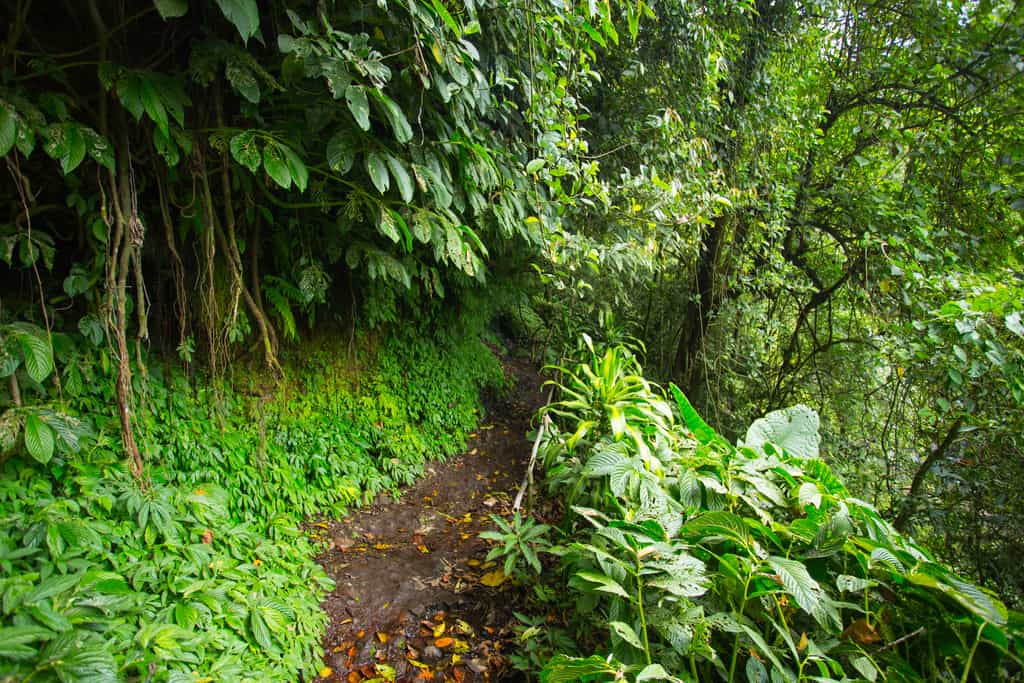 If you're aiming for a swim in your own company and some great shots, try to come here in the morning before everyone else gets here. If you have more time, you could stay in Munduk for the night and come to the waterfall early in the morning (before 10 am).
Banyumala Twin Waterfalls Entrance Fee
Waterfall entrance- 30k IDR (includes a bottle of water and it's paid at the official gate in cash only, halfway down to the waterfall)
Parking fee- 3k IDR
A ride from the waterfall back to the car park (optional) – 25k IDR
Other nearby places to visit
If you're planning to visit Banyumala Waterfalls, I highly recommend making a day trip out of it and explore other exciting places in the area such as:
Ulun Danu Beratan Temple – a stunning temple which is floating over a picturesque lake. This temple is one of the most recognisable temples in Bali.
Handara Gate – an Instagram famous picture spot, Handara Gate is another truly iconic spot in Bali with lush greenery and stunning mountains in the backdrop.
Wanagiri Hidden Hills – includes a giant swing over the lake.
Lovina Beach – is a lower-key coastal town located on the northern shore of Bali, which is much more tranquil than more famous spots like Kuta or Seminyak. Lovina is known for its black sand beaches that give seawater a different, unique shade of blue. There are various excellent activities, including morning dolphin watching excursions, Banjar hot springs and snorkelling.
Need more inspiration? Read "10 days in Bali The Perfect Itinerary"
Other Bali Waterfalls:
Summary
Banyumala Twin Waterfall is one of the most breath-taking places I have visited in Bali, definitely worth the long trip North to see it! Combine a visit to the waterfall with other nearby attractions into an awesome itinerary, and you will have an excellent experience!
Like me? Pin me for later!