Where to stay in Nusa Penida – Best Areas & Hotels for All Budgets
Are you looking for where to stay in Nusa Penida? Well, look no further. This post will give you all the information you need to make a decision on the best area and type of hotel depending on your budget. I also threw in a few useful tips to help you have the best stay. 
Nusa Penida is situated only 30 minutes ferry ride from Bali mainland yet it's a completely different world out there. Lose yourself in Penida's pristine clean beaches with dazzling turquoise water and white, soft sand; swim with manta rays in Crystal Bay and soak in the unworldly clifftop views over the ocean. 
Nusa Penida is still a hidden gem, a place where you can escape Bali's mainstream tourism and immerse yourself in unspoiled nature. But hurry up, because it won't always be this way. More people find out about Nusa Penida every day through Instagram and other social media. 
Currently, the island is still underdeveloped so you probably need to adjust your expectations a little bit if you're used to luxury villas. Having said that, keep reading to find Nusa Penida hotel that meets your needs and budget. 
Things are improving fast with new Nusa Penida, hotels popping up and new, enhanced roads being built like the one that runs from the harbour area to the southeast. 
Best place to stay in Nusa Penida
There is never 'one fits all' and every area is special and offers different advantages which I discuss in detail further below. However, not to keep you waiting or scrolling too much I'll give you a short summary here. 
Crystal Bay Beach (West) is great for being close to an amazing but also beach where you can swim and snorkel and catch a boat trip to see awesome manta rays. Crystal Bay beach is great but at the same time can be a little crowded and mainstream. This part of the island also the closest to the main attractions. 
Atuh Beach (Southeast) is awesome for being away from it all, close to off beaten track jaw-dropping beaches. Here you'll find places like the Rumah Pohon Treehouse, the aforementioned Atuh Beach and the epic Diamond Beach.
Northeast coast (Batununggul) has a range of really good choices of accommodation. Nusa Penida is really cheap and in this area, you can stay in a luxury cottage for a budget price.
Harbour Area (Toya Pakeh) is the best location in my opinion. It's still very conveniently located close to the main points of interest and has a good variety of accommodation. But what I love most about this area is its most comprehensive selection of restaurants, café including healthy and vegetarian places and some cool beach clubs. 
Where to stay in Nusa Penida – Comparison Table
The Best hotels in Nusa Penida, Bali
If you have no time to read the full post, here are the top 3 hotels in Nusa Penida. You can't go wrong if you stay in one of them. Their full reviews can be found further below. 
Adiwana Warnakali Resort – Luxury Pick
---
Autentik Penida Glamping – Unique stay
---
La Roja Bungalows – Cute budget choice
---
Nusa Penida Accommodation by area 
Crystal Bay Area – West Nusa Penida
Crystal Bay Beach is one of the most popular beaches on the island's west coast. It's a stretch of 200 m of white sand surrounded by lush palms and nearby hilltops. There is a little picturesque islet and a seaside temple to explore called Pura Segara Penida. The beach is a perfect spot to laze and sunbathe, there are sun chairs and parasols to rent out and a few local warungs for lunch. 
The bay's clear waters make it perfect for snorkelling and scuba diving with visibility reaching 30 m deep weather permitting.  Crystal Bay is also the place where you can catch a boat to see manta rays! 
BEST FOR: Short stays, being close to main Nusa Penida sights and a wide selection of hotels
NEARBY ATTRACTIONS:

•    Broken Beach and Angel's Billabong

•    Banah Cliff Point

•    Tembeling Natural Pool
Best Hotels Nusa Penida West
Unique luxury – Autentik Penida Glamping
Autentik is the most unique accommodation on Nusa Penida, it's a collection of luxury tents that come equipped with air conditioning and all modern facilities boasting stunning jungle views.
LOCATION: Autentik Penida Glamping is located just off the main road, a few minutes' drive to Crystal Bay Beach.
FACILITIES: There is a lovely pool area with a bar for guests to enjoy as well as a daily breakfast that is served in the privacy of the luxury tents. Rooms/tents come with a double bed, outdoor bathroom and a private terrace with a comfy sitting area.
BEST FOR: Couples, friends, adventures souls & boutique accommodation lovers
---
Midrange – Mahaloka Valley
Mahaloka Valley a brand new property built only in 2019 consisting of 10 wooden cottages with a pool in the middle.
LOCATION: This hotel is situated 12 minutes' walk (400 m) from Crystal bay beach amongst towering, green hills and palm trees.
FACILITIES: Rooms are spacious and include a coffee/tee facility, free bottled water and a simple en suite bathroom. They are equipped with efficient air conditioning and mosquito nets. The hotel has a scooter rental onsite and can organise a driver for you if you prefer to be driven to places and a transfer back to Bali. There is a good restaurant on site that offers a vegetarian menu. 
BEST FOR: Midrange travellers and being able to walk to the beach, families, couples
---
Midrange – Penida Bay Village
LOCATION: Penida Bay Village is situated 10 minutes' walk from Crystal Bay Beach in a traditional local village with good proximity to a few little shops and local warungs.
FACILITIES: The bungalows are clean and spacious and include free wifi use and toiletries in a private bathroom. There is an onsite restaurant that serves a good breakfast that is included in the room price, but also lunch and dinner for an extra charge. The hotel has a room service if you prefer to stay in. Other services include scooter rental and car transport arrangements. 
BEST FOR: Beach bunnies, families, friends
---
Budget pick – Bintang Bungalows
LOCATION: These super cool bungalows are located within 15 minutes walk from Crystal Bay Beach.
FACILITIES: It's a great budget option for single travellers especially. There is a pleasant pool area and motorbike rental on site. Each bungalow comes with a semi-outdoor bathroom, air-conditioning and a private terrace.
BEST FOR: Single travellers, backpackers
---
Harbour Area – Toya Pakeh (North)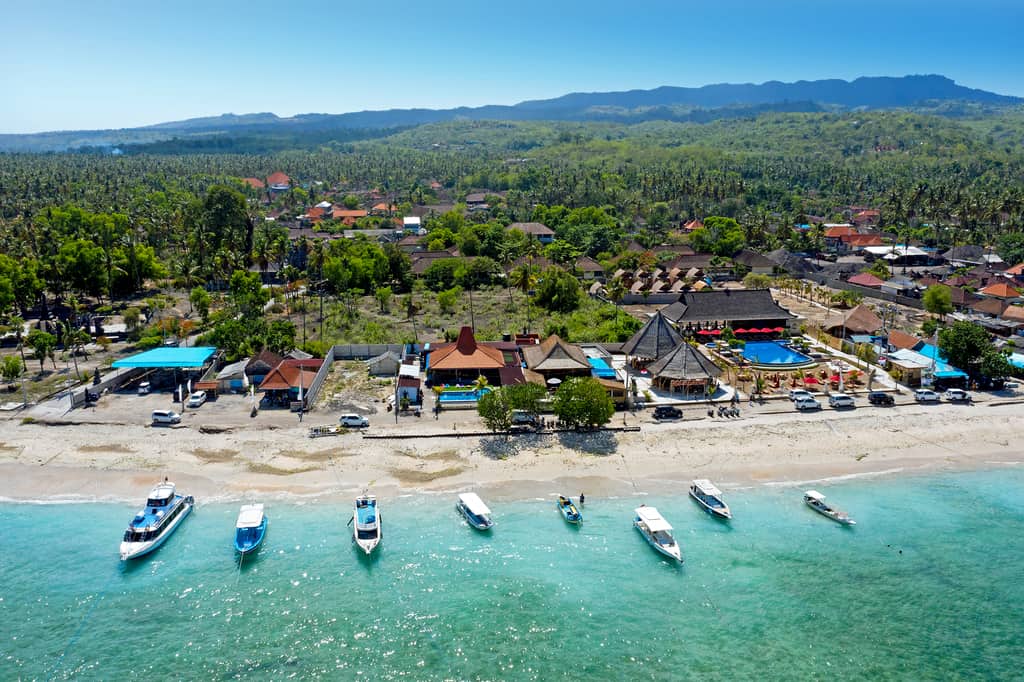 Another great area to stay in and probably the most popular is the harbour area of Toya Pakeh in the northern part of Penida. This is the most developed part of the island, so there is a bigger selection of accommodation to stay in. It is also the perfect place to stay for snorkelling and island hopping.
Also, in this part of the island, you will find the biggest choice of restaurants and cafes. Including some great vegan and vegetarian options my absolute favourite being Vegan Soul Kitchen and the super cool bar and restaurant that has an awesome infinity pool – The Chill Penida.
Nusa Penida is very different from Kuta and Seminyak, you won't find here the same social vibe as on the Bali mainland. Most people stay on the island for 1-2 days and are predominantly focused on sightseeing not partying and socialising. However, the Toya Pakeh area has some good places to come for a cocktail and sunset watching like Coco Penida Bar and Restaurant situated on the beach.
Best Hotels on Nusa Penida – North
Ultimate Luxury Pick – Adiwana Warnakali Resort
LOCATION: Adiwana has an excellent location – right by the harbour with a great selection of restaurants and activities nearby.
FACILITIES: Adiwana Warnakali is an adult-only resort, perfect for couples. Each room has a modern design and comes with a large terrace overlooking the ocean. Guests can enjoy an infinity pool ideal for watching sunsets, a bar and a restaurant. A complimentary a la carte breakfast is served daily and the hotel can arrange transfers and activities for guests.
BEST FOR: Romantic and luxury stays, short stays, island hoppers, snorkelling
---
Luxury Hotel with a great view –Semabu Hills Hotel
LOCATION: The hotel is located conveniently close to the harbour area where boats come and leave for Bali and close to a selection of restaurants.
FACILITIES: The greatest thing about it is its terrific infinity pool overlooking the turquoise sea and Mount Agung in the distance. The property offers spacious rooms and free local shuttle service and it's one of the best hotels in Nusa Penida.
BEST FOR: Romantic getaways, island hopping, luxury-lovers
---
Midrange with central location – Hotel Arsa Santhi Nusa Penida
LOCATION: This hotel is situated in an excellent location close to the beach, great beach clubs, a choice of restaurants and shops all within a walking distance. This is the hotel where I stayed and really liked it, especially for its convenient location.  
FACILITIES: The rooms are clean and simple with all the standard comforts such as air-conditioning, mini bar and wifi. There is also a pleasant pool area where you can chill out and a free breakfast is served in the hotel's restaurant.
BEST FOR: nightlife, friends and couples, island hopping or short stays
---
Budget & Fun – Nuansa Penida Hostel
LOCATION: This Nusa Penida hostel is a good option for a solo traveller. It is located 10 minutes away from the harbour main area and 6 km from Crystal Bay Beach and 8 km from Kelingking Beach.
FACILITIES: Dormitory rooms range from 4 to 8 bunk beds and come with en suite outdoor bathroom. There are 2 nice pools great for chilling and a restaurant that serves breakfast (included in the rate), lunch and dinner both very cheap. There are a few shops in the local area within a walking distance of the hostel. Nusa Penida doesn't have an extensive selection of hostels, so Nuansa Penida is a really good find!
BEST FOR: solo travellers and backpackers wanting to meet people
---
Friendly Budget Nusa Penida Homestay – Hello Penida House 
LOCATION: Hello Penida is situated close to Penida Colada Beach Bar and a short drive from the harbour.
FACILITIES: This is also a great budget option (I mean it doesn't get cheaper than this) with a friendly host. There are 4 spacious and very clean bedrooms, minutes' walk from the beach. Rooms are clean and simple and come with en suite bathroom and free wifi.
BEST FOR: solo travellers and for travelling on a shoestring
Atuh Beach Area – Southeast
Another interesting location to stay is the Atuh Beach area. It used to take a long time to get from the main harbour area to this part of the island. One had to navigate treacherous roads across the island. However, there is a brand new road that has been built along the east coast allowing easier access to Atuh Beach and now it only takes about 1 hour.
The Southeast part of Penida is much quieter and less touristy because it's too far away for day-trippers from Bali to get. The beaches on this part of the island are epic and way less frequented than for example Crystal Bay Beach. 
If you are after a quiet piece of paradise then this is the area on Nusa Penida to stay.
The main Nusa Penida points of interest in this area include:

•    Suwehan Beach 
The accommodation choices in this part of the island are a little basic but also very cheap. You can really experience a village living here and the great hospitality of the local people.
Best places to stay in Nusa Penida – Southeast
Midrange Hotel with an awesome view – Tropical Glamping Bali
Tropical Glamping seems to be the next cool spot for all Bali influencers and I can totally see why!
LOCATION: Tropical Glamping cottage is situated a few minutes drive away from Diamond Beach and Atuh Beach which makes it an excellent hotel to stay on Nusa Penida for those that want to explore this part of the island.
FACILITIES: The cottage comes equipped with, a bathroom, a kitchenette and a dining area. The bedroom overlooks the ocean and has a netted terrace to lounge on.
BEST FOR: Couples, adventurers, avid Instagrammers
---
Budget rustic cottage – Atuh Forest Cottage
LOCATION: Family-owned cottages situated on the mountaintop with some amazing views, only 2.5 km away from Atuh Beach and Diamond Beach which is an excellent base to explore those places and even go on a sunrise mission!
FACILITIES: The owner is very friendly. There is a good hotel warung which serves local food and has a lovely outdoor setting on a deck overlooking hills and lush greenery. The cottages are clean and very cute, come with an en suite bathroom. 
BEST FOR: adventurers, photography enthusiasts wanting to go on a sunrise mission
---
Budget – You and We House 
LOCATION: This property is a little further away from Atuh Beach, about 20 minutes' drive but it comes with a pool. The hotel is located not far from Giri Putri cave temple and Teletubbies Hills.
FACILITIES: The wooden cottages are spacious and clean and the property is overlooking the Eastern coast. The friendly host will help you with travel arrangements and restaurants recommendations.
BEST FOR: Stay with a pool, friends, budget travellers, adventurers
Northeast coast (Batununggul)
The Northeast side has a good selection of quality Nusa Penida resorts. It's fairly developed, there is a selection of restaurants and small shops and the hotels that I'm suggesting below are within a walking distance of them. When you are tired in the evening after a whole day of sightseeing and being excited it's nice to just shower and walk to a restaurant instead of having to drive again. 
The downside of this area is that it is an additional 30 minutes drive to Kelingking beach and other East coast points of interest. However, it all depends on your priorities proximity vs. great accommodation. 
Nusa Penida west coast nearby attractions:

•    Goa Giri Putri Cave

•    Teletubbies Hills
Best hotels on Nusa Penida – Northeast
Luxury – Kompyang Cottages
LOCATION: Kompyang cottages are located on the west Nusa Penida within 20 minutes drive to Toya Pakeh harbour and within a walking distance of a good selection of local warungs.
FACILITIES: This hotel consists of a beautifully designed cottage with tasteful accessories made of natural materials like stone and wood. They come with lovely outdoor bathrooms and a porch and are situated in a well kept, lush garden. There is a nice pool where you can get your breakfast served on a floating tray in the pool or served in your room if you prefer that, both for no extra charge. The hotel offers a free pick up and drop off at the harbour. The owner and staff are really friendly and helpful. 
BEST FOR: Boutique accommodation lovers, couples, friends on a chilled getaway.
---
Midrange – Singabu Bungalows
LOCATION: Singabu bungalows are located within a 20 minutes' drive from the harbour and within walking distance of a choice of small shops and local warungs.
FACILITIES: The rooms are spotless and the staff very friendly and will arrange things for you such as scooter rental or a driver. There is a pleasant pool area surrounded by a garden and an onsite restaurant serving good and well-priced food. 
BEST FOR: Friends and families.
---
Budget but chic –La Roja Bungalows 
LOCATION: La Roja Bungalows are located within 20 minutes drive from the harbour on the western coast, minutes walk from shops and small, local restaurants. 
FACILITIES: The hotel which is also one of the best Nusa Penida hostels offers private and shared rooms. What I liked most about this property is a very pretty pool area with white decking around it and a well-kept garden. There is a choice of older bungalows and newer ones situated around the pool which are so cute, simple yet very tastefully designed. 
BEST FOR: This is a great option for a solo traveller for very cheap but quality accommodation with chic communal areas! 
Nusa Penida Tips 
For more inspo check out my full post on most incredible 18 Things to do in Nusa Penida.
How long to stay?
Most visitors come to Nusa Penida on a day trip, which is really hard to believe because it's impossible to see much in one day and Penida island has a lot to offer that goes way beyond the Kelingking clifftop viewpoint. There is definitely more to do on Nusa Penida than on Nusa Lembongan or Nusa Ceningan.
The most optimal time is staying 2-3 days. This will allow you to go to the southern part of the island and visit the incredible Diamond Beach and Atuh Beach. 
Getting around Nusa Penida 
Getting around Nusa Penida is not the most straightforward. If you're an experienced motorbiker, you can rent a scooter for 75-100k IDR a day. The roads are narrow and in most places in very bad shape so be prepared for a bumpy road in heat and dust. Having said that, this option gives you the most freedom and is the most rewarding (we appreciate things more when we work hard for them lol). Also, when I last visited the island, it seems like many tourists are choosing this option so you definitely won't be alone.
If you don't feel comfortable riding a scooter, you can hire a car with a driver. The prices will vary but expect to pay around 600k IDR per person per day, based on two people sharing a car.
Nusa Penida Day Trip
Do you prefer to stay in Bali or have only one day to spare on your itinerary? No problem, you can take a day tour and see the main attractions on the West coast including:
•    Angel's Billabong and Broken Beach
•    Pasih Uug Beach
•    Kelingking Beach
Is Nusa Penida worth a visit?
Nusa Penida is 100% worth a visit! It's a little bit more off-beaten track than mainland Bali but its popularity is increasing year on year, so get here fast before it becomes another mass tourism spot. Penida island offers some epic clifftop views and unspoiled, hidden beaches and its nature is just out of this world! I loved it there and will definitely come back soon. See you in Penida!
You may also like:

Where to stay in Nusa Lembongan

30 Best Canggu Cafes to eat & work – An Expat's Guide

21 Unique Places to Stay in Bali
Like it? Pin it for later.