Vegan Stockholm – 11 vegan places to eat
When visiting Stockholm I was pleasantly surprised that the city offers so many great vegan places to eat. While travelling I often struggle to find suitable and enjoyable foods that are at the same time gluten free and vegan. Stockholm was different however and my stay there turned into a culinary vegan feast! Below I share with you my favourite 11 vegan places to eat in Stockholm ordered by location.
Gamla Stan
This is the ideal starting point for Stockholm sightseeing. Click here for inspiration on what to do in Gamla Stan.
#1 Naturbageriet SATTVA- vegan bakery
This cute, little bakery and a cafe is located just a few minutes' walk from the Royal Palace. Pop in there for a vegan version of Swedish fika and a coconut latte. They also make lovely protein bliss balls, different cakes and some savoury pies too. Everything is vegan and they have some gluten free options too. Buy some more to take with you!
Location- Stora Nygatan 6
Price- £ (I paid 90 SEK for 2 cakes and a latte)
Pros- great location & cheap
Cons- not much space to sit down & fikas were not gluten free
#2 Grön Hermitage- veggie buffet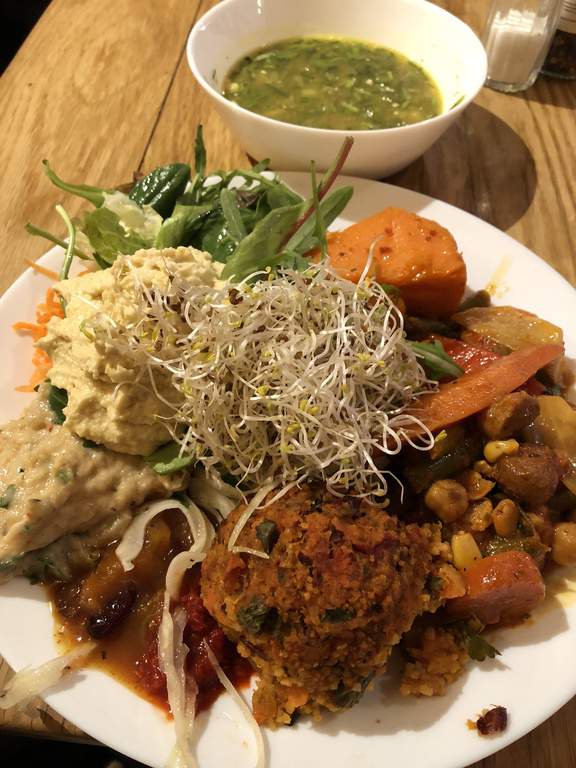 Grön Hermitage is a vegetarian buffet style restaurant located in GamlaStan, on the same street as Sattva. They offer a range of soups, breads, salads and mains. Most food is vegan and gluten free too, just ask at the counter they will be happy to explain. The food was fresh and full of flavour. Despite the fact that I'm not a massive fan of all you can eat buffets, I really enjoyed it! They also have a wide range of cakes that looked great but I didn't try them! Finally, if you don't want to pay extra for drink, you can help yourself to some fine Swedish tap water with lemon and mint.
Tip- the place can get very busy, so if you are with a larger group, booking a table in advance may be a wise option!
Location- Stora Nygatan 11
Price- £ (140 SEK per person, excluding deserts and drink)
Pros- cosy atmosphere
Cons- very busy & cakes not included in buffet
Sodermalm
This island is full of vegan places to eat; you will be spoiled for choice! A lot of restaurants are located around Gotgatan, which is a popular shopping spot too! You can combine shopping with some vegan food. Also, don't forget to visit Fotografiska Museum and watch the sunset at Monteliusvagen. For more ideas what to do click here.
#3 Mahalo- vegan cafe
This was by far my favourite vegan place in this area! Absolutely loved the vibe here. They serve a variety of Buddha bowls, noodles, pho, burgers, wraps and smoothie bowls. The food here is fresh, vibrant and so colourful. I also enjoyed here a bottle of kambucha!
Tip- If you want to order some hot food, arrive well before the closing time. I arrived just after 5 pm (closing time 6 pm) and the kitchen was already closed so I could only order a smoothie bowl (which was fantastic by the way).
Location- Hornsgatan 61
Price- ££ (acai bowl- 95 SEK, most mains 129 SEK)
Pros- great vibe & amazing smoothie bowls
Cons- kitchen closes 1 hour before restaurant closing time!
#4 Hermans- vegan restaurant
This veggie restaurant is located near Fotografiska Museum. It's an all you can eat buffet. It's got an enormous selection of fresh salads and hot foods. The best part is the selection of deserts which a lot of them are raw vegan! You can sit outside in the garden enjoying the spectacular views of the harbour!
Location- Fjällgatan 23B
Price- £££ (Lunch time- 138 SEK, dinner time after 3 pm- 198 SEK)
Pros- lovely garden where you can enjoy amazing views of Gamla Stan
Cons- on a pricey side
#5 Raamen Noddles by Adam & Albin
This noodle place is located in Gotgatan inside of a shopping centre called Ringen Centrum. I was actually planning to eat at The Plant but it was shut down! From what I could see they only had one option called – Veggie Heaven Ramen (vegan if asked for no egg). This place is a counter in a shopping centre food court. When I arrived there it was extremely busy and I struggled to find a sitting space to enjoy my ramen. It was a good portion, slightly too salty for my likings but I think all ramens are that salty.
Tip- If you're eating in this food court, it is a good idea for one of you to reserve seats while other is ordering food. The place gets very crowded, especially on Saturday afternoon.
Location- Götgatan 132
Location- ££ (ramen bowl- 115 SEK)
Pros- hearty portion
Cons- very busy place
#6 The Plant- vegan burger
This place is also a counter in the same busy food court. It was unfortunately shut when I arrived there so can't say whether the vegan burgers served there are as good as everyone say they are. Nevertheless I would still recommend giving this place a go!
Location- Götgatan 130
Price- £ (85-115 SEK for a burger)
#7 StikkiNikki- vegan ice cream
It's a chain ice cream place. There are many branches but the one on Mariatorget street is fully vegan! I didn't make it there, but visited the Gotgatan brunch. They had some vegan sorbet and 2 other flavours: vegan chocolate and vegan peanut butter. The one scooper was enormous and very tasty. The only negative was that there was no sitting space in the shop so I ended up eating my ice cream by sitting on the window seal. No toilet facility either.
Location- various
Price- ££ (40 SEK for one scoop)
Pros- great portion size
Cons- no sitting place
#8 Bliss Cafe – raw vegan
Bliss Cafe is a first Stockholm's fully raw vegan food cafe. They use organic ingredients to create their dishes. They also have a variety of bliss protein bowls, also raw for 25 SEK each. Come here if you want to try something different and super healthy!
Location- Oestgoetagatan 77
Price- £ (Lunch 110 SEK)
Pros- unique
Cons- location slightly remote to all main tourist attractions
Norrmalm
#9 Holy Greens- salad place
This place is located near the Instagram famous cherry blossom park- Kungstradgarden. It is not wholly vegan; but it's a fast food healthy salad bar. It's the perfect place to take your non vegan friends to! The salads are so fresh and nicely balanced. Mine had red sprouted quinoa, black rice, and avocado and was sprinkled with pumpkin seeds! The place is very eco friendly. There is no plastic here. You can segregate your rubbish and have some free tap water to go with you salad. Also, I loved the little tables, cute lamps hanging over them and a shelf full of different plants. Perfect!
Location- Kungsgatan 17
Price- £ (90 SEK salad bowl)
Pros- eco friendly place
Cons- None
#10 O' Mamma Mia Pizzeria
This is an Italian restaurant that also does a take away. Offers a whole vegan pizza menu! There are at least 6 choices for vegans so not bad at all. It's a great option when you are tired and you can grab this take away pizza and eat it in your hotel room.
Location- Kungstensgatan 60
Price- ££ (120-130 SEK for one pizza)
Pros- take away option
Cons- no gluten free options
#11 Lao Wai – vegan Chinese
Lao Wai is a Chinese restaurant serving entirely vegan dishes! It serves a selection of Chinese dishes based on tofu and soya. Authentic yet a bit pricy!
It's closed on Sunday!
Location- Luntmakargatan 74
Prices- ££££ (main 230 SEK, starters 100 SEK)
Pros- great quality
Cons- pricey