Ultimate Salar de Uyuni facts you need to know before visiting
If you are planning to visit Salar de Uyuni Bolivia, this article will tell you all Salar de Uyuni facts you need to know before your trip and everything else to get you excited about this extraordinary place!
Salar de Uyuni was by far the most unworldly place I have visited during my travels! Travelling through off beaten tracks with cities and towns left behind was a fantastic experience. Exploring the changing landscapes and seeing different species of animals like pink flamingos living in harsh high altitude conditions was very special and unique.
THIS POST CONTAINS AFFILIATE LINKS. THIS MEANS I MAY EARN A COMMISSION SHOULD YOU CHOOSE TO SIGN UP FOR A PROGRAM OR MAKE A PURCHASE USING MY LINK FOR NO ADDITIONAL COST TO YOU. IT'S OKAY – I LOVE ALL OF THESE COMPANIES ANYWAYS, AND YOU WILL TOO! FULL DISCLOSURE.
Salar de Uyuni tours
There are many different tour companies based in Uyuni, many of which also offer online booking that you can sort out before your trip. Whatever Salar de Uyuni tour you book, you will ride in a 4×4 jeep with 5-7 other people and a driver. There are no roads in the salt flats! You will be able to store your main luggage in the tour office and take only what you need, which will be kept on the roof of the jeep. 
There is 1 day Uyuni salt flats tour available but you won't get too far in one day. I highly recommend going on at least a 3 day tour if you want to see some amazing lagoons and beautiful pink flamingos in their natural habitat. Also on the second night you get to go in the hot spring. 
That was such an incredible experience, as the hot spring is out in the wild with only a little changing chalet. You sit in the hot spring with a glass of wine that you can purchase from a hostel, overlooking a lagoon and staring at the pristine starry sky and the moon! You don't want to miss this experience! 
Salar de Uyuni hotels
The accommodation within Solar de Uyuni is very basic. If you go with a tour and that is the only option I know, you won't have much say on choice of the hotel.  Salar de Uyuni has only a few hotels or shall I say travel lodges or hostels, and accommodation is allocated depending on the availability. Some of the places are really basic with no shower or bed linen. We were able to hire a nice, clean sleeping bag from the tour company and managed to get one night in a hotel with a bathroom. On the second night, the hotel was more basic and we used the sleeping bags and baby wipes!
If you decide to fly to Uyuni, you will need accommodation in Uyuni town before or after your tour depending on the timing of your flight. Check the options below you'll be suprised there are some amazing and special places to stay!
Unique
This hotel is located 25 min from Uyuni town on the edge of the Salt Flats. The hotel is entirely made of salt bricks and boasts some epic, panoramic views of the Salar de Uyuni! There is a buffet breakfast, game room including ping pong and pool tables. The hotel also offers bicycle rental, onsite restaurant and free WiFi. There is an outdoor sitting area where you can watch the incredible sunset over the Salt Flats.
Mid-range
Salt Hotel is located centrally in Uyuni town, minutes' walk from mani bus stop, shops and restaurants. The rooms are specious and decorated with taste featuring a white, brick wall. The hotel serves great breakfast including eggs, bread, fruit and also free tea/coffee and juice in the evening. The staff is really friendly and helpful and WiFi works great throughout the hotel.
Budget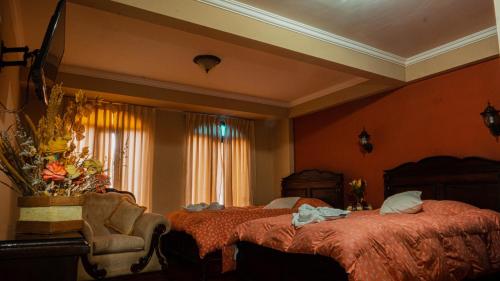 Hostal la Magia de Uyuni is a cozy place situated a few minutes walk from Uyuni centre close to shops and restaurants. Hostal owner is extremely friendly and will make sure you have a lovely stay. There is a choice of rooms including single and double rooms with shared or private bathroom. There is a good breakfast included in the room rate, WiFi and guests can use the computers located in the communal area.
Salar de Uyuni facts- basics
What is Salar de Uyuni
Salar de Uyuni is the world's largest salt flat. It covers nearly 11,000 square km. The salt goes a few meters deep into the ground and there are a few salt mines in the area that produce salt but also make bricks out of salt. The Uyuni salt flats are also rich in lithium, it is estimated that the region holds over 50% of world's reserves!
How are salt flats formed
Uyuni is part of an expansive high plateau which was formed during uplift of the Andes Mountains. The salt crust that we see today was formed from evaporation of a giant salt lake called Lake Minchin. Today all that's left from the lake are expansive salt fields and few islands that were tips of prehistoric volcanoes. One of the islands is Incahuasi Island covered with sharp rocks and large cactuses. Climb it to the top to fully grasp how vast the salt plains are! They go all the way up to the horizon wherever you look.
Where is salar de uyuni        
Salar de Uyuni is part of the Altiplano of Bolivia in South America. It's located in Potosi region in southwest Bolivia. There is an airport close by called Joya Andina Airport. You can take a direct flight from La Paz. Alternatively, you can take a night bus also from La Paz.
Salar de Uyuni altitude
Bolivia's salt desert is located at over 3,600 m above  sea level! This means that anyone visiting this place will have to do some high altitude acclimatisation. You should stay in La Paz or Uyuni for a day or two. And try not to fly to La Paz from your home country as La Paz is also situated at over 3,000m above sea level.
Salar de Uyuni weather
Due to the altitude and location being at the high Atliplano, the salt flats get dry and cold to freezing weather. Solar de Uyuni temperatures oscillate between middle twenties during the day and around zero at night. Most of the year – April to October, the weather is sunny and dry. And between November and March, Uyuni experiences wet season.
Salar de Uyuni Curious Facts
World's largest mirror
Between January and February the area gets flooded with a 1-2 cm of water causing so called Bolivia mirror lake or Bolivia sky mirror. The sky reflects in the mirror which is standing water and you can't tell where the horizon is. You can take incredible photos that look like you're walking in the sky!
Salar de Uyuni images
In the dry season you can take advantage of the perspective photos. Just buy some probes like a dinosaur toy or a tube of Pringles and have some fun creating those fun Salar de Uyuni photos!
Train cemetery
Located just 3 km from Uyuni this place is a first stop for all the jeeps starting their tours. If you're staying in Uyuni, you can come here in the evening to avoid the crowds. There is many interesting old trains imported from the UK back in a day. They were supposed to be part of a great project to connect the area with other countries in the region. Due to a technical issue and some tensions in the region the project had to be abandoned.
Today tourists are let to climb the trains and explore them as they please.
Salar de Uyuni flamingos
While travelling  to Salar de  Uyuni, you'll notice many pink flamingos. Do you know that they get their pigment from a pink microorganism that they feed on?  It is astonishing that they manage to thrive in these hard Andean conditions at such a high altitude! For example, they sleep in circles to preserve their body heat and only half of their brain is asleep. The other half is keeping watch for their natural predator, the Andean fox.
Arbol de Piedra
You  will probably recognise this rock formation from a postcard or a tour leaflet. The wind on this desert is so strong that has the ability to raise sand that then can shape rocks. Also when it rains, the water freezes in between rock gaps as the temperature at night gets even to as low as -25 degree Celsius which causes erosion.
Salar de Uyuni lagoons
If you go far enough towards the Chilean border, you will see many different coloured lagoons. There is a white lagoon inhabited by pink flamingos. It is situated at incredible 4,400m (my stomach churned there!) and it smells eggy due to the content of minerals.
There is an orange lagoon located in between two volcanoes. A red lagoon called Laguna Colorada that takes its colour from red algae. And finally a Green Lagoon situated right by the border with Chile. This lagoon is the most poisonous one with mercury and arsenic. Don't ask me why.
Salar de Uyuni Tips
How to get to Bolivia salt flats
To see the salt flats you will need to get to Uyuni. You can either fly to Joya Andina Airport which is located 2 km away. There are direct flights from La Paz. Alternatively, if you don't have a lot of time to stay in Uyuni to get onto the next available flight, you can take a night bus from La Paz. They normally come with very comfortable seats called semi camas and a meal. The bus arrives in the morning of your tour and departs in the evening after your tour finishes so this is a very good option if you want to make the most of your time like I did.
To see salt flats you will need to book a trip with a local tour company. They are all based in Uyuni town. When we arrived to Uyuni in the morning, there were sellers everywhere offering their tours. However, if you are anything like me, you can also book a tour in advance for peace of mind. The great advantage of that is being able to shop around and read reviews of different tour providers.
Salar de Uyuni best time to go
There are two major seasons in the salt flats dry and wet. In the wet season, Uyuni gets flooded and turns into the rain flats. Wet season happens between November and March but most likely you will get the spectacular effect in January and February. The thing to have in mind when deciding on going in the rainy season is that the roads may be flooded to and some parts on the flats may not even be reachable like the Incahuasi Island. Not to mention the condition of the roads elsewhere in Bolivia and chances of getting stuck in the mud somewhere are very high.
If you decide to travel in the dry season, you'll miss on the mirror effect but you get instead sunny days with pristine blue sky and very good visibility. You will also be able to reach even the most remote parts of Uyuni. Therefore, the  best time to visit Salar de Uyuni will depend on your personal preferences.
Altitude sickness
Solar the Uyuni is at over 3,600m above the sea level and if you take a 3 day tour, the highest point you will be visiting is situated at around 5,000m! If you don't live at much altitude, it is very likely that you will experience some sort of altitude sickness symptoms. This may be tiredness, headache, and nausea. More severe symptoms also include diarrhoea and vomiting.
Most people are fine but in order to enjoy exploring this extraordinary place, there is things you can do! I recommend buying some hydration tablets that you can dissolve in your water bottle and sip throughout the day. Also eat plenty and have some energy bars and sweets at hand to boost your energy levels. Take plenty of headache tablets with you in case you need them.
I bought in La Paz some Sorongi tablets which are a local medicine for the altitude sickness but after reading the ingredients I realised it's basically paracetamol and caffeine. You will be served a coca tea for breakfast, drink it up, it really helps. And last but not least, try to stay a couple of days in a lower altitude first to give your body a chance to adapt to the very high altitude.
You may also like:

The Perfect Rio de Janeiro Itinerary
Like me? Pin me for later!