A detailed guide to Machu Picchu Trip Cost
Always wanted to hike Machu Picchu but not sure whether you can afford it? This article will guide you step by step through Machu Picchu trip cost and will compare the most popular hiking options for you.
About Machu Picchu- Facts
The city Machu Picchu is located 80 km from Cuzco at 2,430 metres altitude. Machu Picchu was built in the 15th century for the Inca emperor Pachacuti and was abandoned by the Incas during the Spanish conquest. The place was rediscovered in 1911. The most famous fact about Machu Picchu is that it's the greatest monument of the brilliant Inca civilization and one of the Seven New Wonders of the World.
Best time to visit Machu Picchu
The best time to visit Machu Picchu is winter – May to September and also the dry season. The summer runs from December to March, this season is much warmer but also wetter which is not the ideal condition for hiking.
I visited in October and the weather was perfect, not a droplet of rain, warm during the day and cold in the evening.
Whenever you choose to go, remember to take a high UV sun cream. The sun will burn even on a cloudy day due to the high altitude. 
Climate at Machu Picchu
Machu Picchu is located at 2,430 meters above sea level in the Amazon jungle. The average high temperature is 20 degrees Celsius and the average low is around 0 degree Celsius. This means that you need to wear layers and carry rain gear with you.
Machu Picchu Trip Cost
There are many elements to the total budget of Machu Picchu trip cost. My recommendation is to take one of the organised hiking tours but I will also price the option to do it all by yourself.
Hiking gear
If you anything like me, you will also have to buy some gear for the trek. You can find a detailed list of what I packed in my day bag on the summit day here. Hiking equipment such as a good fleece or walking boots are quiet pricey so make a list early and budget it well in advance of your trip. I spent around $650 on all my gear, but if you a regular hiker, you will have most of the items that you need at home.
Flight cost
There are several airlines flying from London to Lima – British Airways, Iberia and Avianca but none of them are direct. Flights start from $700- $850. I found Avianca being the most cost effective with a stopover in Bogota. From the States, you've got LATAM, UNITED and American Airlines to Lima with prices starting from $650.
A return flight Lima to Cusco cost starts from $65.
Hotels cost
Machu Picchu is situated at over 2,000m altitude so for those that live at sea level, it is advisable to do so acclimatisation before climbing it. I recommend spending a minimum of one night in Lima to let the jet lag go and 1-2 nights in Cusco to get used to the high altitude.
For cool things to do in Cusco check out this article!
One night in Lima will cost on average $65 (hostel prices start from $20)
Cusco is a bit cheaper and there are plenty of options for all budgets. You can find a hostel for as little as $10 a night and a decent middle range hotel starting from $65.
My top recommendation is where I stayed myself after a careful selection- El Balcon hotel. It's got an awesome view of the Cusco square. The rooms are unique and rustic with refillable glass water bottles, unlimited coca tea and a fabulous breakfast!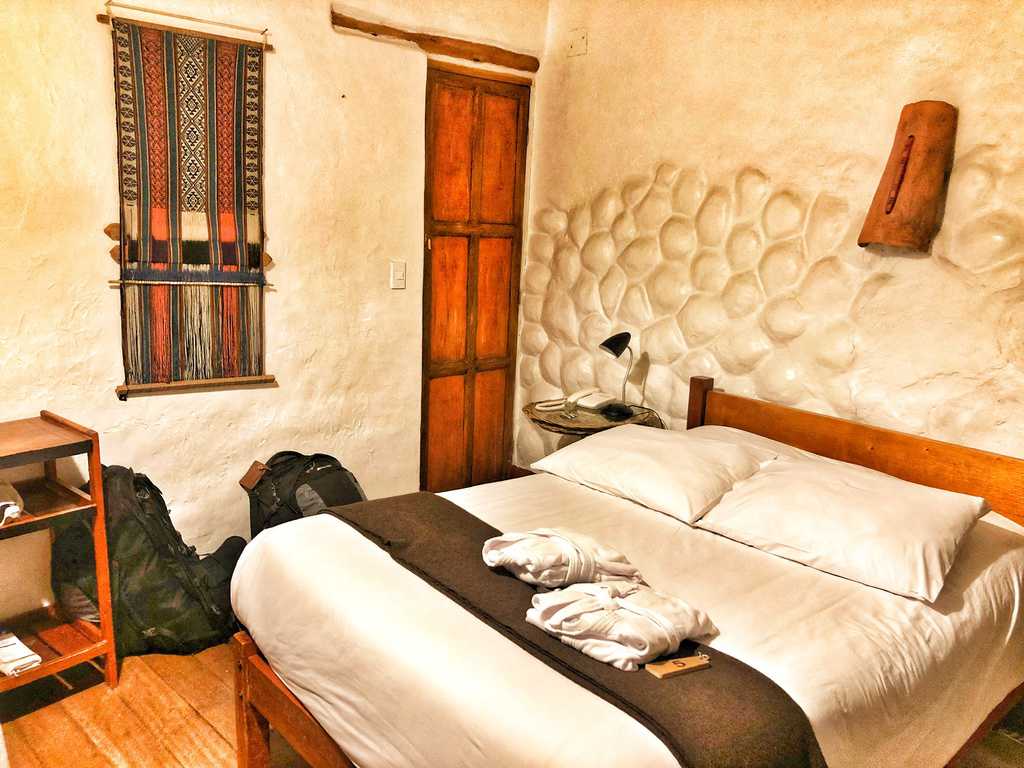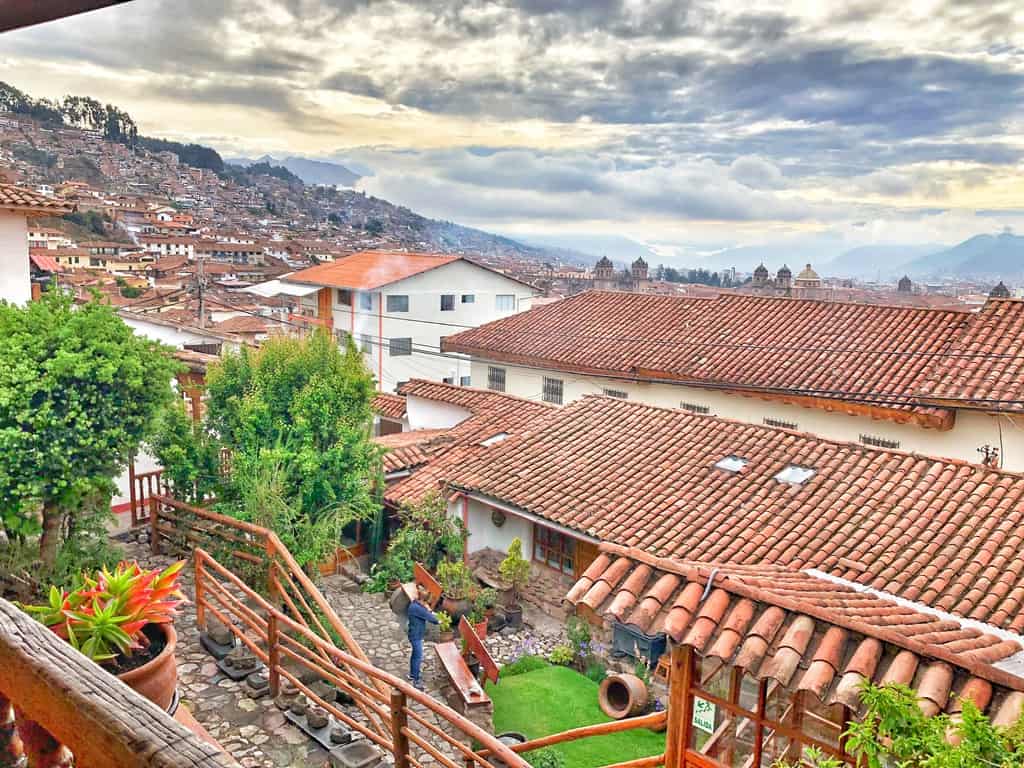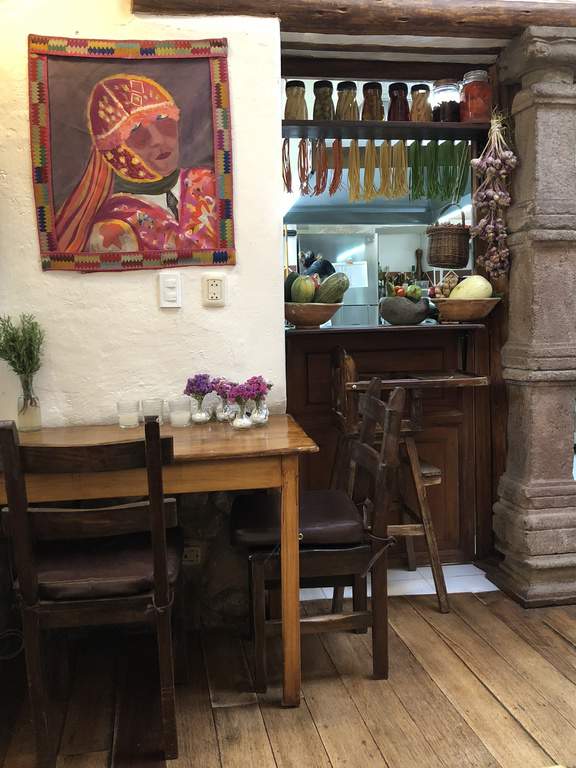 Click here to check availability.
For the hostel, I recommend Wild Rover, although I haven't stayed there myself. We visited the grounds and it had a great vibe, a cool pub with good cheap choices to eat and a great view. It is also located in a gated house if you are worried about safety.
Click here to check availability.
You will also need 1 to 2 nights in Aguas Calientes before or/and after your trek. Hostel prices start at $13 and luxurious hotels start at $65.
Machu Picchu hike cost
Camino Inca Machu Picchu
Once you arrived in Cusco and acclimatised to the high altitude you are ready for your hike. There are many options but the best tours Machu Picchu and cliché one is Camino Inca- the Classic Inca Trail hike. This hike starts from $700. This hike takes 4 days and you walk all the way from a town called Chica to Machu Picchu through the Gate of the Sun. This is the most spectacular way to enter Machu Picchu.
 During the hike, you camp in tents and use "Inca bano" (toilet in the wild). It normally comes with tents, porters that carry your belonging and a chef that cooks your meals in the camp. There will be a limit to what you can take with you as everything will have to be carried by the porters.
If you decide on this option, you need to book Machu Picchu Inca Trek well in advance as they limit the amount of people to go through this particular route.
Extras:
Sleeping Bags rental- from $20
Trekking Poles rental – from $15
Climbing Huaynapicchu or Machu Picchu Mountain – $16 each
TIP: Machu Picchu Mountain is a longer but less steep hike, it also goes higher. You will get the view of Machu Picchu with Huayanapicchu in the background.
Huayanapicchu is the more popular choice so book well in advance. It's shorter and much steeper and you will get the view of Machu Picchu with Machu Picchu Mountain in the background.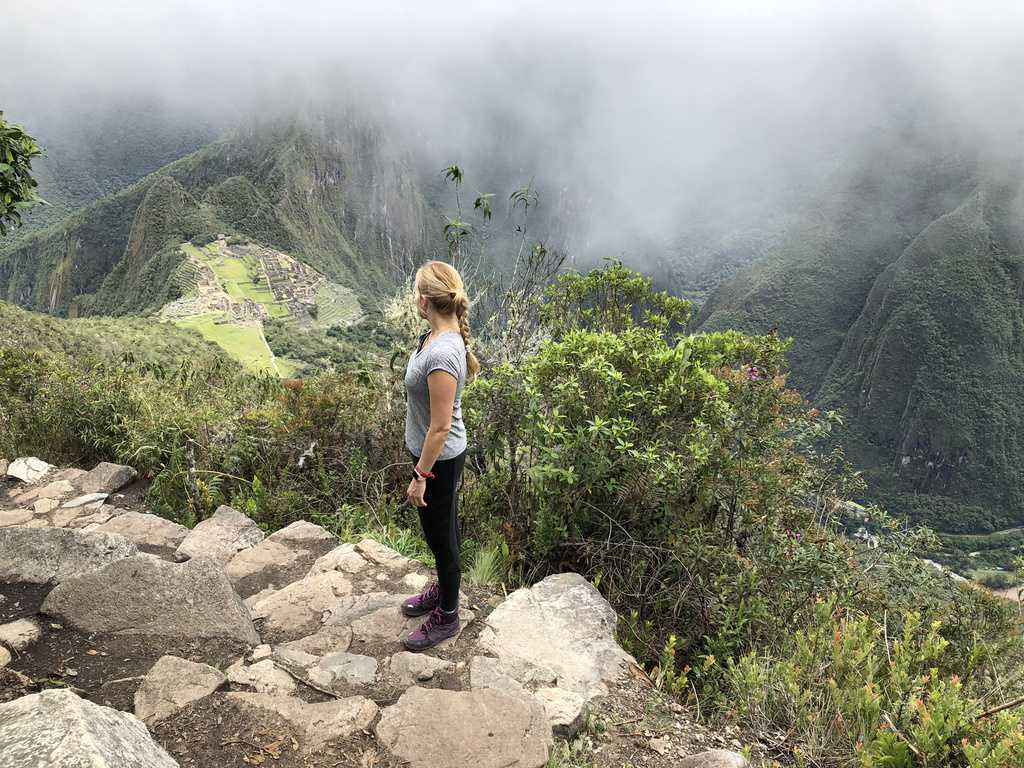 Any of these additional options is great for prolonging the whole summit day experience but the view of Machu Picchu is not great as it is so far below. On a cloudy day, you are most likely not to get any view whatsoever.
4 day hike Machu Picchu through Jungle
I did the jungle 4 day Machu Picchu hike. It cost much less than the Inca Trail and it was so much fun as we did different things every day such as cycling, zip-lining, rafting and only one full day of trekking. This is a great option if you don't want to only walk.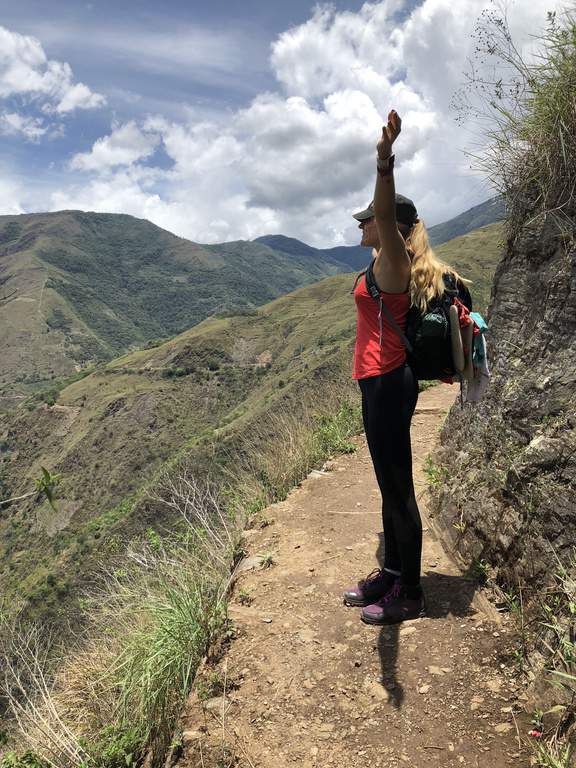 You can even postpone booking Machu Picchu tour until you arrive in Cusco. You may get a better rate but if it was me I would not risk my once in a lifetime experience for the sake of saving $50.
There are also some cheaper tours that start from $300 and take only 2 days. My advice however is that you don't want to go cheap on this one unless you really have to.
TIP: Climbing Machu Picchu is one in a lifetime experience and the longer the build up and the more you work and sweat to get there, the better it will taste once you get to the top. Trust me on this, I'm all for saving my money but I loved my hike and I learned so much about Inca culture over the 4 days. And on the summit day I had tears of joy in my eyes!
Extras:
Climbing Huaynapicchu or Machu Picchu Mountain – $16 each
Train back from Aguas Calientes to Cusco – $15
Return bus to Machu Picchu from Aguas Calientes (optional) – $24
TIP: if you're fit, I highly recommend climbing the stairs up from the lower gate to Machu Picchu upper gate. It's a 45 min climb to Machu Picchu and it's a great experience as you start at dusk with other travellers.
Zip-lining and rafting on the 4 day jungle trek – from $30 each
Any booking company will take care of the logistics associated with organising the Cusco to Machu Picchu tour.
Day Tour Machu Picchu
If you for any reason don't have time to go on a hike or cannot walk, you can organise Machu Picchu day trip yourself. Here are the prices for all the logistics, assuming you are already in Cusco:
Cusco to Machu Picchu train:
Cusco to Poroy or Ollantaytambo taxi – starts from $20
Poroy/ Ollantaytambo return train to Machu Picchu lower gate- starts from $136
Aguas Calientes return bus to Machu Picchu upper gate:
Entry ticket to Machu Picchu site- $70 (adult), $41 (student under 25 years old). You can buy Machu Picchu tickets here.
Optional Huaynapicchu or Machu Picchu Mountain – $16 each
Guide- $50
TIP: local guides can be found at the entrance, the tour will normally last about 2 hours.
Return bus to Machu Picchu from Aguas Calientes or train station (optional) – $24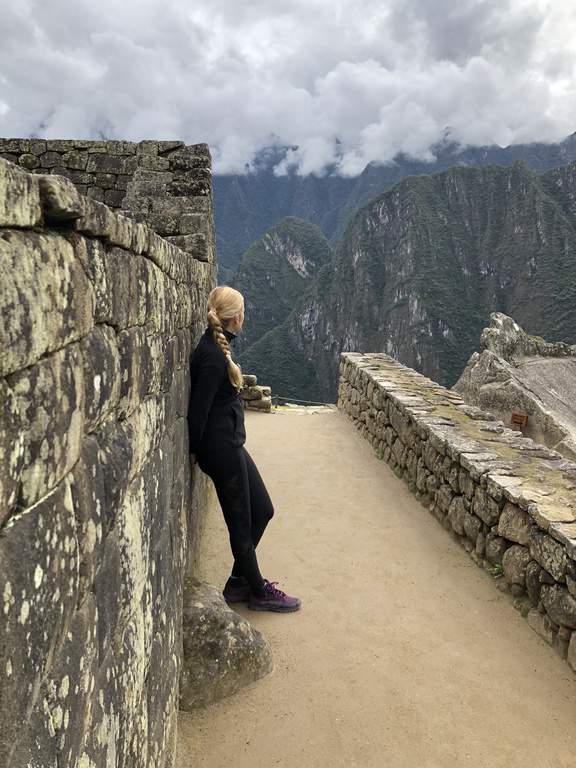 Miscellaneous expenses
Food in Lima/Cusco/Aguas Calientes – $20/day per person

Snacks during your hike – $5/day per person

Souvenirs such as hats, iconic jumpers, Inca masks etc. – $30

Airport taxis (in Lima and Cusco return) – $60

Tip for your Machu Picchu guide and porters – $20 per person

Insurance – $20
How much does Machu Picchu Trip Cost? – Summary
International flights- $730

Local Flights- $70

Hiking cost- $350

Hotels (based on 4 nights double room sharing) – $100 per person

Miscellaneous – $200

Total- $1,450 (without gear cost)
You may also like:
Interesting facts about Bolivian Salar de Uyuni
THIS POST CONTAINS AFFILIATE LINKS. THIS MEANS I MAY EARN A COMMISSION SHOULD YOU CHOSE TO SIGN UP FOR A PROGRAM OR MAKE A PURCHASE USING MY LINK FOR NO ADDITIONAL COST TO YOU. IT'S OKAY – I LOVE ALL OF THESE COMPANIES ANYWAYS, AND YOU WILL TOO!